Basic Brown or Green Lentils
This simple and quick make-ahead lentils recipe is perfect for just about any meal.
Cookbook
Published by Harvard Common Press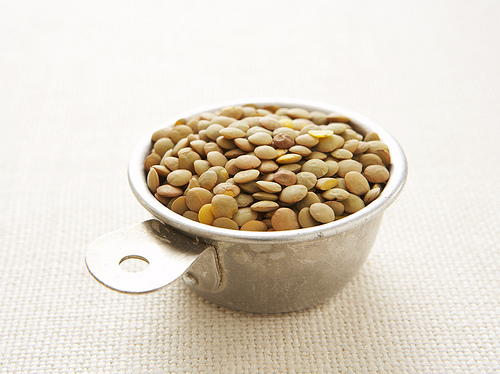 This image courtesy of Joseph DeLeo
Editor's Note: If you've always wanted to learn how to cook brown lentils or green lentils but weren't sure where to start, then this recipe is for you! This recipe for Basic Brown or Green Lentils uses only three ingredients — really! — and a pressure cooker, and is ready for use in other recipes within minutes. You'll have plenty of brown lentils or green lentils that are ready to use in a number of recipes for lunch or dinner, including soups and salads. You'll love having this quick and easy make-ahead recipe at your fingertips the next time you want to prepare dried lentils.

Brown lentils are the kind that come in packages in the pasta and grains section in the grocery store. Green lentils are the kind that come in boxes in upscale or gourmet markets. Both can be found in bins in markets that carry bulk grains and legumes. The taste difference between the two is subtle: I find the green lentils nuttier, the brown lentils a bit less flavorful. There are also texture differences: The green lentils are firmer and tend to remain individual, so they're the better choice for salad. Brown lentils are starchier and tend to mash more easily into a purée. An important difference to note, however, is that for salad the lentils, brown or green, cook for a mere one minute in the pressure cooker, whereas lentils destined for soup need five minutes to soften.

Red lentils are a delight to behold, wondrous in their red-orange color that is not often matched in the world of vegetables, except maybe for some of the heirloom tomato or beet varieties. I use them as a salad with barely blanched green peas, fresh parsley, and a soupçcon of olive oil. I also use them to perk up a main plate dish that cries out for a bit of color. In any case, I never cook them in the pressure cooker because in my experience, red lentils are ready to drain and cool almost the very minute they come to a boil on the stove top.
Cooking MethodPressure Cooking

Five Ingredients or LessYes
Ingredients
1 cup dried brown or green lentils
2 cups water
1 teaspoon vegetable oil
Instructions
Rinse the lentils and place them in the pressure cooker with the water and oil. Lock on the lid and bring to pressure over high heat about 5 minutes.

If using for salad, reduce the heat to medium and cook for 1 minute.

If using for soup, reduce the heat to medium and cook for 5 minutes. Remove from the heat and let sit for 5 minutes to finish cooking.

With the steam vent pointed away from your face, gently release any remaining pressure. Drain and rinse briefly under cool water. Use right away or store in the refrigerator, covered, for up to 3 days.
More Pressure Cooker Recipes from Victoria Wise
If you love this pressure cooker recipe, discover even more recipes from this cookbook author. This recipe and the recipes below were all featured in the cookbook, The Pressure Cooker Gourmet.
2005 Victoria Wise
YOUR RECENTLY VIEWED RECIPES
Free recipes, giveaways, exclusive partner offers, and more straight to your inbox!