Zesty Za'atar Avocado Toast with Poached Egg
Brunch gets an upgrade with this delicious avocado toast with egg recipe.
Cookbook
Published by Page Street Publishing Co.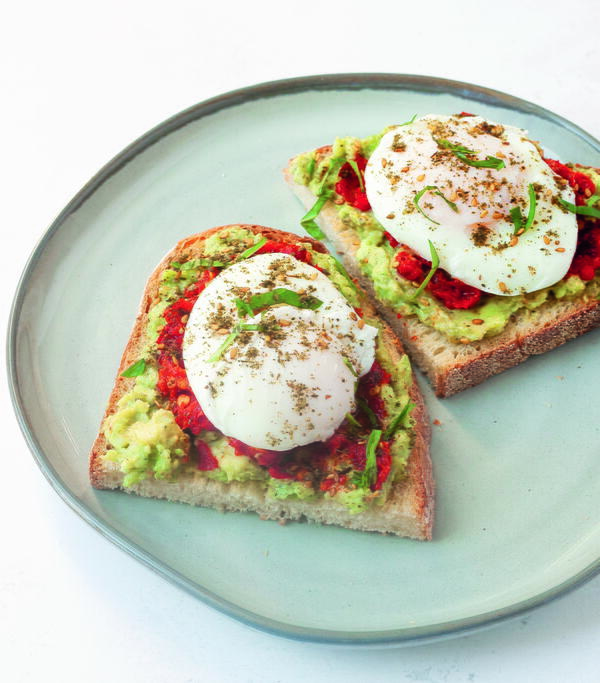 Zesty Zaatar Avocado Toast with Poached Egg
Editor's Note: "Brunch menus are filled with avocado toast recipes these days, but we actually love making this trendy dish at home. It's so easy to just toast your favorite grainy bread, pile on fresh avocado, and add any toppings you like. This recipe is one of our new favorites because of its delicious take on avocado toast with poached egg. Not only do you get the rich flavor of the poached egg, you also get warm, aromatic flavors from the harissa and za'atar. It's a flavor profile that we think was pretty much made for avocado toast."

This recipe calls for harissa, a chili pepper paste that is common throughout the Middle East. It's pretty spicy, so you only need to use a little bit. This dish also features one of my favorite Mediterranean spices—za'atar. It's an extremely aromatic spice blend that's earthy and flavorful, and I love adding it to so many recipes.

If you haven't poached an egg before, it isn't as difficult as it sounds. Though poaching an egg takes a little longer than scrambling or frying, I prefer a poached egg for this dish because it fits perfectly on the toast and makes the dish a bit more fun.
Serves1
Ingredients
1 avocado, pitted and peeled
2 tablespoons (30 ml) fresh lemon juice
1 teaspoon za'atar, divided
1 egg (The freshest egg possible is best here.)
1 tablespoon (15 ml) white vinegar
1 slice whole-grain bread
1 tablespoon (15 ml) harissa
Fresh basil, for garnish
Instructions
Start by placing the avocado in a small bowl. Mash it with the back of a fork. Add the lemon juice and 1⁄2 teaspoon of the za'atar, and stir to combine. Set it aside.

Line a plate with a paper towel. Crack the egg into a small ramekin and set it aside. Fill a medium saucepot with 3 cups (720 ml) of water and bring to a boil over high heat. Once the water is boiling, reduce the heat to low and add the white vinegar. Use a spoon to stir the water, creating a small whirlpool in the pot. Carefully pour the egg directly from the ramekin into the center of the swirling water. Once the egg is in the pot, put your bread in the toaster while the egg cooks.

Allow the egg to cook for 3 minutes for a runny egg yolk. If you like a more well-done egg, add another minute of cooking time. Once the egg is finished, remove it from the water with a slotted spoon and transfer it to the lined plate.

While your egg cools slightly, spread the avocado mixture over your toasted slice of bread. Spread the harissa over the avocado and sprinkle with the remaining za'atar. Place the poached egg on top of the avocado toast, and garnish with a little bit of fresh basil.
Tip:
Harissa is sold at many chain grocery stores and online. If you can't find it, substitute hot sauce or regular chili paste.
YOUR RECENTLY VIEWED RECIPES
Free recipes, giveaways, exclusive partner offers, and more straight to your inbox!