Lebanese Kofta Kebabs with Tahini Sauce
These vegan kebabs use Beyond Meat for a delicious meal that everyone will love.
Cookbook
Published by Page Street Publishing Co.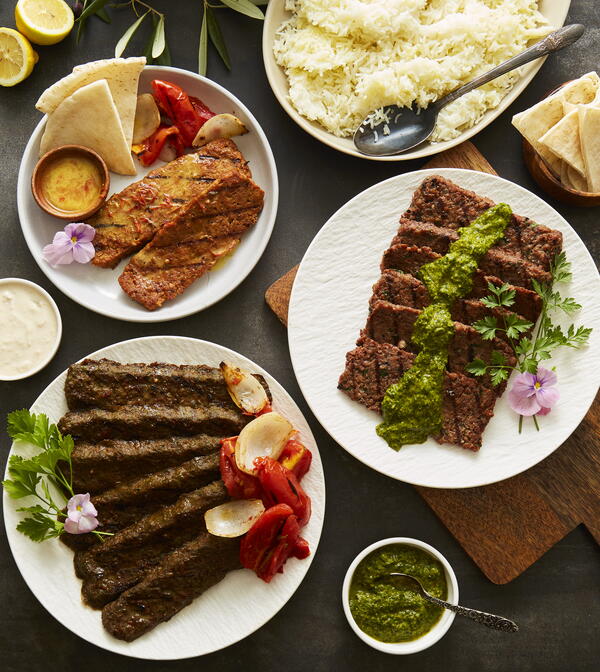 Lebanese Kofta Kebabs with Tahini Sauce
This recipe is inspired by Middle Eastern lamb kebabs called "kofta" that are usually eaten tucked into pita bread along with lettuce and tomato and generously drizzled with tahini sauce. I chose Beyond Meat® for this preparation because, like the animal meats traditionally used for this kebab, it is fattier. For the same reason, it's important to chill the Beyond Meat® mixture after mixing but before combining into the kebabs so they hold together on the grill.
Serves6
Ingredients
For the Kebabs
1 cup (60 g) packed parsley, leaves and stems removed
1 tablespoon (7 g ) regular or gluten-free breadcrumbs
1 small yellow onion, quartered
2 cloves garlic, whole
1/2 teaspoon salt
1/2 teaspoon freshly ground black pepper
1/2 teaspoon ground cumin
1/2 teaspoon ground coriander
1/2 teaspoon allspice
1/2 teaspoon sumac
1/2 teaspoon nutmeg
1/2 teaspoon pimenton
1 package Beyond Meat®
2 plum tomatoes, cored and cut into 4 large quarters

For the Tahini sauce
3 cloves garlic, grated
Juice of 2 lemons
1/4 cup (60 ml) tahini
1/2 teaspoon coarse salt
1 cup (60 ml) ice water or more as needed
Pita bread, for serving (optional)
Make the Kebabs:
Place the parsley leaves in a food processor along with the breadcrumbs and process for 30 seconds, until the leaves are finely ground. Add the onion, garlic, salt, pepper, cumin, coriander, allspice, sumac, nutmeg and pimenton and process into a smooth paste. Add the alternative meat and pulse a few times until completely combined. Scrape the mixture into a bowl and use a rubber spatula to mix more thoroughly if necessary. Divide the alternative meat mixture into 6 equal-size balls and refrigerate, covered in plastic, for about 30 minutes.

Shape the kebabs: Lightly spray a sheet of tinfoil with cooking spray and place on a cookie sheet or sheet pan. Form each ball into a log that is about 6 inches(15 cm) long and 1 inch (2.5 cm) thick. Place each log on the sprayed tinfoil about 1½ inches (4 cm) apart. Using your forefinger, gently press indentations down the length of each kebab at regular intervals.

Preheat a grill on high or heat the oven on the broil setting. Place the tomatoes on the tinfoil or on a kebab skewer. Grill or broil the kebabs for 6 to 7 minutes, or until golden brown, flipping them over using a spatula about halfway through the cooking time. If grilling, you may place the kebabs onto tinfoil and after they are "set"—2 to 3 minutes into cooking—you can turn them over on the hot grill for 5 to 6 minutes more. Grill or broil the tomatoes until the skin is well-charred.
Make the sauce:
Mix the garlic and lemon juice and set aside for 15 minutes. Combine the lemon juice mixture, tahini and salt in a blender or small food processor along with 2 tablespoons (30 ml) of the water. Process until the ingredients are combined and thick. Slowly add more water while processing the mixture until you have a smooth sauce. Serve kebabs hot with the tomatoes on the side along with pita bread, if desired, and 1 to 2 tablespoons (15 to 30 ml) of tahini sauce.
Reprinted with permission from Cooking with Beyond and Impossible Meat: 60 Vegan Recipes Using Plant-Based Substitutions by Ramin Ganeshram, Page Street Publishing Co. 2021.
YOUR RECENTLY VIEWED RECIPES
Free recipes, giveaways, exclusive partner offers, and more straight to your inbox!