Tacos de Yaca Al Pastor
(Jackfruit Al Pastor Tacos
Cookbook
Published by Page Street Publishing Co.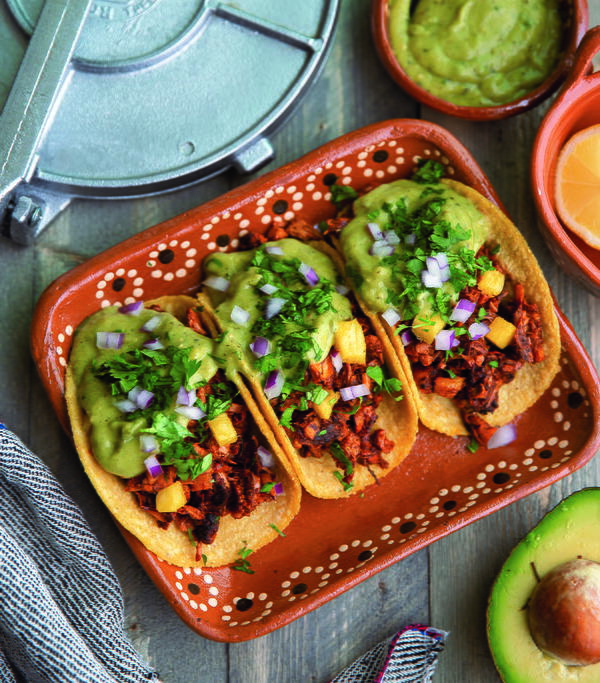 Tacos de Yaca Al Pastor
This image courtesy of Zohra Banon
Al pastor is a beloved taco filling eaten throughout Mexico and Los Angeles. Although the origin for this taco flavor comes from Mexico, the style of cooking pork meat on a trompo or long spit is actually a Lebanese style of cooking lamb shawarma. is cooking method evolved in Mexico using ingredients that were readily available like pork, achiote, citrus and other chiles. For this recipe, we won't need to use a trompo to bring out the deliciously familiar flavors of fragrant al pastor. We'll be using marinated and seared jackfruit to make tacos just as craveable as you might remember.
Ingredients
3 1/2 tablespoons (52 ml) achiote paste
1/4 cup (60 ml) orange juice
1/4 cup (60 ml) pineapple juice
3 (20-oz [565-g]) cans green jackfruit, drained, rinsed, squeezed dry and coarsely chopped
1/2 cup (120 ml) cooking oil, plus more for cooking as needed
2 tablespoons (17 g) ground cumin
1/2 teaspoon crushed red pepper flakes
Salt and pepper, to taste
1/4 pineapple, diced
Tortillas Hechas a Mano
1–2 lemons, cut into wedges
Salsa de Aguacate
Instructions
Add the achiote paste, orange juice and pineapple juice to a blender. Blend until smooth and set aside. 

Remove the non-shreddable core from the shreddable part of the jackfruit with a knife. Remove any seedpods from the shreddable parts and add them to the pile of cores. Add the shreddable jackfruit to a medium bowl. Mince the cores and seedpods with a chef 's knife until they are a similar texture to the shreddable jackfruit. Shred the jackfruit in the bowl, and add the minced jackfruit. Add the achiote mixture, oil, cumin, crushed red pepper flakes, salt and pepper to the bowl of jackfruit and mix until fully incorporated.

Heat a large skillet over medium heat, and add the jackfruit mixture. Cook for
20 to 30 minutes, or until it is seared and brown on all sides. You may need to add more oil as the jackfruit cooks. The skillet should have enough oil to help sear and brown the jackfruit. Add the diced pineapple to the dish to sear during the last few minutes of cooking. Serve this dish with Tortillas Hechas a Mano, lemon wedges and Salsa de Aguacate.
Chef's Notes
Achiote or annatto is an orange-red seed used to season and add color to food.

Young green jackfruit can typically be purchased in cans or preserved in brine in jars at Asian markets or health food stores.
Reprinted with permission from La Vida Verde by Jocelyn Ramirez, Page Street Publishing Co. 2020. Photo credit: Zohra Banon
YOUR RECENTLY VIEWED RECIPES
Free recipes, giveaways, exclusive partner offers, and more straight to your inbox!