Swiss Enchiladas (Enchiladas Suizas)
Cookbook
Published by Workman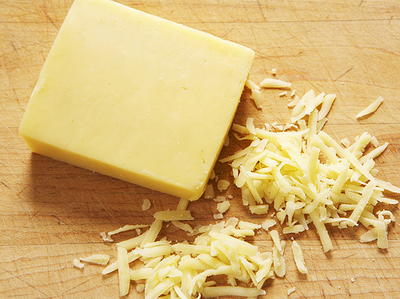 This image courtesy of Joseph DeLeo
Editor's Note: Swiss Enchiladas (Enchiladas Suizas) is a flavorful and easy Mexican recipe that can feed a crowd. This easy enchilada recipe begins with the homemade enchilada sauce. The simple enchilada sauce is made from a combination of homemade green salsa, roasted poblano peppers, and heavy cream. The best thing about this Mexican dinner recipe is that the sauce can be made ahead of time and the enchiladas themselves can also be assembled in advance. When you are ready to eat, simply cover the enchiladas with sauce and cheese before baking. Serve these Enchiladas Suizas with onions and cilantro.

Enchiladas suizas are an old staple of Sanborns, a very popular Mexican chain of cafeterias. It claims it named the dish and first served it more than fifty years ago. In the years that followed its debut, a number of Swiss restaurants with names like El Chalet Suizo opened in the capital. Enchiladas suizas are but one example of the cross-cultural nature and constant evolution of Mexico's cuisine.

To make this classic, chicken-filled corn tortillas are paired with Cooked Green Salsa that is enriched with cream and cheese. (Here we offer the green version; to prepare a red version, substitute Ranchera Sauce.) The casserole is topped with grated cheese and baked until bubbling and golden brown. The enchiladas can be filled hours in advance, and the tomatillo sauce made a day ahead. Before guests arrive, top the enchiladas with sauce and cheese and pop them in the oven.

You will come across Cooked Green Salsa, a tangy, cilantro-scented sauce, not just in Enchiladas Suizas, but in countless Mexican recipes. At Rosa Mexicano we also turn it into a table salsa by boosting the heat and adding chopped onion and fresh cilantro (see the variation). You can also use the sauce as a base for stewing meats and poultry.
Makes6 servings
Occasional Fresco, Birthday, Buffet, Buffet Meal, Card Night, Casual Dinner Party, Family Get Together, Game Day
Taste and TextureCheesy, Herby, Hot & Spicy, Meaty, Savory, Tangy
Ingredients
12 Fresh Corn Tortillas or 6-inch store-bought corn tortillas
¼ cup vegetable oil or light olive oil if using store-bought tortillas
4 cups cooked shredded chicken (leftovers or a store-bought rotisserie chicken)
2 pounds tomatillos, husked and washed
2 jalapeños
3 small garlic cloves
1 teaspoon ground cumin
1 bunch cilantro, thick bottom stems removed, the remainder washed and shaken dry (see Notes)
1 tablespoon vegetable oil
1 tablespoon salt, or to taste
4 cups Cooked Green Salsa (recipe follows)
2 poblano chiles, roasted, peeled, seeded, and coarsely chopped
1 cup heavy cream
1½ cups shredded queso Chihuahua or Muenster cheese (about 6 ounces)
1 cup finely chopped white onion
1/3 cup chopped fresh cilantro
Instructions
Make the Cooked Green Salsa:
Put the tomatillos and jalapeños in a medium saucepan, pour in enough cold water to barely cover (about 3½ cups), and bring to a boil. Cook until the jalapeños are soft and the tomatillos are tender, about 20 minutes. Remove from the heat and let stand for 15 minutes to finish cooking the inside of the tomatillos.

Drain the tomatillos and chiles (gently, to aviod breaking up the tomatillos) in a colander. Wipe out the saucepan and set aside. Put the tomatillos, jalapeñnos, garlic, and cumin in a blender jar and blend for a few seconds, just until the tomatillos are coarsely chopped. Add the cilantro (see Notes) and blend until the sauce is smooth and speckled with finely chopped cilantro. Do not overblend, or you will grind the tomatillo seeds and make a thick and pasty rather than smooth and shiny sauce.

Heat the oil in the cleaned pan over medium heat. Pour in the salsa, bring to a simmer, and simmer until lightly thickened, about 10 minutes. Season with the salt. The sauce can be stored in the refrigerator for up to 3 days. Reheat over low heat before using.

Preheat the oven to 375 degrees F.
Make the Enchilada Sauce:
Pour half the green sauce into a blender jar, add the poblanos, and blend at low speed until smooth. Pour into a medium saucepan, add the remaining green sauce and the cream, and bring to a simmer over low heat. Remove from the heat. If prepared in advance, reheat, adding water 1 tablespoon at a time if necessary to return the sauce to the right consistency, before ladling over the enchiladas.

If using store-bought tortillas, soften in the oil and drain them. Fill and roll the tortillas, using 1/3 cup of the chicken for each one. Place the enchiladas seam side down in a 9 by 13-inch baking dish. The enchiladas can be prepared to this point up to 4 hours in advance. Cover them with a damp kitchen towel or paper towels, cover the dish with plastic wrap, and refrigerate. Remove from the refrigerator 30 minutes before baking.

Pour the hot sauce over the enchiladas. Jiggle the dish so the sauce settles in between the enchiladas. Sprinkle the cheese evenly over the top. Bake until the sauce around the edges is bubbling and the cheese is golden brown, about 20 minutes. Let stand for 5 minutes before serving.

Scatter the onion and cilantro over the enchiladas. Scoop 2 enchiladas and plenty of sauce onto each serving plate.
Notes
When trimming, washing, and drying the cilantro, keep it more or less in bunch form, then add the bunch to the blender jar stems down; they will quickly be pulled into the liquid and chopped, avoiding over blending.
Variation
Green Salsa For the Table: Coarsely grind 2 roasted and peeled jalapeños with a large pinch of salt in a molcajete or in a mortar with a pestle. Stir in 2 cups cooled Cooked Green Salsa, ½ cup finely chopped white onion, ½ cup chopped fresh cilantro, and salt to taste. (Alternatively, blend the chopped jalapeños and sauce in a blender jar using quick on/off pulses just until the jalapeños are coarsely chopped. Scrape into a bowl and stir in the onion, cilantro, and salt.) Let stand for 1 hour before serving.
2007 Rosa Mexicano
YOUR RECENTLY VIEWED RECIPES
Free recipes, giveaways, exclusive partner offers, and more straight to your inbox!