Mexican Tortilla Chicken Soup
Cookbook
Published by Workman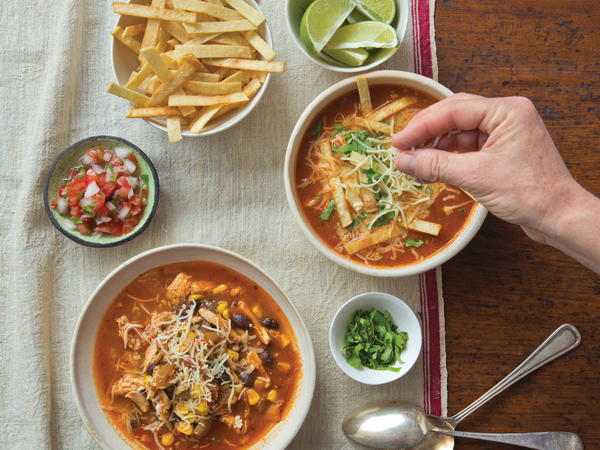 This image courtesy of Todd Coleman
Recipe inspiration strikes from many places, and in this case it was simply my friend Catherine Skobe saying, "I need you to come up with a recipe for Mexican tortilla soup, please." A friend in need--that counts as inspiration right? She did say "please" (she was brought up in the South and has lovely manners). My version of tortilla soup is homey, comforting, and my family is nuts about it--as are the Skobes. And the real fun is in the garnishes, from the crispy tortillas to all of the other options listed below. This is a real-meal soup. If you're making this soup in late summer, try using 3 seeded and chopped large fresh tomatoes in place of the canned. A brighter, lighter-tasting version of itself.
Serves4 to 6
Cooking MethodFrying, Sauteeing

OccasionCasual Dinner Party, Family Get-together, Game Day
Dietary ConsiderationEgg-free, Peanut Free, Soy Free, Tree Nut Free
Type of DishChicken Soup, Soup
Ingredients
2 tablespoons extra-virgin olive oil
2 medium-size onions, chopped
2 cloves garlic, minced
1 1/2 teaspoons ground cumin
1 teaspoon ground coriander
1 teaspoon pure chile powder
1 can (14.5 ounces) crushed tomatoes
6 cups chicken broth, preferably low-sodium
Kosher or coarse salt and freshly ground black pepper, to taste
3 skinless boneless chicken breasts, trimmed of fat (about 1 1/2 pounds; see Notes)
Canola or vegetable oil, for panfrying
6 corn tortillas, halved and cut crosswise into thin strips (see Notes, Cooking Tip 1)
Juice of 1 lime
1 or 2 avocados, peeled and diced
1 cup shredded Monterey Jack cheese
1/2 cup coarsely chopped fresh cilantro leaves
Salsa or Pico de Gallo
1 lime, cut into wedges
Instructions
Heat the olive oil in a large stockpot over medium heat. Add the onions and garlic and sauté until tender and golden, 5 minutes. Stir in the cumin, coriander, and chile powder and cook until fragrant, 1 minute. Add the tomatoes and chicken broth, season with salt and pepper, and bring to a simmer over high heat. Add the chicken breasts and lower the heat to medium-low (see Notes, Cooking Tip 2). Simmer uncovered (don't let the soup come to a boil), stirring occasionally, until the chicken is just barely cooked through, about 12 minutes. Remove the chicken to a plate and let sit until cool enough to handle. Keep the soup gently simmering over medium-low heat.

Meanwhile, pour the canola oil to a depth of 1 inch into a medium-size skillet and heat over medium-high heat. Line a plate with a couple of paper towels. When the oil is hot (see Notes, Cooking Tip 3), add the tortilla strips in batches and fry, stirring often, until they are crisp and lightly colored, about 2 minutes. Remove with a slotted spoon to the plate and sprinkle lightly with salt while they are still hot.

Shred the slightly cooled chicken, and stir it and the lime juice into the soup.

You can continue with Step 5 or see the Fork in the Road for add-ins that will make a heartier stew.

Ladle the soup into soup bowls and top with the fried tortilla strips, along with your choice of diced avocado, cheese, cilantro, salsa, and lime wedges.
Notes:
Is this slicing and frying the tortillas an added step, and maybe a little bit of a pain in the butt? Why, yes it is. But it's not a big pain in the butt. However, if it's going to keep you from making this soup on any given night, then skip the tortillas or take this shortcut: Grab a bag of tortilla chips, lightly crush a few handfuls, and use those instead. It is highly unlikely you will receive any complaints from the peanut gallery.

When making a broth or a soup with chicken, I am a big fan of cooking the chicken in already-prepared chicken broth. The theory being that the broth flavors the chicken while it cooks, and the chicken enriches the broth: win-win. Chicken simmered in water is fine, but the chicken itself tends to lose a lot of its flavor to the liquid.

You can tell if the oil is hot enough to fry the tortilla strips by adding a couple to the pan. If they sizzle gently, you're good to go. Fry the strips in a couple of batches so that you don't crowd the pan, thereby lowering the temperature of the oil and merely poaching those tortillas. You want them to have space to move around and crisp up nicely.

Note: If you have leftover roast chicken, use it instead of poaching your own. Shred up about 2 cups of chicken and add it to the soup after the tomatoes and spices have cooked for about 10 minutes.

What the Kids Can Do:  Cut the tortillas into strips with an age-appropriate knife, shred the chicken if you let it cool enough, and help choose and prepare some of the soup toppings.

Make Ahead:  You can make the soup ahead through adding the shredded chicken and keep it refrigerated for up to 4 days. Reheat, adding the lime juice when you are ready to serve (and, of course, don't fry the tortillas or prep the toppings until just before serving!). Same goes for the stew.

Fork in the Road: A couple of extra ingredients turns this freaking great soup into a freaking great stew.
Black Bean, Corn & Chicken Tortilla Stew
When you add the shredded chicken and lime juice to the soup in Step 3, add 2 cans (15.5 ounces each) black beans (rinsed and drained) and 2 cups fresh or frozen corn kernels. Simmer until everything is hot, about 5 minutes.
If you want to serve half of the soup now and enjoy a stew later in the week, at the end of Step 1, divide the soup in half and refrigerate one portion for stew later. When ready for stew, add 1 can of black beans and 1 cup of corn kernels. Reheat at a simmer and top with the tortilla strips and other toppings as desired.
2015 Katie Workman
YOUR RECENTLY VIEWED RECIPES
Free recipes, giveaways, exclusive partner offers, and more straight to your inbox!