30+ Easy Mexican Food Recipes
These recipes for guacamole, enchiladas, tacos, and more are too good to miss!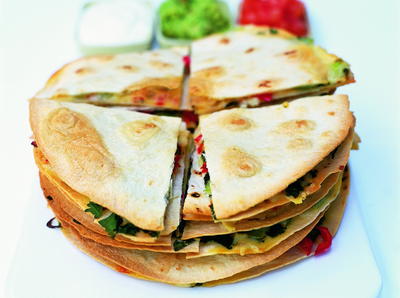 Whether it's Cinco de Mayo or just a typical Wednesday night, Mexican food is always a hit with the whole family. This collection of 30+ Easy Mexican Food Recipes is essential for all of your Mexican food cravings and for any occasion.

Whether you're looking for easy enchilada recipes, taco recipe ideas, or Mexican breakfast recipes, you're sure to find something here that strikes your fancy. There are even some Mexican snacks and appetizers to satisfy your spicy tooth at any time of day! Put a little zing in your weeknight dinners, host a taco night, or bring one of these dishes to a potluck or a family party. The party appetizers are especially great to munch on while watching the big game or your favorite show. You can't go wrong with the savory combinations of cheese, fresh vegetables, and seasonings in these easy Mexican recipes. Even the pickiest eaters can't say no — the kids will love them! We've even included a selection of dessert recipes that everyone is sure to love. After all, you can't go wrong with serving something sweet. These tasty and easy Mexican dishes will quickly become some of your family's favorite go-to meals.
Table of Contents
Looking for even more breakfast recipes? Then you'll love this selection of breakfast recipes that are easy to make, too! You'll love starting your day on the right foot when you take a look at these  25+ Easy Breakfast Ideas
Easy Mexican Breakfast Recipes
Start the day off right with a delicious and flavorful Mexican breakfast! Each of these recipes was hand-picked for its appearance and taste. From huevos rancheros to chorizo hash, these Mexican breakfast recipes will keep you full until lunch (and have you craving them again by dinnertime!). If you're tired of eating a bowl of cereal or a bagel every morning — and we don't blame you — then this list of tasty breakfast recipes is for you. You'll enjoy trying something new when starting your day — and you'll love that you don't need to wait until lunchtime to make easy Mexican dishes!
Enjoy a classic Mexican breakfast recipe with these Huevos Rancheros. Best of all, this recipe is made in the microwave, so clean-up is a breeze. 
The only way to make chili better: put an egg on it! You can make chili from scratch for this recipe, or use leftovers from the week to make a filling breakfast. 
Easy Mexican Appetizers and Snacks
We all know that guacamole is a standard when it comes to Mexican snacks, so of course we've included it in this list. But if you're looking for something a little different, these other Mexican appetizers and snack foods might surprise you! Bring them to any party — you're sure to receive rave reviews. Everyone will love the bold colors and complex flavor profiles found in these appetizer recipes, too. And if you've never tried to make your own guacamole or a plate of nachos, then these recipes will help you get started!
Easy Enchilada Recipes
Creamy, cheesy enchiladas are a must-make comfort dish. These enchilada recipes don't disappoint — there are even some vegetarian options so everyone can get in on the fun! Be sure to make extra, because there's no doubt that you'll be craving leftovers. You and your family will love digging into a plate of homemade enchiladas, especially after a long day of work and running errands. Many of these enchilada recipes are so easy to make, too, and can be prepared without much fuss. You can even freeze some of these recipes in freezer-safe containers to eat at a later date. How easy is that?
Taco Recipe Ideas
Tacos are such a great idea for dinner or a party! These taco recipes range from standard to seriously unique. Whether you prefer fish or steak, chicken or veggies, there's a taco recipe on this list that you'll love to whip up. Assemble these all on your own and serve with your favorite side, or prepare the toppings and have everyone assemble their own for some taco night fun! These tacos are just what you'll want to make for dinner any night of the week. From quick dinner ideas to make after work to a casual get-together with friends, you'll want to keep these recipes for easy Mexican dishes right at your fingertips.
Fresh Baja Fish Tacos with Mexican White Sauce
If you're craving fish tacos, give this recipe for Fresh Baja Fish Tacos a try. Shredded cabbage gives the tacos great crunch and you won't be able to resist the homemade Mexican white sauce.
Grilled Fajita Steak and Shrimp Tacos
Nothing beats surf and turf, and you will love these Grilled Fajita Steak and Shrimp Tacos. Sweet peppers and onions further complement the flavor of this easy taco recipe.
Mexican Dessert Recipes to Make
As the old saying goes, all good things must come to an end. If you'd like to end your next meal on the right note, then you'll want to take a look at this list of delicious easy dessert recipes. This assortment of Mexican recipes will delight family and friends at your next get-together while giving you the opportunity to show off your culinary skills. From a frothy iced coffee that can be served after dinner to cookies that can be served in almost any special occasion, you'll love serving these delicious desserts.
Easy Traditional Mexican Dishes
If you love Mexican food, then you know you can never have too many recipes for easy traditional Mexican dishes right at your fingertips! If you're hosting a get-together with friends or want to pull out all the stops for a fun family dinner, consider using the recipes in this section. From mole to hot sauce, you'll find an assortment of easy traditional Mexican dishes that will be the perfect addition to just about any menu you have planned. You'll also love that many of the following recipes have fewer than five steps, so you can quickly and easily prepare them in time for your next meal. 
Are you looking for more ideas for family meals? Then you'll want to take a look at the collection page for 38+ Best Italian Recipes
What is your favorite easy Mexican food recipe?
YOUR RECENTLY VIEWED RECIPES
Free recipes, giveaways, exclusive partner offers, and more straight to your inbox!