Meatball Gyros with Creamy Cashew Tzatziki
This vegan gyro recipe is delicious and full of flavor.
Cookbook
Published by Page Street Publishing Co.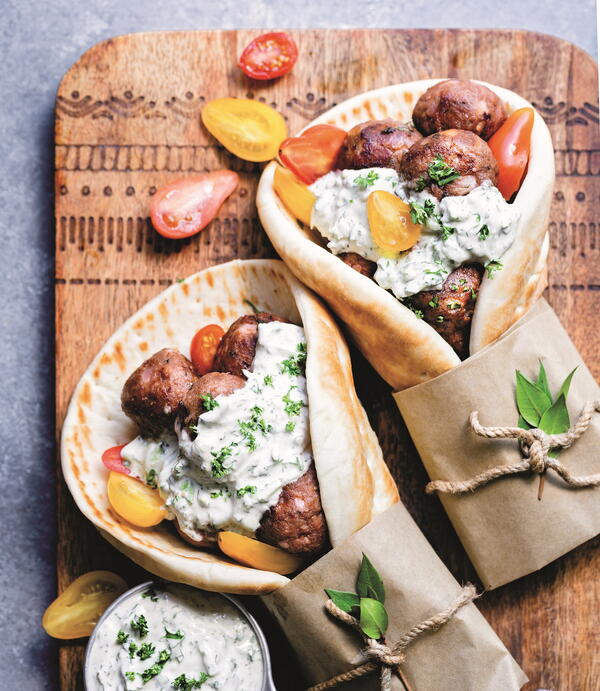 Meatball Gyros with Creamy Cashew Tzatziki
Editor's Note: "Crispy, perfectly seasoned filling, fresh tomatoes, fluffy pita, and a drizzle of vegan tzatziki sauce... what's not to love? This vegan gyro recipe retains all of the best parts of a traditional gyro. The seasoning is incredible, and each bite is the perfect blend of flavors and textures."

These meatball gyros are juicy, full of flavor and made with pea-based vegan ground "beef." Vegan ground beef gives off more fat when cooking than regular beef, so developing a crust on the meatballs before finishing them in the oven helps to lock in the moisture and flavor. Save time by using Violife feta, or make your own with the recipe on page 62.
Yields4 large servings
Ingredients
Meatballs
Cooking spray
1/3 small yellow onion, very finely minced
3 cloves garlic, very finely minced
1 pound (454 g) vegan ground beef
1/4 cup (23 g) mint leaves, finely chopped
4 ounces (113 g) vegan feta, finely diced
(store-bought or page 62)
2 tablespoons (14 g) breadcrumbs or gluten- free breadcrumbs
2 teaspoons (4 g) ground cumin
1 teaspoon dried oregano
1/4 teaspoon sea salt
1/4 teaspoon red pepper flakes
Creamy Cashew Tzatziki
1 cup raw cashews, soaked for 6+ hours or boiled for 10 minutes
1/2 cup (120 ml) water
1 tablespoon (15 ml) lemon juice, plus more to taste
1/4 teaspoon salt, plus more to taste
1 large cucumber, grated
1/4 cup (13 g) dill
1/4 cup (15 g) parsley, plus more for garnish
1/4 cup (23 g) mint leaves, finely chopped
For Serving
4 pitas
1 cup (149 g) small tomatoes
Instructions
Preheat the oven to 450°F (232°C). Spray a large pan with cooking oil and place it over medium heat. When the pan is hot, cook the onion and garlic for 1 to 2 minutes, until softened, then remove from the heat and set aside.

In large bowl, combine the vegan ground beef, mint, feta, breadcrumbs, cumin, oregano, salt and red pepper flakes. Mix until evenly combined. Use a melon scooper to portion 1-inch (2.5-cm) balls, then roll them tightly in your hands.

Place the pan back over medium heat. Spray with cooking oil, then add the meatballs. Cook until a thick crust forms on the meatballs, turning them frequently, about 5 to 6 minutes.

Meanwhile, make the tzatziki. Combine the cashews, water, lemon juice and salt in a high-speed blender. Blend until smooth and creamy, about 2 minutes. Taste the cream. Add more salt or lemon juice if the cream needs a bit more tang to achieve a yogurt-like flavor. Transfer the cream to a bowl. Stir in the cucumber, dill, parsley and mint. Cover and chill until ready to serve.

When the meatballs have a nice crust, transfer them to a baking sheet and bake for 6 minutes. Warm the pitas and halve the tomatoes. Wrap several meatballs, tomatoes and a large scoop of tzatziki in a warm pita.
Whole-Food Plant-Based Option
Line a baking sheet. Omit the vegan feta. Instead, mix 2 tablespoons (14 g) of ground flaxseed with 5 tablespoons (75 ml) of water. Replace the vegan ground beef with 11⁄2 cups (297 g) of cooked or canned brown lentils and 1⁄3 cup (35 g) of walnuts. Pulse the lentils, walnuts, onion and garlic in a food processor until well combined but still a little chunky. In a bowl, combine the lentil mixture, flaxseed and water mixture and 1⁄4 cup (27 g) of breadcrumbs with the mint and seasonings. Roll the dough into 1-inch (2.5-cm) balls. Put the balls directly on the lined baking sheet and into the oven. Don't brown on the stove first or they will fall apart. Bake for 15 to 17 minutes, turning the meatballs halfway through, until crisp on the outside and cooked through.
YOUR RECENTLY VIEWED RECIPES
Free recipes, giveaways, exclusive partner offers, and more straight to your inbox!