Slow-Cooked Lamb with Beans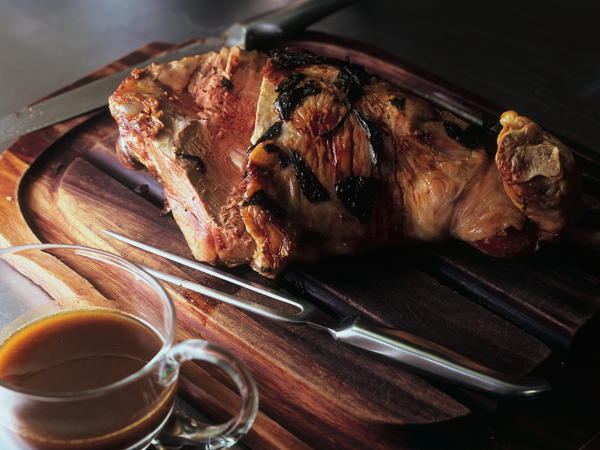 This image courtesy of Joseph DeLeo
If Easter's early, and the wind still chill, then this is the sort of lamb you'll want for your Easter lunch: homey, warming, comforting. Oh, and very good. I like this kind of old-fashioned food; how the French cooked before "la crise," when the tradition of cooking local produce, la cuisine du terroir, started going belly-up. If you want to use leg in place of shoulder here, you can but just remember (as with the braised lamb that follows) you don't end up with restaurant rareness, but soft strands of dark, melting meat. This doesn't take quite as long as the slow-cooked lamb salad with mint and pomegranate of one of my earlier books, but you do stash it out of sight in the oven for quite a long time. I find that makes my life easier: the less I do when I've got people hovering about, the more I enjoy both the cooking and the people.
NotesThere are so many beans in this that I really wouldn't bother with any other vegetables. Though I might suggest a plain tomato salad, not to be eaten alongside, but after, with maybe a little Dijon mustard dressing.

In fact, contrary to culinary dictates, I love mustard with lamb. My stepfather used to taunt me with the old English saying "Mustard with mutton, sign of a glutton." And?


OccasionCasual Dinner Party, Family Get-together
Dietary Considerationkosher
Ingredients
6 cups dried white beans
4 onions (about 1½lbs), quartered
6 cloves garlic, peeled
1 carrot, peeled and cut into chunks
1 shoulder of lamb
1 tablespoon vegetable oil
1 cup white wine
3 large sprigs rosemary
Sea salt
3 tablespoons chopped parsley
Instructions
Put the beans into a large bowl of cold water, and soak them overnight.

You need to pre-cook the beans, for all that they linger in the oven for hours and hours later, so put them in a large saucepan and cover them generously with cold water, bring to the boil and cook them for 20 minutes. Then drain but reserve the liquid.

Preheat the oven to 325°F. Either finely chop the onions, garlic and carrot or bung them all in a processor and blitz. Sear the lamb in a deep roasting pan, fat-and-skin-side down, over a fairly high heat on top of the stove until it takes on some color, and then remove.

Add the onion mush to the roasting pan, adding only a spoonful of oil as the lamb should have rendered some fat, and turn down the heat to fry gently, stirring every now and again, for about 5 minutes. Add the beans, stirring them in well, and then pour in the wine and 4 cups of the reserved bean liquid. Tuck the rosemary sprigs into the pan, then place the lamb back on top of the beans (right way up this time), season with plenty of sea salt (about 1½ tablespoons or half that of table salt if you must) and bring it to the boil. When it begins to bubble, cover the pan with foil, baggily but with tightly sealed edges, and place in the oven for 4 hours. Or turn down to 275°F after 3 hours and leave for up to 8 hours; it'll be fine to eat after 3.

Remove the tented pan from the oven and let sit for 10 minutes, then remove the foil, and transfer the lamb – momentarily – to a board. Stir the beans well in the roasting tin and taste for seasoning. Spoon them on to a large dish and then carve the lamb into shreds and chunks and arrange on top. Sprinkle a little more salt over, if you think the lamb needs it, scatter over the chopped parsley and let people dig in. I wouldn't claim this to be elegant, but it is wonderful.
2004 Nigella Lawson
YOUR RECENTLY VIEWED RECIPES
Free recipes, giveaways, exclusive partner offers, and more straight to your inbox!