Basic Roasted Rack of Lamb
Discover how to roast lamb to tasty perfection.
Cookbook
Published by W.W. Norton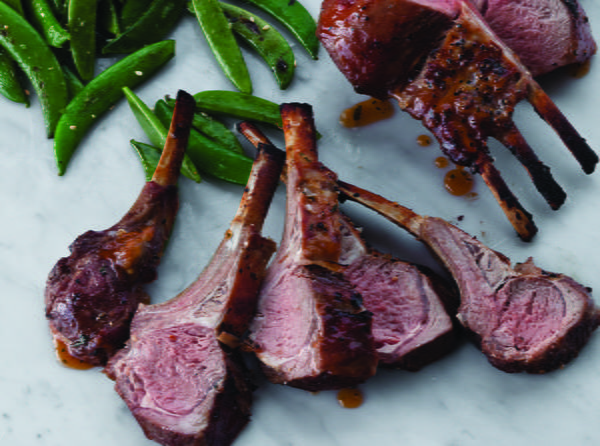 This image courtesy of Quentin Bacon
Editor's Note: While learning how to cook lamb might sound intimidating, it is actually pretty easy! Follow along with the instructions below to learn exactly how to cook lamb including the perfect cooking time, baking rack, and more useful tips. After you try this recipe, you'll be eager to explore even more lamb recipes.

When I'm looking to make a special-occasion dinner but don't have a lot of time to fuss, rack of lamb is one of the first dishes I consider. The delicate arch of slender rib bones and the tender, distinctive meat bring a certain luxury to even the humblest table. Roasting and carving is an entirely straightforward affair-as long as you have a reliable meat thermometer in the house. My roasting method involves a quick sear on top of the stove followed by 20 to 30 minutes in a moderate oven. If you're entertaining, you, can sear the lamb well before your guests arrive, which gives you a chance to wipe up any splatters and vent any smoke, and then quietly roast the racks during cocktails.

Depending on the setting, rack of lamb pairs with a range of side dishes, from simple to fancy, from roasted potatoes and green beans to gratin dauphinoise and porcini risotto. Traditionalists may like mint jelly on the side, but I prefer a more exciting condiment, like my Fig, Mint, and Pine Nut Relish. In place of traditional mint jelly, serve this bright tasting relish alongside roasted lamb (it's good with pork and chicken, too). If you're skilled at multitasking in the kitchen, make the relish as the lamb roasts. If there's already a lot going on, make it ahead of time. The relish can sit for several hours before serving, but the lamb is best served right away.
Serves4 to 6
OccasionFormal Dinner Party
Ingredients
2 racks of lamb (1¼ to 1½ pounds and 7 to 8 ribs each), trimmed
Kosher salt and freshly ground black pepper
½ cup finely chopped dried figs, black mission, Turkish, or Calimyrna (about 3 ounces)
¼ cup coarsely chopped fresh mint
¼ cup pine nuts, lightly toasted and coarsely chopped
1 scant teaspoon minced garlic
1 teaspoon finely grated lemon zest
3 tablespoons extra-virgin olive oil
1 tablespoon fresh lemon juice
Kosher salt and freshly ground black pepper
Gordon Ramsay's Roasted Lamb

Looking for another way to roast lamb? Check out this decadent recipe from one of your favorite celebrity chefs: Cider and Honey Roast Leg of Lamb
Instructions
To Make the Lamb
Heat the Oven: Position a rack near the center of the oven and heat to 350 degrees (325 degrees convection).

Trim the Lamb: If there is more than a thin layer of fat left on the racks, trim them so that only a thin layer remains. Do not attempt to remove all the fat, and be careful not to cut away any of the precious meat.

Sear the Racks: Pat the lamb dry and season the meat all over with salt and pepper. Heat a heavy skillet (12-inch cast iron works well) over high heat. Lower one rack, meat side down, into the hot skillet. If there's room without crowding, sear the other rack at the same time. It's okay if the bone ends extend over the side of the skillet (your objective here is to get a good sear on the meat; the bones don't need to brown). When the top is nicely browned, 2 to 3 minutes, turn with tongs and brown the bottom for 2 to 3 minutes. Remove and repeat with the second rack, if necessary. This can be done, up to 2 hours ahead. Leave the meat at room temperature. (If you wish to protect the tips of the rib bones from possibly charring, cover them with a thin strip of aluminum foil. I don't bother as it doesn't affect the flavor, and I like the appearance of a little char.)

Roast: Transfer the racks, bone side down, to a heavy-duty rimmed baking sheet or shallow roasting pan. You may need to interlock the bone ends to make the racks fit. If possible, arrange the racks so the meaty part faces the outside of the pan; this will help them to cook more evenly. Roast until an instant-read thermometer inserted in the center of the meat reads 125 to 130 degrees for rare to medium-rare, 20 to 25 minutes, or 135 to 140 degrees for medium-rare to medium, 25 to 30 minutes.

Rest, Carve, and Serve: Transfer the lamb to a carving board, preferably one with a trough, to rest for 5 to 10 minutes. Carve by slicing down between the rib bones, cutting into single rib chops (1 bone each) or double rib chops (2 bones each) as desired. Serve, spooning any carving juices over the top.
To Make the Relish
In a small bowl, combine the figs, mint, pine nuts, garlic, and lemon zest. Stir to combine. Drizzle in the oil and lemon juice. Season with salt and pepper to taste.
Notes
Method: Combination sear and moderate heat.

Wine: Classic rack of lamb does exceptionally well with a youthful Pinot Noir from the Russian River Valley or Carneros in California or Oregon's Willamette Valley.
American Lamb vs. Imported Lamb
When shopping for lamb, you may notice a lot of lamb from New Zealand and Australia in American supermarkets. Even though these imports often cost less, I tend to prefer American, and not only because I generally champion the "eat local" mentality. (Cases have been made that lamb raised on grass elsewhere and flown here can actually have a smaller carbon footprint than lamb raised by our domestic suppliers.) More important is that I prefer the flavor and texture of American lamb. Most commercial American lamb comes from the West (primarily Colorado and California) and is fed a mix of grass and grain, which translates into rich, well-marbled meat with mild taste and tender texture. The breeds raised on American sheep farms tend to be larger than those raised elsewhere and offer a higher meat to bone ratio; you'll get more tender rib meat in relation to rack on the average rack of lamb, for example). There are also a growing number of small farms (in regions like the northeast and my home state of Vermont) raising heritage breeds, such as the Navajo-Churro, that thrive on pasture and forage-based feed systems. Expect these to have a slightly richer, wonderfully delicious lamb flavor.

If all you can find is lamb from down under (as is the case in many chain markets) or if the cheaper price of imported lamb tempts you, expect the lamb to be leaner and smaller than lamb bred here. Much of the New Zealand lamb is entirely grassfed and apt to have a stronger, more gamey flavor. Australian lamb tends to be somewhere between American and New Zealand in size and taste. Most imported lamb comes already broken down into retail cuts and vacuum sealed in plastic, meaning less variety of cuts in the meat case.

Icelandic lamb is relatively new to the American market and mostly found in high-end restaurants and specialty shops. The lambs are the smallest of all, with a very delicate flavor and tender, almost soft, texture.

Finding the lamb you like best may take a bit of experimentation. There are many factors, including provenance, that affect flavor. For instance, feed, breed, and age all playa role in a complicated equation. (Though lamb sold in American markets must come from animals that are 4 to 12 months old, thus ensuring tender and mild meat; anything older would need to be labeled yearling or mutton and has a limited specialized audience.) My recommendation is to try several brands, including any locally raised if you're fortunate enough to frequent a market that carries it, and decide for yourself which you prefer.

Although lamb has springtime associations, good lamb is available year round at well-stocked supermarkets and smaller, specialty meat markets. The selection of cuts may vary according to where you shop, but I encourage you to ask if you don't see what you want. Most good markets will be happy to bring in what you are looking for as long as you are willing to wait a few days.
2011 Molly Stevens
YOUR RECENTLY VIEWED RECIPES
Free recipes, giveaways, exclusive partner offers, and more straight to your inbox!