Traditional Sicilian Cannoli
Cookbook
Published by St. Martins Press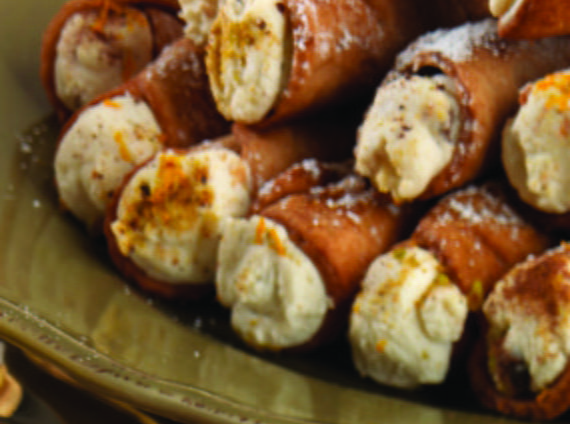 Traditional Sicilian Cannoli
This image courtesy of Scott Goodwin
Editor's Note: End your next big family meal on the right note with this recipe for Traditional Sicilian Cannoli! The cannoli will look simply stunning when arranged on a pretty plate or platter, and your dinner guests are likely to be impressed that you made this dessert by hand. This classic Italian dessert recipe is one that you and your family will love for generations to come. If this is your first time making cannoli, then take a look at the recipe author's tips for making this dessert located below the recipe's instructions.

Although I love creating new and interesting twists on most classic pastries. I must admit I am a cannoli snob — or purist, I like to think. Why tamper with perfection? Nothing beats a crispy, just-fried shell filled with a sweet pistachio-and-chocolate-studded ricotta filling and a simple dusting of confectioners' sugar.

These can be tricky to make, especially if the weather is humid; it makes the dough more elastic. The key is to just enjoy the process. If your shells come out less-than-perfect, I call that home style. If you want perfection, buy machine-made shells.

The newest trend for cannoli is Cannoli Stacks or Cannoli Chips and Dip. For the stacks, simply fry the rounds flat, not wrapped around a cannoli tube. After cooling, layer with cannoli filling like a napoleon. For Chips and Dip, fry rounds flat, cool them, and serve with a bowl of ricotta filling for dipping.
Occasional Fresco, Buffet, Buffet Meal, Casual Dinner Party, Family Get Together
Taste and TextureCreamy, Crunchy, Sweet
Ingredients
Shells
3/4 cup all-purpose flour (see Notes below)
3/4 cup cake flour (see Notes below)
2 tablespoons sugar
Pinch of salt
1 teaspoon unsweetened Dutch-process cocoa powder
2 tablespoons cold unsalted butter
1/2 cup Marsala wine
Egg white, for sealing
Oil, for frying
Filling
4 cups ricotta cheese, drained overnight
1 cup confectioners' sugar
1/2 cup chopped pistachios
1/2 cup chopped chocolate chips
1/2 teaspoon finely grated lemon zest
Confectioners' sugar, for dusting
Instructions
Make the Shells
In a food processor, combine the flours, sugar, salt, and cocoa and pulse until blended. Add the butter and pulse until blended. Add the Marsala and pulse to make a soft dough. Turn the dough out onto a lightly floured surface and knead until smooth and elastic. 5 to 7 minutes. Form the dough into a ball, wrap in plastic wrap, and let rest at room temperature for 1 hour.

Roll the out dough to a thickness of 1/8 inch. Cut into 4-inch rounds. (If making Cannoli Stacks or Chips. cut the dough into 3-inch rounds.) Keep the dough covered with plastic wrap until ready to wrap and fry. Wrap each dough circle around a cannoli tube that has been lightly sprayed with nonstick cooking spray. Seal the edges with egg white.

In a medium saucepan over moderate heat, heat the oil to 350 degrees F. Fry the shells, two or three at a time, until golden brown. Using tongs, carefully remove the tubes from the oil and transfer to paper towels to drain. Let cool.

Carefully twist the tubes to remove the shells from the tubes. Let the tubes cool completely before rewrapping with the remaining dough circles. (For Cannoli Stacks or Chips, prick the dough with a fork. Fry two or three at a time, until light brown. Transfer to paper towels to drain.) Let cool before assembling.
Make the Filling
In a bowl, combine all of the ingredients and mix well. Place the filling in a pastry bag. Cut off the tip of the pastry bag to make a small opening. Squeeze the filling into both ends of the shells. 

Sprinkle the ends with additional pistachios and dust with confectioners' sugar, if desired. 

Refrigerate until serving.
Notes
Instead of the 3/4 cup all-purpose flour and 3/4 cup cake flour, you can use 1 1/2 cups "OO" flour.
Cannoli Tips
* The dough can be made 1 day ahead. Wrap in plastic wrap and refrigerate overnight. let the dough come to room temperature before frying.

* The shells can be fried 1 day in advance. Store the shells in an airtight container at room temperature.

* Draining the ricotta overnight will help reduce excess moisture and will ensure that your filling is not runny. Place the ricotta in a fine-mesh sieve set over a bowl, cover, and refrigerate overnight.

* Don't fill the cannoli shells until you are almost ready to serve. Filling them too early will make them soggy. The ideal cannoli has a crispy shell.
2013 Maria Bruscino Sanchez
YOUR RECENTLY VIEWED RECIPES
Free recipes, giveaways, exclusive partner offers, and more straight to your inbox!