Saffroned Risotto with Peas
Cookbook
Published by Chefs Press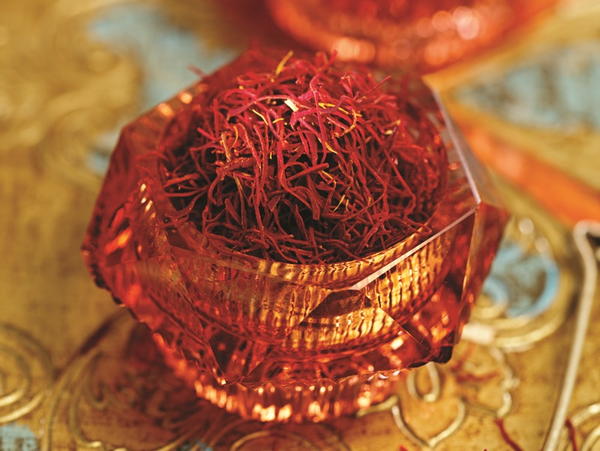 Almost all saffron — the world's most expensive spice by weight — grows in a swath across Spain and Northern Africa stretching east toward India. Saffron is the part of the purple Crocus sativus where pollen germinates, technically called the stigma, but usually referred to as a thread. Each crocus plant yields just three deep red stigmas that must be harvested by hand, which explains why this spice is so costly. It takes roughly 150 flowers to yield 1 gram of dry saffron threads and from 50,000 to 75,000 flowers for 1 pound of threads. Mediterranean and Middle Eastern cuisines rely on saffron for flavoring dishes. Whether in threads or ground to a powder, saffron is used sparingly to impart its unmistakable intensity and slightly bitter taste. It is often paired with turmeric to enhance saffron's golden tint. 
Serves4
Ingredients
8 threads saffron, crushed
2 1/2 cups chicken broth, divided use
1 stick butter, divided use
2 garlic cloves, minced
1/2 medium onion, finely diced
1 cup Arborio rice
1/2 cup white wine
1/2 teaspoon white pepper
1/2 cup baby peas
Lemon wedges, for serving
1 cup grated Parmesan or Romano cheese, divided use
Instructions
Steep the saffron in ½ cup warm chicken broth. Set aside.

In a 2-quart saucepan, melt 4 tablespoons butter over medium heat. Cook the garlic and onion, stirring occasionally until soft, 3 to 5 minutes.

Add the rice, stirring continuously until the rice is coated with butter, about 1 minute. Add the wine in increments and cook, stirring, until all the wine is absorbed, 5 to 6 minutes.

Slowly add the saffron broth and pepper. Reduce heat to medium-low. Cook, stirring gently until the saffron broth is almost completely absorbed, 5 to 7 minutes.

Add the remaining chicken broth in increments, stirring constantly until the grain is tender but not mushy, about 25 to 30 minutes.

Stir in the peas, ½ cup cheese, and remaining butter. If you make the risotto ahead, keep it warm on top of the stove, and add more chicken broth to attain a creamy consistency before serving. Serve with remaining grated cheese and wedges of lemon.
Copyright Kitty Morse, 2015
YOUR RECENTLY VIEWED RECIPES
Free recipes, giveaways, exclusive partner offers, and more straight to your inbox!