Meatballs
Cookbook
Published by Artisan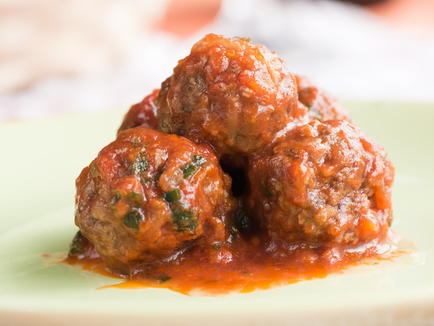 This image courtesy of Shutterstock
In 1993, Falcinelli was working as a "consulting chef"-kind of like a utility infielder-for a U.S.-based restaurant group. He was dispatched to the Grand Amsterdam Hotel in Holland, where his job was to assist one of the group's chefs, Don Pintabona of the Tribeca Grill, prepare a special week of all-American dinners. When Falcinelli was informed that Don was bringing an additional helper, he expected some young gun-a hotshot who could really bang out the food. Instead, he discovered that the chef had brought along a friend, a guy in his late forties with big thick glasses, a beard, and a shock of gray hair: Tony Durazzo. On first meeting, Tony told Frank, "I'm not a cook." It was only partly the truth. Because even if Tony wasn't a restaurant professional (he was actually a trained draftsman), he knew what he was doing well enough. Frank took the lead on the cooking; Tony on the storytelling. Tony was born in Naples and raised in Carroll Gardens, Brooklyn. He used to sneak into the Fillmore East back in the 1960s and hitchhiked from coast to coast in the 1970s. He had a million stories to tell, and it turned out he and Frank lived right around the corner from each other in the West Village. Tony told Frank all about his family's food, about the way they cooked, and about how they made the best meatballs. If you grow up around Italians, you know that most talk like that is bluster. But Tony seemed to know what he was talking about. Shortly thereafter, back in New York, Tony fried up a batch of his meatballs and walked them downstairs and around the corner from his place on Morton Street to Falcinelli's apartment on Commerce Street. When he arrived, the meatballs were still warm. They weren't in a sauce, just loose in a baking pan, topped with grated parmesan that had largely fallen off during the trip around the corner. Falcinelli didn't think they were good-he thought they were great. They reminded him of the meatballs he was raised on, but Tony's addition of pine nuts and raisins-which added texture and sweetness-pushed them to the next level. The two talked about setting up a food cart or a restaurant based on Tony's recipe. They had a good laugh about it: a meatball restaurant! They laughed about it until they laughed it off. Falcinelli put it way back on one of the backburners of his mind, next to a million other schemes that would probably never see the light. But a decade later, the seeds of this particular plan-those meatballs-grew into the Spuntino. Note that Tony fries his meatballs and we bake ours. Both recipes are here for your meatball-making pleasure. Please also note that ground beef for meatballs should clock in at around 10% fat (or 90% lean). Meat that's too fatty makes for flabby, greasy meatballs.
Makes6 servings; 18 to 20 meatballs

OccasionCasual Dinner Party
Dietary ConsiderationPeanut Free, Soy Free
Taste and TextureGarlicky, Meaty, Nutty
Ingredients
4 slices bread (2 packed cups' worth)
2 pounds ground beef
3 cloves garlic, minced
¼ cup finely chopped flat-leaf parsley
¼ cup grated Pecorino Romano, plus about 1 cup for serving
¼ cup raisins
¼ cup pine nuts
1½ teaspoons fine sea salt
15 turns white pepper
4 large eggs
½ cup dried bread crumbs
Instructions
Heat the oven to 325°F. Put the fresh bread in a bowl, cover it with water, and let it soak for a minute or so. Pour off the water and wring out the bread, then crumble and tear it into tiny pieces.

Combine the bread with all the remaining ingredients except the tomato sauce in a medium mixing bowl, adding them in the order they are listed. Add the dried bread crumbs last to adjust for wetness: the mixture should be moist wet, not sloppy wet.

Shape the meat mixture into handball-sized meatballs and space them evenly on a baking sheet. Bake for 25 to 30 minutes. The meatballs will be firm but still juicy and gently yielding when they're cooked through. (At this point, you can cool the meatballs and hold them in the refrigerator for as long as a couple of days or freeze them for the future.)

Meanwhile, heat the tomato sauce in a sauté pan large enough to accommodate the meatballs comfortably.

Dump the meatballs into the pan of sauce and nudge the heat up ever so slightly. Simmer the meatballs for half an hour or so (this isn't one of those cases where longer is better) so they can soak up some sauce. Keep them there until it's time to eat.

Serve the meatballs 3 to a person in a healthy helping of the red sauce, and hit everybody's portion-never the pan-with a fluffy mountain of grated cheese. Reserve the leftover tomato sauce (it will be super-extra-delicious) and use it anywhere tomato sauce is called for in this book.
2010 Frank Falcinelli, Frank Castronovo, Peter Meehan
YOUR RECENTLY VIEWED RECIPES
Free recipes, giveaways, exclusive partner offers, and more straight to your inbox!