Traditional Ulster Fry
Cookbook
Published by Forge Books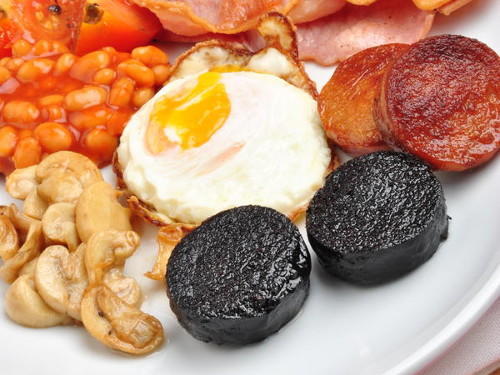 The Ulster fry dates back to Victorian times and the English version was included in Mrs. Beeton's Book of Household Management. An Ulster fry was usually eaten at breakfast time and was regarded as the best meal to set you up for a hard day's work or for play. There was also a belief that it was a good cure for a hangover. In Ulster most restaurants and pubs now serve the Ulster fry at any time of the day.

Black pudding is usually included in an Ulster fry and is made from pork blood, oatmeal, pork fat, spices, and onion, encased in a sausage skin. It is an acquired taste and some people prefer white pudding, which is similar but does not contain blood.White pudding, however, is not traditionally part of an Ulster Fry.

Regional variations are known as a Full English, a Full Scottish, or a Full Irish and there are differences between them. The English and Scottish breakfasts will include baked beans and sometimes mushrooms. The Full Irish includes white pudding.
Serves1
Ingredients
2 tablespoons canola oil (use more if needed)
2 pork sausages
2 slices bacon
1 tomato
1 Soda Farl
Irish Potato Bread
Black Pudding
2 eggs
Instructions
Turn the oven on at its lowest setting to warm the plates. Heat a little of the oil in a large frying pan over a low heat. Then prick the sausages with a fork and cook gently, turning occasionally, until they are just coloured. Add the bacon to the pan and fry until it becomes crispy but not burnt. Remove the sausages and bacon to a warm dish in the oven and cover with kitchen paper.

Slice the tomato in half and place in the pan. Cut the soda farl in half and fry in the residue of the bacon fat. Add the potato bread and continue cooking for just long enough for the potato bread to brown on the outside and stay soft in the middle and the soda farl to absorb the delicious bacon flavor. Remove to the oven to keep warm. Slice the black pudding. Fry quickly and place in the oven.

Clean the pan with a quick wipe of paper towels. Put the remaining oil in the pan.

Crack the eggs into the pan and add a teaspoon of water, then cover the pan. The water will create steam and cook the top of the egg. Before you know it, the eggs will be ready by the time you have plated the rest of the Ulster Fry onto a clean warm plate. Serve.
Copyright Patrick Taylor, 2017
YOUR RECENTLY VIEWED RECIPES
Free recipes, giveaways, exclusive partner offers, and more straight to your inbox!