Cappuccino Cream Chocolate Cake
Cookbook
Published by Imagine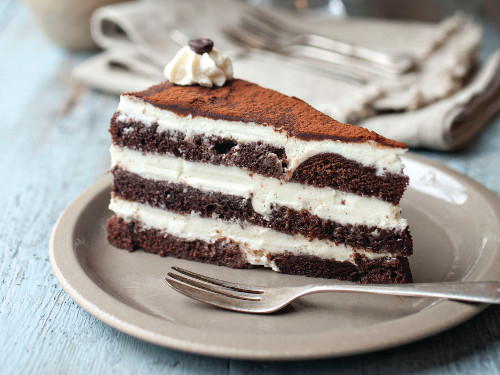 This might look like a very impressive cake that took ages to make but it's really only an assembly job. Mascarpone is a rich, creamy cheese originating from Lodi in the Lombardy region of Italy. It has a sweetened taste and is famously used in a classic Tiramisu, which is the basis of this dessert. However I've used shop-bought chocolate loaf cakes instead of the traditional sponge fingers.
Serves10

Ingredients
1 2/3 cup confectioners' sugar, sifted
1 3/4 pound mascarpone cheese, well chilled
1 vanilla bean, split in half and seeds scraped out
15 ounces cream, well chilled
7 ounces freshly brewed strong espresso coffee (left to cool)
3 1/2 ounces Coole Swan® liqueur
2 chocolate loaf cakes (store bought or homemade)
Cocoa powder, do dust
10 chocolate covered coffee beans
2 teaspoons cocoa powder (good quality)
Instructions
Using an electric whisk, mix the confectioners' sugar, mascarpone cheese, and vanilla seeds until well combined. Whip 13 fl oz (375ml) of the cream until soft peaks form and then fold into the mascarpone mixture.

Pour the coffee into a shallow dish and stir in the Coole Swan. Slice the chocolate loaves. Line the base and sides of a 9 in (23 cm) spring-form cake tin with parchment paper and wrap the outside in plastic wrap to avoid any leaks.

Dip 8 of the chocolate cake slices in the Coole Swan mixture to cover the bottom of the tin. It is important to only dip them in as you go along to they are not soaking for long and difficult to handle.

Cover the layer of soaked chocolate cake with a third of the mascarpone cream and then arrange another even layer of the soaked cake slices on top. Continue layering in this way finishing with a mascarpone layer and place in the refrigerator to chill for 10 to 15 minutes.

When ready to serve, whip the rest of the cream in a clean bowl and transfer to a piping bag fitted with a star-shape nozzle. Carefully remove from the cake tin and transfer to a cake stand. Give the cake a good even dusting of the cocoa powder and then pipe 10 to 12 peaks of cream around the edge of the cake and top each one with a chocolate-covered coffee bean. Place in the middle of the table so that everyone can help themselves.
Note
Coole Swan® liqueur is made with Irish whiskey, chocolate and cream. If unavailable you could add a liqueur of your choice.
Copyright 2017 Darina Allen, Martin Bealin, Kevin Dundon, Catherine Fulvio, Neven Maguire, and Leslie Conron Carola
YOUR RECENTLY VIEWED RECIPES
Free recipes, giveaways, exclusive partner offers, and more straight to your inbox!