Stewed Split Red Lentils
Cookbook
Published by Tuttle Publishing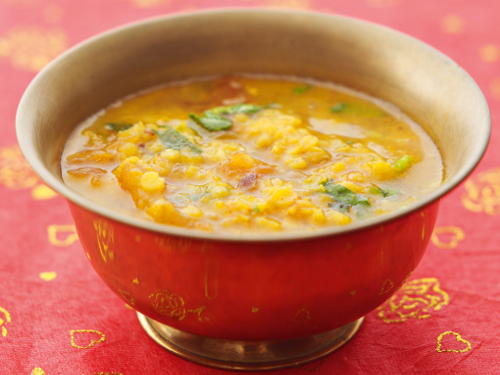 Stewed Split Red Lentils
This image courtesy of Minori Kawana
Editor's Note: Hearty as can be, this recipe for Stewed Split Red Lentils is just the recipe you need for those hectic weeknights — especially after a long day of work, school, and running errands. You'll love warming up with a bowl of this tasty vegetarian recipe for lentil stew on cold winter days, too. If you'd like, you can even freeze the leftovers to eat at a later time. Tips on how to reheat this dish are also posted below the recipe's instructions — you will only need just a little bit of time to reheat it correctly. If you always thought that vegetarian cooking was bland, then you need to try this recipe for a change of pace that everyone in your household will love!

Split red lentils make one of my favorite lentil dishes since it cooks quickly, and has a nice rich taste to it with the finishing touch of butter! When whole red lentils are skinned and split, they reveal an orange lentil, called dhuli masoor daal in Hindi. These orange lentils are also known as "petite crimson lentils" or "red lentils" and surprisingly turn yellowish when cooked (partially due to the turmeric). This stew may be served in individual bowls baked whole wheat flatbreads. It can also be spooned over plain basmati rice or rice with cumin and peas. 

Refrigerator Life: 3 days
Freezer Life: 1 month
Serves2 to 3

Ingredients
½ cup (100 g) dried, skinned and split red lentils (dhuli masoor daal)
2¼ cups (565 mL) water
1 small fully ripe tomato, such as plum (Roma), cut in half
¼ teaspoon ground turmeric
¼ teaspoon ground red pepper (cayenne)
½ teaspoon salt
1½ tablespoons vegetable oil
½ small onion, finely diced
¼ teaspoon cumin seeds
1 tablespoon unsalted butter or vegan buttery spread
1 handful fresh coriander leaves (cilantro) (about ¼ cup/10 g packed leaves), rinsed and chopped
Instructions
Place the lentils on a plate. Sift through them and remove any grit.

Transfer the lentils to a small bowl. Rinse the lentils three times by repeatedly filling the bowl with cold water and carefully draining off the water.

Place the lentils, 2¼ cups (565 ml) water, tomato, turmeric, red pepper, and salt in a medium saucepan. Stir to combine. Bring to a rolling boil over high heat.

Stir and reduce the heat to medium. Cook for 10 minutes, stirring occasionally and lightly mashing the tomato.

Reduce the heat to low and cover the saucepan. Simmer until the lentils are completely soft, stirring occasionally and lightly mashing the tomato, about 5 minutes. It should not look like the lentils are floating individually in the water and you can pick them out; instead they should come together with the water when fully cooked and should be similar to a thick soup with an even consistency. Turn off the heat.

To temper the spices, pour the oil into a small skillet and place over medium heat. When the oil is heated, add the onion and cumin seeds. Stir to combine. Sauté until the onion is browned, stirring frequently, about 5 minutes.

Add the tempered spices and butter to the lentils. Stir to combine until the butter is melted. Enjoy now or let cool to room temperature or freeze for later! Just before serving, sprinkle the chopped coriander leaves on top.
Reheating Method
Place the refrigerated or defrosted dish in a microwave, cover and stir periodically. Or, place it in a saucepan over medium-low heat and stir periodically. If it seems too thick, you may add a bit of water to thin it.
Copyright 2013 Shubhra Ramineni
YOUR RECENTLY VIEWED RECIPES
Free recipes, giveaways, exclusive partner offers, and more straight to your inbox!