Punjabi-Style Cabbage
Learn how to make Indian-style cabbage in your slow cooker.
Cookbook
Published by Surrey Books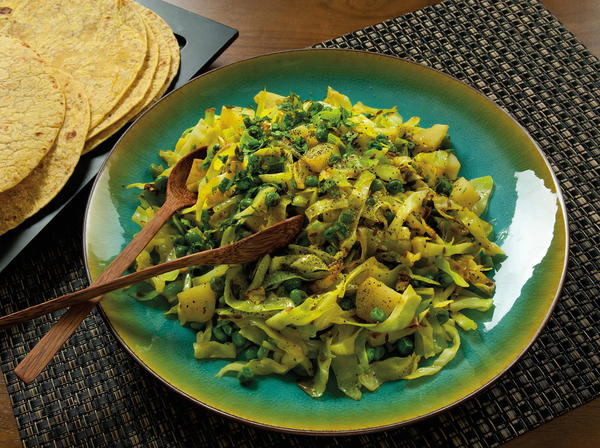 Punjabi-Style Cabbage
This image courtesy of Brave New Pictures, Inc.
Editor's Note: This Punjabi-Style Cabbage is an easy cabbage recipe that infuses your meal with the flavors of Punjab, a region in India. It can be made in the slow cooker, but when sauteed on the stovetop it only takes about five minutes to throw together! Most Indian food recipes require a lot of preparation, but not this one - with a few spices such as turmeric and cumin, plain cabbage is transformed into an exotic new dish. Recipes with turmeric are also beneficial for your health, as turmeric is an amazing spice that helps prevent a number of ailments. If you've never tried Punjabi food, this is a great starting point!

One of the first times I made this dish for my kids, they went crazy stuffing it in a roti like a taco. This is a delicious, easy recipe that will make cooking dinner fun. The dish is traditionally made on the stovetop, but it comes out great in a slow cooker as well.
 
Serves7 cups (1.66 L)

Recipe CourseMain Course, Side Dish
Dietary ConsiderationEgg-free, Gluten-free, Halal, Kosher, Lactose-free, Peanut Free, Soy Free, Tree Nut Free, Vegan, Vegetarian
Taste and TextureCrunchy, Savory, Spiced
Ingredients
3 tablespoons (45 mL) oil
1 tablespoon cumin seeds
1 teaspoon turmeric powder (see Notes)
½ yellow or red onion, peeled and diced (½ cup [75 g])
1 (1 inch [2.5-cm]) piece ginger root, peeled and grated or minced
6 cloves garlic, peeled and minced
1 medium potato, peeled and diced (1 cup [150 g])
1 medium head white cabbage, outer leaves removed and finely shredded (about 8 cups [560 g])
1 cup (145 g) peas, fresh or frozen
1 green Thai, serrano, or cayenne chile, stem removed, chopped
1 teaspoon ground coriander
1 teaspoon ground cumin
1 teaspoon ground black pepper
½ teaspoon red chile powder or cayenne
1½ teaspoons sea salt
Instructions
Slow Cooker Instructions:
Put all the ingredients in the slow cooker and mix gently.

Cook on low for 4 hours. Serve with white or brown basmati rice, toti, or naan. This is a great filler for a pita with a little drizzle of soy yogurt mira.
Stovetop Instructions:
In a deep, heavy pan, heat the oil over medium-high heat. Add the cumin and turmeric and cook until the seeds sizzle, about 30 seconds.

Add the onion, ginger root, and garlic and cook for 2 minutes, stirring occasionally to prevent sticking.

Add the potato. Cook for 2 minutes, until soft.

Add the cabbage and cook for another 3 to 4 minutes, stirring occasionally to make sure all of the cabbage is mixed well with the spices.

Add the peas, chile, coriander, cumin, black pepper, red chile powder, and salt.

Turn the heat to low and partially cover the pan. Cook until the cabbage wilts, about 8 to 10 minutes. Some like to cook it a little longer. My kids like it a tiny bit crunchy.
Notes
Slow cooker size: 3½ quart (3.32 L)

Turmeric Powder (Haldi): lf there is one spice my family cannot do without, it's turmeric. Derived from a root, like ginger, it grows in the ground and is washed, peeled, dried, and ground into the bright yellow-orange powder you likely know. A staple in Indian cooking and religious ceremonies (brides are washed in turmeric as part of their prewedding beauty regimen), this magic powder is a natural antibacterial agent. Its active ingredient, curcumin, is currently being studied for its ability to combat serious diseases, including cancer and Alzheimer's disease. My girls know to ask for a little turmeric when they cut themselves. We gargle with it when we have sore throats, and we layer it in fresh Indian breads when we have colds. Its uses are endless and amazing, but don't get it near your clothes. The yellow stains will last forever! (I still have stains on my favorite outfit from my cousin Vikram's wedding.) At some specialty Indian grocers, you can find turmeric fresh, whole, and in yellow and white forms. Grab it, peel it, and grate it into your favorite salads.
2012 Anupy Singla
YOUR RECENTLY VIEWED RECIPES
Free recipes, giveaways, exclusive partner offers, and more straight to your inbox!