18 Savory Pumpkin Recipes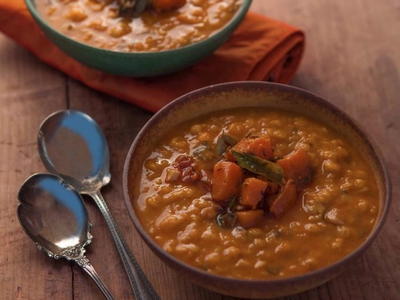 When the fall rolls around, pumpkin takes over the food world. From pumpkin spice lattes to pumpkin cakes and everything in between, pumpkin dessert recipes get their fair share of attention. But these 18 Savory Pumpkin Recipes showcase a different side of this autumn squash that many don't often consider.

The next time you bring a pumpkin into your kitchen, set a little bit aside from your batch of pumpkin bread, and give one of these savory pumpkin recipes a try!

Pumpkin in its savory form is a completely different ingredient to cook with. The flavors act differently with different spices and seasonings, and the textures that pumpkin brings to other dishes are really unique and add a special quality to the food. On top of that, pumpkins are surprisingly healthy. The benefits are endless, so there's really no reason for you not to try one of these delicious savory pumpkin recipes below.
Table of Contents
Tips for Cooking with Pumpkin
After you've decided which of these spectacular, restaurant-quality pumpkin dishes you're going to make, try these tips and tricks for cooking with pumpkin to make the whole process just a little bit easier. We're probably all familiar with using canned pumpkin and the differences between pumpkin puree and pumpkin pie mix, but when it comes to using pumpkin in savory dishes, there are a few other factors that you might want to consider.

1. Use real pumpkin. Some dessert recipes, especially baked goods, do better with pumpkin puree, but when it comes to making these savory pumpkin-filled recipes, it's probably best to use fresh pumpkin for the best flavor.

2. Impatient? Try roasting your pumpkin first. Don't waste your time peeling the skin off of the pumpkin. Just cut the pumpkin into rings and roast it at 400 degrees F for 15 to 20 minutes, and there should be no peeling necessary.

3. Pick the smaller pumpkins. In general, the smaller a pumpkin is, the sweeter it will be. These pumpkins also typically have more pith, which means you'll get more pumpkin for your buck than you would with larger ones.

4. Save the seeds! Roasted pumpkin seeds are delicious, and they make a great (and super easy) fall snack recipe that the whole family will love.

Pumpkin Soup Recipes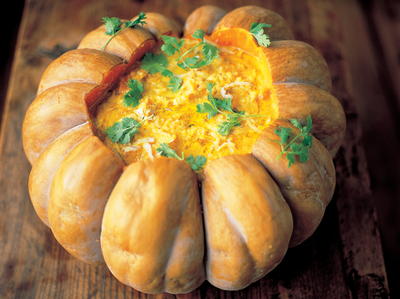 When the weather starts to get colder, there's no better way to stay warm than with a hot bowl of soup! Pretty much any soup recipe is improved with a little kick of pumpkin flavor to it.

Don't believe us? Try one of these recipes, and you'll be sold. Pumpkin chili is famous for being a unique but iconically fall soup recipe. And that's just the beginning. Whether you're in the mood for some pumpkin-infused cauliflower soup or your family is a fan of laksa soup with a pumpkin twist, these recipes are sure to put a smile on your face.

Pro Tip: If you have some smaller pumpkins or squash lying around, you can use them as bowls, like in this photo. All you have to do is cut open the top, scoop out the pulp and the seeds, wash the pumpkin, and serve your soup! You might want to bake your pumpkin bowls for a few minutes, just to make them a little bit softer when you're carving out the insides.
Healthy Pumpkin Recipes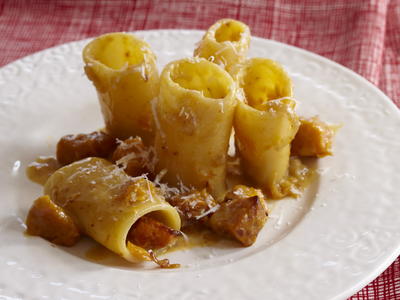 Pumpkin has a surprising number of health benefits when it isn't liquified in a latte or baked into some quick bread. In particular, pumpkin is very rich in vitamins A, C, and E, and it contains a lot of potassium as well.

Who knew?!

Because pumpkin has a more subtle flavor in savory dishes, it acts as a kind of blank slate for flavors. These healthy pumpkin recipes below feature everything from curries and carbonara to a rich risotto and a creamy pumpkin lasagna that's simply divine. And when the health benefits of pumpkins are this numerous, there's no reason not to indulge in one of these spectacular recipes.
Pumpkin Seed Recipes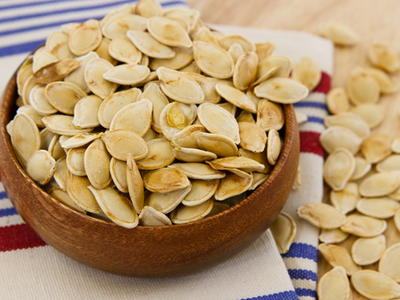 Warm pumpkin seeds slowly toasting in the oven is one of the best things about fall. The smell alone is enough to get you in the spirit of fall! Plus, they're a great way to eat up those pumpkin seeds without having them go to waste.

But did you know there are other ways to eat pumpkin seeds?

That's right! With a little thinking out of the box (and help from these delicious pumpkin seed recipes), you can use up this often-forgotten part of the pumpkin in new and creative ways. Pumpkin seeds are so versatile because their flavor is not as intense as the flesh of the pumpkin itself. You can turn them into a sauce or toss them on a salad! Give one of these recipes a try to spark your creativity.
Appetizers, Snacks, and Side Dishes with Pumpkin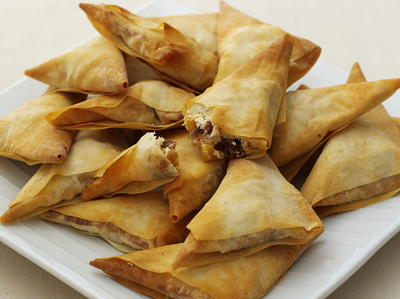 Autumn is football season, and between game days at home and tailgating, there are tons of occasions for you to try out your favorite snacks, appetizers, and side dishes. After all, who better to experiment on with food than friends and family!

The next time you're entertaining guests, try one of these pumpkin recipes for a unique flavor experience that will get people talking. From pumpkin poppers that practically fly off the plate to the feta and pumpkin pastries shown to the left, the pumpkin possibilities are really endless!

Give one of these recipes a try, and you won't be disappointed. Just be sure to save some for yourself; your guests will eat these up before you know it.
YOUR RECENTLY VIEWED RECIPES
Free recipes, giveaways, exclusive partner offers, and more straight to your inbox!