Holiday Pudding with Frozen Hard Sauce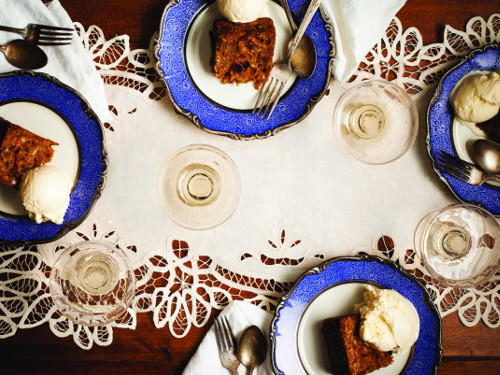 We end with the end of the year: our version of a winter classic, served with a frozen version of its traditional boozy, buttery sauce. The resulting heavily spiced pudding (or cake, as it might be called on this side of the Atlantic pond) is quite crumbly: it won't cut into clean wedges and will in fact barely hold its shape on the plate with all that dried fruit in tow.

Hard sauce combines butter and a distilled spirit, often brandy. It's also often made with confectioners' sugar—and we kept that in the mix here to give the frozen confection a slightly grainy texture, to pull it away from the velvety feel of ice cream and gelato. We felt this texture was more in keeping with all the small crumbles in the steamed pudding.
Ingredients
For the Pudding:
Unsalted butter, for greasing
1 cup brandy
1 cup chopped, stemmed dried figs
1 cup chopped, pitted dates
1/2 cup dried cherries, chopped
1/4 cup fresh orange juice (about 2 medium oranges)
2 teaspoons finely grated orange zest
3 large eggs, at room temperature and lightly beaten in a small bowl
1 cup plus
2 tablespoons plain dried bread crumbs
1/4 cup granulated white sugar
1/4 cup packed dark brown sugar
1/4 cup coconut oil, melted and cooled
2 teaspoons pure vanilla extract
1/2 teaspoon ground allspice
1/2 teaspoon ground cinnamon
1/2 teaspoon ground cloves
1/4 teaspoon salt
For the Sauce:
1 3/4 cups heavy cream
1 cup whole milk
4 tablespoons (1/2 stick) unsalted butter, cut into small bits
4 large egg yolks, at room temperature
3/4 cup confectioners' sugar
1/8 teaspoon salt
1 tablespoon cornstarch
6 tablespoons (3 ounces) brandy
Instructions
To Make the Pudding
Butter the inside of a 1 1/2-quart round, high-sided soufflé or baking dish.

Mix the brandy, figs, dates, cherries, orange juice, and zest in a large saucepan set over medium-high heat; bring to a simmer, stirring occasionally. Cover, reduce the heat to low, and simmer until the liquid has been absorbed, about 7 minutes. Set aside, uncovered, to cool to room temperature, for at least 1 hour or up to 3 hours.

Stir the remaining ingredients into the sauce- pan with the dried fruit until uniform and well combined. Pour and pack this mixture into the prepared baking dish. Cover with parchment paper, then cover and seal tightly with aluminum foil.

Set up a steamer rack in a large pot with a lid. Put about 2 inches of water in the pot (but not enough to come up through the rack) and bring to a boil over high heat. Set the full, sealed baking dish in the rack, cover, reduce the heat to low, and steam for 1 hour 45 minutes, adding more water to the pot as necessary. Transfer the (very hot!) baking dish to a wire rack and cool for 30 minutes.

Transfer the pudding to the refrigerator and store for at least 24 hours. Unmold the steamed pudding onto a platter and set aside at room temperature for at least 1 hour or up to 3 hours to take off the chill. Slice into wedges to serve. The pudding can be stored in its covered baking dish in the refrigerator for up to 1 week. To rewarm, steam, covered in its baking dish, over simmering water for at least 30 minutes or up to 45 minutes.

Pro Tip: Since coconut oil is solid at room temperature, you'll need to scrape it out of the jar with a fork. Pack the shreds in the measuring cup before you melt them over low heat (or in a bowl in the microwave on high in 10-second increments, stirring after each heating).
To Make the Sauce
Warm the cream, milk, and butter in a large saucepan over medium-low heat until the butter melts; do not bring to a simmer. Meanwhile, use an electric mixer at medium speed to beat the egg yolks, confectioners' sugar, and salt until quite thick and pale yellow, about 4 minutes. Scrape down the inside of the bowl, then beat in the cornstarch until smooth.

Beat about half the hot cream mixture into the egg yolk mixture in a slow, steady stream until smooth; then beat this combined mixture into the remaining cream mixture in the pan. Set over low heat and cook, stirring constantly, until the custard thickly coats the back of a wooden spoon and the temperature registers 170°F, 4 to 7 minutes.

Pour the mixture through a fine-mesh sieve into a bowl; refrigerate for at least 4 hours or up to 2 days, covering once the custard is cold.

To freeze it: Prepare an ice-cream machine. Stir the brandy into the cold custard. Freeze it in the machine according to the manufacturer's instructions, until you can scoop up a small mound with edges that do not instantly begin to melt. Store in a sealed container in the freezer for up to 1 month.

A la mode it: Because of the brandy, the frozen hard sauce may be a bit hard, even icy. Set it out at room temperature for 10 minutes before serving with slices of the pudding.
YOUR RECENTLY VIEWED RECIPES
Free recipes, giveaways, exclusive partner offers, and more straight to your inbox!