25+ Easy Barbecue Recipes for Your Summer Cookouts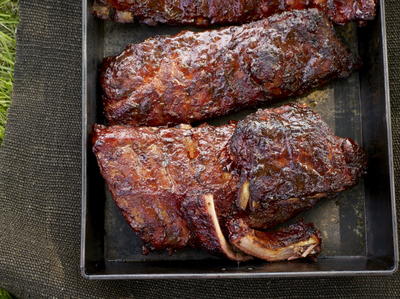 When summer rolls around, there's only one thing to do: have a barbecue! These 25+ Easy Barbecue Recipes for Your Summer Cookouts are all you need to host the perfect summer party. Your family and friends won't be able to stop raving about it, and for once, you won't have to stress about hosting - these recipes are all proven winners!

This collection includes a few traditional BBQ recipes as well as some fun and unique dishes to help you spice things up. There's no need to settle for bland burgers and boring summer appetizers - with these easy recipes, you'll learn how to put a little zest in your grilling recipes without a whole lot of extra effort. They're kid-friendly, too, so there's no need to worry about preparing a whole separate meal for the little ones who are picky eaters. Whether you're looking to host a cookout for the Fourth of July or just want to have a small group over for an outdoor dinner party, you're sure to find a recipe here to suit any and all occasions! These BBQ ideas are delicious and creative, and will have the crowd coming back for seconds, thirds, and maybe even fourths. This collection includes an assortment of recipes that will fit just about any cooking style, too. Get ready to dig in with these recipes!
Table of Contents
When it comes to summer cookouts, you can never have too many side dishes! If you're ready to wow the crowd at your next cookout, then you'll want to include the salad recipes found in this collection. From chopped salad to couscous salad, potato salad and fruit salad, you're sure to find a few recipes that your family and friends will love. Find your next go-to salad recipe when you take a look at these  20+ Easy Salad Recipes: Pasta Salad, Potato Salad, and More
Easy Summer Appetizers
Start the party off right with these BBQ appetizers! They're a perfect complement to the cookout food you'll be serving up later, and each one is refreshing and light so as to not fill your guests up before the main course is ready. Guests will love diving into these appetizers while they wait for the ribs and burgers to cook. Consider making one or two appetizer recipes in advance so that you can simply set it out and serve when your guests arrive.
Barbecue Meat Recipes
These meaty recipes are the main event! Practice getting those grill lines just right with these classic barbecue recipes. There are several different meat options, so you can have a variety to choose from for your pickier guests. All of them taste great under a hot summer sun! With ribs, burgers, and even fish as options, you're sure to find a few new grilling recipes you'll love to try in this section. Just remember to allow for plenty of time to keep that grill hot while you prepare your main dish.
BBQ Side Dishes
No barbecue would be complete without the perfect sides! These cookout side dishes are what will take your barbecue to the next level. Plus they're all vegetables, so you can squeeze a little nutrition onto your cookout menu! These also provide a great vegetarian option if you have a guest that doesn't eat meat. These side dishes also make use of in-season vegetables, so that fresh taste will elevate any dish on your menu! You'll want to include these tasty side dishes the next time you fire up the grill. 
Summer Desserts
Finish off your barbecue with these summer dessert recipes! Fruity and flavorful, these sweet creations are the perfect summer desserts. They'll please any crowd, and they're easy to make, so you know you'll be sending your guests off with a smile! From the classic apple pie to a show-stopping fruit tart, these dessert recipes need to be part of your summertime plans. You'll also love the no-bake desserts included in this section, allowing you to make a tasty dessert without turning on the oven.
When it comes to entertaining a crowd, you probably want to keep things easy. And we don't blame you! The next time the family cookout is at your home, consider making some easy cake recipes. You'll end your event on the right note without adding stress to the preparation. Get started by taking a look at these 
YOUR RECENTLY VIEWED RECIPES
Free recipes, giveaways, exclusive partner offers, and more straight to your inbox!