Sausage Pita with Cumin, Orange, and Olive
Cookbook
Published by Ten Speed Press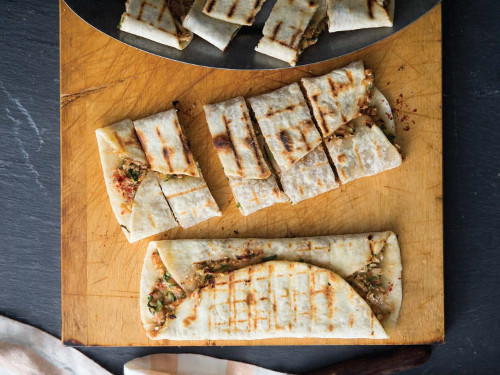 Sausage Pita with Cumin Orange and Olive
This image courtesy of Kristin Teig
The combination of cumin and orange creates a flavor that is unmistakably Greek. Pickled peppers and orange zest cut through the richness of this interpretation of loukanika, a popular Greek-style sausage. This flatbread is a Sofra favorite and has been on our menu since the day we opened. In Greece, this pita would be made with a yeasted flatbread like the manoushe but I find my yufka recipe easier to work with to achieve a thinness that's proportionate to the filling. You can substitute a store-bought pita for this that is already cooked. You will want to split the pita in half (or butterfly it) so that you have two rounds to work with and so that it remains thin. The method is the same as for gozleme but the flavors are something you would taste only in Greece. 
Makes6 large flatbreads; serves 6 - 12

Total TimeUnder 30 minutes
Ingredients
1 teaspoon grapeseed oil
1 pound ground pork
1/4 teaspoon ground allspice
1/4 teaspoon Maras pepper
1 teaspoon dried oregano
1 1/2 teaspoon ground cumin
1 1/2 teaspoon sweet Hungarian paprika
1/2 teaspoon sugar
Grated zest of 1 orange
2 tablespoons chopped fresh flat-leaf parsley leaves
12 ounces crumbled feta cheese
1/2 stick (2 ounces) unsalted butter, at room temperature
6 - 8 picked pepperoncini, stemmed and coarsley chopped
1/2 cup pitted green olives, such as Lucques or Picholine, coarsely chopped
Instructions
In a 10-inch sauté pan, heat the grapeseed oil over medium-high heat until hot. Add the pork, breaking it up, until it turns golden on one side, about 2 minutes. Add the allspice, Maras pepper, oregano, cumin, paprika, sugar, salt, and pepper and mix in the spices as you continue to stir and break up the meat.

When the meat is cooked through, about 4 minutes, stir in the orange zest and parsley. Drain the sausage in a colander and set aside to cool. If the sausage seems very coarse with large clumps, chop it so that it's a fine crumble.

Meanwhile, in a food processor fitted with a metal blade, blend the feta and butter until very smooth and creamy, like mayonnaise. Set aside until you are ready to assemble.

When you are ready to assemble, put 2 tablespoons feta butter on each yufka and smooth it to the edges in a very thin layer. Sprinkle with about 1⁄3 cup sausage mixture and distribute it evenly, using the back of a spoon. Sprinkle 1 tablespoon pepperoncini and 1 tablespoon olives over each pita. Fold the left side in towards the middle and then the right side towards the middle, overlapping by about 1⁄2 inch, to form a rectangle shape with an open top and bottom.

When the pitas are assembled, heat an 11- to 12-inch cast-iron or nonstick pan over medium-low heat. Place two pitas at a time, seam side down, in the pan. Cook until the filling is hot and the bread is lightly toasted on one side but still soft on the other, 3 to 4 minutes. Flip to the other side and cook for 1 minute more to heat through. Place on a tray and cover with aluminum foil to keep warm while you cook the remaining four pitas. Cut into halves or strips and serve immediately.
Reprinted with permission from Soframiz by Ana Sortun and Maura Kilpatrick, 2016. Published by Ten Speed Press, an imprint of Penguin Random House LLC. Photographs copyright 2016 Kristin Teig.
YOUR RECENTLY VIEWED RECIPES
Free recipes, giveaways, exclusive partner offers, and more straight to your inbox!