18+ Gluten-Free Recipes: The Best Gluten-Free Meal Ideas
From breakfast to dinner and everything in between, these recipes are sure to please!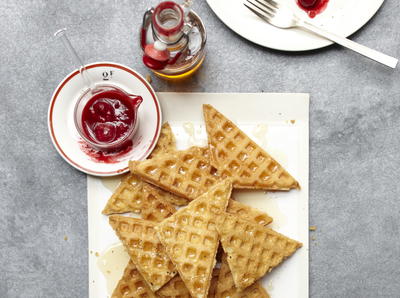 Avoiding gluten can be tough, especially if not every family member is gluten-free. These 18+ Gluten-Free Recipes: The Best Gluten-Free Meal Ideas are here to make your mealtimes a little less stressful! Whether you're cooking for one or the whole family, these easy gluten-free recipes are sure to please — and no one will even miss the gluten. If this is your first time cooking or baking without gluten, then you'll be pleased to discover the delicious and easy recipes for dinner, snacks, and so much more that are available. 

Giving up gluten doesn't mean giving up flavor — there's no need for gluten with recipes this good! Whether you or a loved one suffers from celiac disease or you're just trying to cut down on carbs, there's no harm in trying out the gluten-free lifestyle. Many people say that cutting out gluten helped them lose weight, tone up, and gave them more energy. You might find that you feel better without it, too! From breakfast recipes all the way through to dinner and dessert, these recipes without gluten will inspire and delight. If you thought gluten-free meal ideas would be dull, you'll think again when you see this recipe collection.
Table of Contents
Are you looking for a few vegan recipes, too? We have you covered with these 
Gluten-Free Breakfast Recipes to Start Your Day
So many of the traditional breakfast foods — bagels, toast, pancakes — contain gluten. But that doesn't mean you have to overthink it — many of your faves can be made gluten-free! These gluten-free breakfast recipes give you a way to start the day right without having to give up the simple joys of muffins or waffles, and they taste just as great as their gluten-y cousins. If you're planning a brunch, then consider making a few of these recipes so that all of your guests can enjoy the meal. You'll be glad you did!
Gluten-Free Dinner Recipes for Any Night of the Week
Put the gluten away for good! These gluten-free dinner recipes are hearty and delicious — just the thing to hit the spot after a long day. They're all easy to prepare so you can get back to living your life. From gluten-free pasta to flavorful fish, these dinners don't miss! You'll also love how easy it is to prepare these recipes for dinner. There's no secret alchemy involved; with these recipes, dinner is sure to be a delicious and tasty event every time. If you thought recipes without gluten would be tasteless and dull, you'll think again when you try these recipes. These recipes will also be great for lunch!
Gluten-Free Dessert Recipes for a Special Treat
Kiss those old-fashioned cake recipes goodbye — these gluten-free desserts are new in town and they're not messing around! Sometimes you just need a little something extra after a meal or as a snack, and these desserts are sure to satisfy. If you have a sweet tooth, treat yourself to one of these gluten-free indulgences. You'll love the bold use of flavors and ingredients in these delicious recipes for dessert. Whether you've been following a gluten-free lifestyle for a long time or are new to it, these dessert recipes will win you over in a big way.
This five-ingredient dessert recipe is almost too easy to make. You just might want to bake a second batch, so you can be guaranteed of leftovers. 
The next time you go apple-picking, make sure to set aside some apples for this delicious pie recipe. This gluten-free take on the classic dessert includes vanilla extract, golden raisins, and of course plenty of apples.
If you'd like to shake up the routine when it comes to pie-baking, then this pastry crust is for you. You'll love trying different types of filling to complement the pastry.
What is your favorite gluten-free recipe?
YOUR RECENTLY VIEWED RECIPES
Free recipes, giveaways, exclusive partner offers, and more straight to your inbox!