Strawberry Crème Fraîche Ice Cream
Cookbook
Published by Chronicle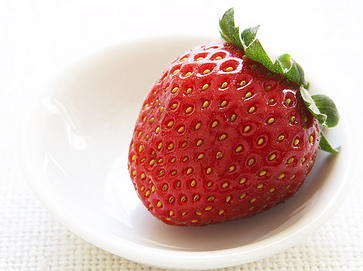 This image courtesy of Joseph DeLeo
Editor's Note: If you have an abundance of strawberries and need some ideas on how to use them, then it's time to roll up your sleeves and make this recipe for Strawberry Crème Fraîche Ice Cream! A refreshing twist on the traditional ice cream recipe, this frozen treat will be a delightful dessert to share with family and friends on a hot day this summer. You'll want to share scoop after scoop of this dessert. This recipe is easy to make and includes notes on how to make the Fabulous Flavored Sugar, as well as information on crème fraîche, both of which are included below.

I don't think there is a more classic combination than strawberries and crème fraîche, and together they make a remarkable ice cream. You'll love this with shortcakes or a baked berry crisp, or simply with ripe raspberries and blueberries tossed with a Fabulous Flavored Sugar (see Notes).

OccasionCasual Dinner Party
EquipmentFood Processor, Ice Cream Maker
Taste and TextureCreamy, Fruity, Rich, Sweet
Type of DishDessert, Fruit, Ice Cream
Ingredients
1 pint ripe strawberries, hulled and sliced
1 cup sugar
1 cup heavy (whipping) cream
1 cup crème fraîche, homemade or store-bought (see Notes)
2 to 3 tablespoons fresh lemon juice
1 tablespoon pure vanilla extract
Pinch of salt
Instructions
Puree the strawberries with the sugar in a food processor. Transfer to a large glass measuring bowl and whisk in the cream, creme fraiche, lemon juice to taste, vanilla, and salt. Refrigerate, covered, until thoroughly chilled.

Pour the mixture into an ice cream maker and freeze according to the manufacturer's instructions. After churning, the ice cream will be soft but ready to eat. For a firmer texture, transfer to a freezer container and freeze for at least 2 hours. This is best served on the day it's made.
Fabulous Flavored Sugar
Older cookbooks often instructed readers to "put a vanilla bean in ajar of sugar and wait a month for it to flavor the sugar." Who has that time now? These "almost–instant" flavored sugars are a boon to busy cooks and berry lovers. Just hull and slice a pint of strawberries, or use a pint of your favorite berries, or an assortment, and stir in one of these flavored sugars. Let the berries sit for 10 to 15 minutes for the sugar to dissolve and the flavors to blend, and you've got dessert. Mash some of the berries, if that's your thing—some of us believe it makes berries taste better.

There are many ways to make these sugars, depending on the equipment you have. If you have a coffee or spice grinder, use it. It's the best method, because you get the finest result—it grinds the spices most evenly and finely—and you're making superfine sugar (which will dissolve most quickly on the berries) while you're at it. Or put the flavoring ingredients in a mortar and pestle (I use a large one from Southeast Asia) and add half of the sugar for the pounding, then stir in the remaining sugar. Or, you can simply stir the ground spices into the sugar in a bowl.

If you'd like, use confectioners' or brown sugar; confectioners' sugar will make a slightly thicker syrup with the juices of the berries (because it contains cornstarch), and brown sugar adds a caramel-ish flavor. Consider a combination of flavors—like mint and lime, ginger and orange, or vanilla and lemon. I'm including serving ideas here using strawberries, but you could substitute a pint of any berry you choose. You can also use these sugars to flavor whipped cream or a cream and crème fraîche.
Crème Fraîche
Pronounced "krehm fraish," it is perfect with berries. Originally from France, crème fraîche is like a very refined sour cream—not quite as sharp and with a lighter, almost whipped texture. You can buy it, but I find it expensive, and since it's not available in my neighborhood, I prefer to make it. My favorite way is to culture heavy cream with store-bought crème fraîche and keep it in my refrigerator ad infinitum, like a sourdough starter. If made with ultra-pasteurized cream, it lasts forever, and when you get low, you just use it as the starter to make more. I do like have it in the refrigerator waiting for me and my berries. Sweeten it with a bit of confectioners' sugar if you'd like, gauging it against the sweetness of the berries.

My second choice for making crème fraîche is a very thick, very rich Greek yogurt. A low-fat or no-fat yogurt just doesn't do it; neither does the commonly used buttermilk—it just doesn't get thick enough. Another great choice is sour cream with live cultures (and no bovine growth hormones), available in specialty and natural foods stores.

You can steep herbs in the cream while it's thickening if you'd like—whole bay leaves are perfect. Add two California bay leaves for this size batch, and serve it with ripe blackberries. Sweeten it with one of the Fabulous Flavored Sugars, if you'd like, or with granulated or confectioners' sugar.
2006 Lori Longbotham
YOUR RECENTLY VIEWED RECIPES
Free recipes, giveaways, exclusive partner offers, and more straight to your inbox!