Tea-Smoked Wild Salmon
Cookbook
Published by Flatiron Books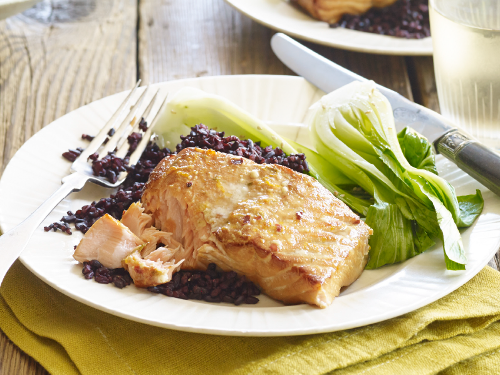 This is my favorite way to cook salmon. It looks beautiful, tastes even better, and there are a dozen creative ways to serve it. I prefer to keep my salmon in one piece for this recipe, but you can easily use fillets. Serve warm with forbidden black rice and vegetables, or a mixed green salad. Pairs well with the Spring Pea Soup (page 14) or Asparagus Salad (page 220) recipes. Keeps well for up to four days in the refrigerator.
Serves4
Ingredients
Marinade
1/3 cup soy sauce
1 tablespoon agave nectar
Zest and juice of ½ orange
1 clove garlic, grated on a Microplane
1 teaspoon minced or grated (on a Microplane) ginger
Zest of 1 lime
Juice of 2 limes
½ teaspoon red pepper flakes
1 ½ pounds king salmon, skin removed
For Smoking the Salmon
¼ cup uncooked jasmine rice
¼ cup jasmine or black tea leaves
3 tablespoons brown sugar
6 whole star anise
1 thumb-size piece fresh ginger, sliced
6 black peppercorns
1 cinnamon stick, crushed
Extra virgin olive oil cooking spray
Garnishes
1 teaspoon toasted sesame oil
½ cup thinly sliced scallions, white and green parts
½ cup chopped fresh cilantro leaves
1 tablespoon black sesame seeds
Instructions
To make the marinade: In a small bowl, whisk together all the marinade ingredients. Place the salmon in a large zip-top bag and pour the marinade over the fish. Place the bag in a bowl and place in the refrigerator to marinate for 1 to 2 hours, turning the bag occasionally to make sure all parts of the salmon soak in the marinade. Remove the salmon from the marinade and discard the marinade and bag. Place the salmon on a plate and pat dry with paper towels. Place it back in the refrigerator for at least 1 hour or up to overnight. When you take it out, it should feel dry but slightly sticky—this will allow the fish to soak up as much of the smoke flavor as possible. Now get ready to smoke!

To smoke the salmon: Line a wok or stovetop smoker with 2 squares of heavy-duty foil. In a small bowl, combine the rice, tea leaves, brown sugar, star anise, ginger, peppercorns, and cinnamon and spread the mixture on top of the foil. Fold the edges of the foil over the mixture to make a packet. Heat over medium-high heat until it starts to smoke. Put a wire rack or metal vegetable steamer over the smoking spices and place the salmon on top. Lightly coat with cooking spray and cover the wok with a lid. Reduce the heat to low and smoke for 20 minutes, or until the salmon is a beautiful mahogany color and just cooked through. Cooking time will vary depending on the thickness of the fish. Serve drizzled with the sesame oil and scattered with the scallions, cilantro, and black sesame seeds.
Copyright Oprah Winfrey, 2017
YOUR RECENTLY VIEWED RECIPES
Free recipes, giveaways, exclusive partner offers, and more straight to your inbox!