Pacific Salmon with Citrus Kale Salad
Cookbook
Published by Page Street Publishing Co.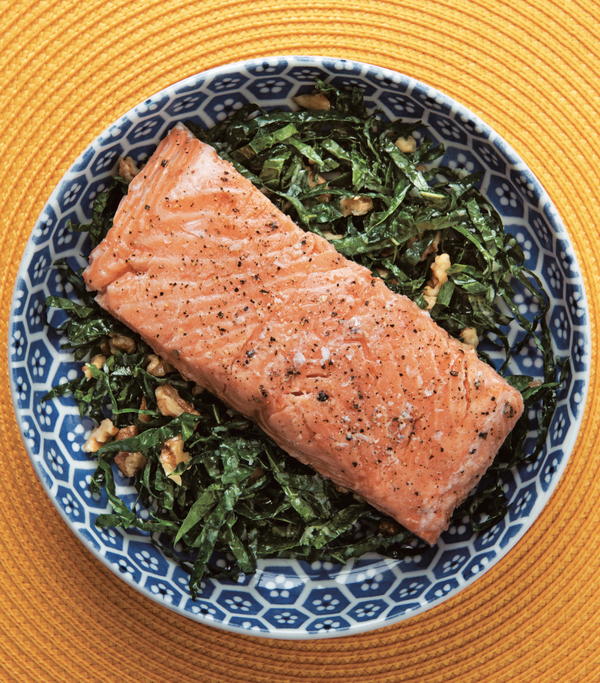 Pacific Salmon with Citrus Kale Salad
Known throughout the world as one of the most desirable wild-caught fish, salmon is endemic to the Pacific Northwest. In this dish, it is given a light smoky flavor and served with tangy bitter greens. In this recipe, I like to use a handheld smoker before sealing the fish. This device adds a nice amount of smoky flavor to the salmon.
Serves2
Ingredients
2 (8-ounce) (225 g) salmon filets
1/2 teaspoon garlic powder
2 scallions, whole
1/3 cup (80 ml) freshly squeezed lemon juice
1 teaspoon kosher salt
1 1/2 cup (360 ml) extra-virgin olive oil
5 cloves garlic, crushed
2 cups (130 g) kale leaves, trimmed of stems, washed and dried
1 1/2 cup (150 g) freshly grated Parmesan
1/2 cup (60 g) toasted walnuts, chopped
Instructions
Preheat the water bath to 125°F (51.6°C). Season the salmon with salt, pepper and garlic powder, then place in a deep bowl and cover with plastic wrap or foil. Poke a small hole in the plastic or foil, place a smoking gun hose into the hole and pump smoke into it 3 times, allowing 5 minutes in between pumps. Once sufficiently smoked, place the salmon into a vacuum bag with the scallions and seal. Cook the fish for 45 minutes in the sous vide while you prepare the salad.

In a bowl, combine the lemon juice and salt. Slowly whisk in the olive oil until incorporated. Add the crushed garlic cloves and set aside to allow the flavors to infuse the oil. Roll the kale leaves together in batches and slice them into strips (chiffonade). Toss the kale, cheese and walnuts together in a large bowl. Discard the garlic cloves from the dressing, add half of the dressing to the salad and toss again to coat everything well. Taste and adjust the seasoning if necessary. Divide the salad evenly onto 2 plates, top each with a salmon filet and serve immediately.
Reprinted with permission from Mastering the Art of Sous Vide by Justice Stewart, Page Street Publishing Co. 2018
YOUR RECENTLY VIEWED RECIPES
Free recipes, giveaways, exclusive partner offers, and more straight to your inbox!