Sukiyaki Hot Pot
Cookbook
Published by Tuttle Publishing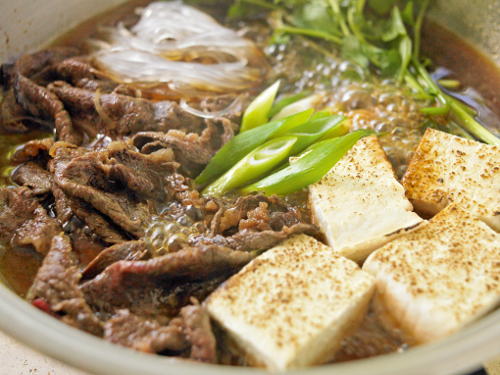 Sukiyaki Hot Pot
This image courtesy of Heath Robbins
Editor's Note: Easy to make, this recipe for Sukiyaki Hot Pot will be your answer to "What's for dinner tonight?" This hot pot can be served in a casual dinner party or for a cozy meal with just the family. Using sliced beef, vegetables, and noodles, this recipe is one you'll want to use again and again.

If ever there was an iconic cooked Japanese dish it would be the Sukiyaki Hot Pot. This is what most Japanese natives serve foreigners when they visit their homes because it is meat-based. The preparation is done before guests arrive, and cooking and eating Sukiyaki is a social activity.

I have had this dish dozens of times over the years, but the most memorable time was at the home of cookbook author and teacher, Keiko Hayashi. She, and her husband Jiro, invited us to dinner to share some very special meat that arrived unmarked, from an undisclosed source. She arranged the paper-thin beef on a platter in concentric circles, placing a thick pat of suet in the center. Hayashi Sensei plucked the suet with her long chopsticks to grease the hot cast iron pan. She provided a raw egg for each guest's bowl. Crack, swish—we dipped the cooked beef bathed in the egg for a sweet finish.

When the ingredients are more important than the cooking technique they had better be top notch and for Sukiyaki Hot Pot it is all about the beef. Thin slices of highly marbleized beef are cooked with a sweet sauce. Vegetables, clear noodles, and grilled tofu are continuously added, enriching the pot. The slightly bitter chrysanthemum leaves (shungiku) are commonly used for this hot pot. Not always available or easy to find, my friend Keiko Kanda, who has lived in Boston for over 30 years, recommended watercress as a good substitute.

Fat is where the flavor lives and makes meat tender. I am fortunate to live near several Asian markets that carry beef pre-sliced for Sukiyaki Hot Pot. However, I have asked butchers at supermarkets to slice rib-eye steak on their machine. If that isn't possible, freeze the beef until it is semi-frozen (about 1-1½ hours), take your sharpest knife from the drawer, and slice it as thinly as possible.
Serves4 to 6

OccasionCasual Dinner Party, Family Get Together
Ingredients
1 lb (500 g) rib eye beef, thinly sliced in ¹⁄8 in (3 mm) slices
8 green onions (scallions) cut in quarters (white and green part) on the diagonal
2 bunches of watercress or chrysanthemum leaves
8 fresh shiitake mushrooms
1 block (1 lb/500 g) broiled tofu (yaki dofu), or plain firm tofu, cut into 8 pieces
16 ounces shirataki noodles or 8 oz (250 g) dried clear harusame noodles reconstituted
1-2 tablespoons oil
1 lb fresh udon noodles (dried udon noodles can be used if cooked first according to package instructions)
½ cup (125 ml) soy sauce
½ cup (125 ml) sake
2 cups (500 ml) water
2 tablespoons sugar
Instructions
Arrange the beef on a platter, in overlapping fashion, so that it will be easy to lift each slice and set it into the skillet.

On a separate platter, arrange the green onions, watercress, tofu, and shirataki in piles. 

Mix the soy sauce and sake in a small bowl or pitcher and set aside. Have the water in a separate pitcher next to the soy and sake mixture and the sugar in a bowl on hand.  

Heat an electric skillet or if you are using a table top burner heat your pan over medium heat. Add the oil.

With a pair of chopsticks or a long fork, add one quarter of the meat to the hot skillet. Sprinkle on a spoonful of sugar and stir-fry until the meat begins to lose its pink color. 

Pour ¼ cup of the soy and sake mixture and ½ cup of the water over the meat. Cook for 30 seconds and push the meat to one side of the pan and begin adding one quarter of the vegetables, tofu, and noodles. Let the sauce come to a boil and reduce the heat to a simmer.

Each diner will serve themselves from the skillet into individual bowls. 

As the ingredients are depleted, continue to add more of everything including the sauce and water. This is going to make a very delicious and rich sauce.

As the ingredients are depleted, continue to add more of everything including the sauce and water. This is going to make a very delicious and rich sauce.
Copyright 2016 Debra Samuels
YOUR RECENTLY VIEWED RECIPES
Free recipes, giveaways, exclusive partner offers, and more straight to your inbox!