Stir-Fried Cellophane Noodles
Cookbook
Published by Tuttle Publishing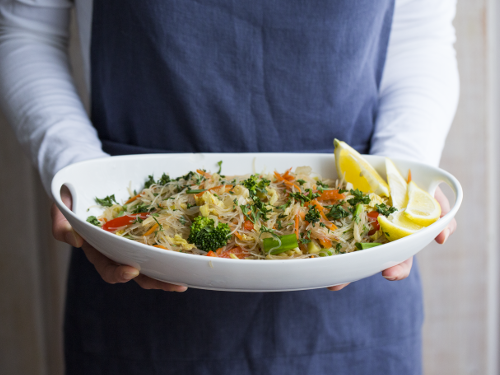 Stir-Fried Cellophane Noodles
Pancit, the universal Filipino crowd-pleaser, is usually made with egg noodles or rice noodles. This version, pancit sotanghon, uses bean thread noodles, commonly known as cellophane noodles or glass noodles. Cellophane noodles sometimes end up being too bland or too chewy, but I've circumvented this by soaking the noodles in vegetable stock first to both soften them and amp up their flavor. Enlivened by the tang of lemons, this dish is sure to be a hit at your next potluck or party.
Makes4 Servings
Preparation Time - Text+ 20 Minutes soaking time
Cooking MethodStir-frying
Dietary ConsiderationVegetarian
Ingredients
4 cups low-sodium vegetable stock
1 package cellophane noodles (bean thread noodles)
2 tablespoons vegetable oil
2 tablespoons minced garlic
1 cup sliced yellow onion
2 cups chopped broccoli (cut to a similar size as the other vegetables)
4 cups shredded cabbage
2 teaspoons fine sea salt, divided
2 large carrots with their green tops, peeled and cut into matchsticks (remove tops and reserve)
1 large red bell pepper, sliced
2 stalks celery, chopped
1 teaspoon teaspoon freshly ground black pepper
1 teaspoon granulated sugar
3 green onions (scallions), cut into 1-in (2.5-cm) pieces
1 cup soy sauce
3 tablespoons freshly squeezed lemon juice, plus lemon wedges for serving
Washed, chopped carrot tops for garnish
Chili paste such as sambal oelek
Instructions
Bring the vegetable stock to a boil over high heat in a medium pot.

Remove from the stove and add the cellophane noodles in batches, allowing the noodles to soften before adding more to the pot. Let the noodles soak until they are soft and the stock has been absorbed, about 20 minutes.

Swirl the oil into a large wok or skillet and set over high heat until shimmering hot. Fry the garlic and onions until aromatic and the onions turn translucent, about 1 minute.

Add the broccoli, followed by the cabbage and 1 teaspoon of the salt. Next, add the carrots, then the bell pepper, then the celery, stirring for about 30 seconds between each addition.

Add the remaining 1 teaspoon salt, black pepper and sugar. Keep stirring and cooking until the vegetables are cooked to your liking, 3 to 4 minutes more.

Fluff the noodles to loosen the strands and toss them into the wok with the green onions. Stir to combine, then add the soy sauce and lemon juice and stir to coat.Taste and adjust seasonings as needed.

When the noodles are heated through, dish onto a large serving platter. Garnish with the reserved carrot tops; serve with lemon wedges and chili paste in small dishes on the side.
Tips
Pancit is a potluck favorite for many reasons: It's an easy dish to make to feed a crowd, and it can be made a day ahead and reheated on the stove before serving. Plus it's just as tasty served at room temperature.

If you have some on hand, sprinkle fried shallots and fried garlic over the noodles before serving.

Although it's not traditional, feel free to throw in tofu, mushrooms or egg to make this dish more substantial.
Copyright 2017 Patricia Tanumihardja
YOUR RECENTLY VIEWED RECIPES
Free recipes, giveaways, exclusive partner offers, and more straight to your inbox!