Shoko's Summer Sesame Chicken Salad
Cookbook
Published by Tuttle Publishing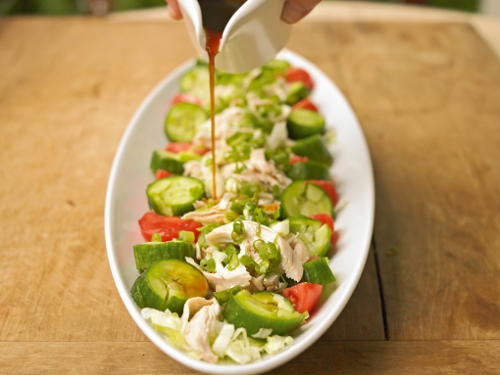 Shokos Summer Sesame Chicken Salad
This image courtesy of Heath Robbins
Editor's Note: When you think of summertime recipes, a chicken salad that can be served poolside or at the picnic table is probably near the top of your list. If you'd like to shake things up a bit this summer, then you'll want to make this recipe for Shoko's Summer Sesame Chicken Salad. This creative twist on the typical chicken salad recipe is one that your family and friends will love!

One summer day in Tokyo, deep in August, we were invited to the home of our Japanese "brother," Shingo Oishi, his wife, Shoko, and their sons, Banri and Moro. It was only a ten-minute walk from the train station, but by the time we had arrived we had wilted from the heat. We greedily drank down ice-cold glasses of roasted barley tea, and Shoko had almost completed making a gorgeous cold chicken dish. The sliced, ginger-scented chicken lay on a bed of lightly crushed chunks of cucumbers, surrounded by skinned tomato wedges and topped with a heaping mound of chopped green onions (scallions).

Shoko had saved the drama of dressing preparation for last. She filled a soup ladle with dark sesame oil and held it just above a low flame. When the oil began to bubble, she withdrew the ladle and poured it directly over the chicken. The crags in the smashed cukes held the dressing. Sizzling hot oil met cold chicken and green onions (scallions). Wow! What an appetite trigger! I like to shred the poached chicken breasts and serve the whole dish on top of a bed of shredded lettuce along with the tomatoes and cucumbers. 
Serves4
Occasional Fresco, Casual Dinner Party, Family Get Together
Type of DishMain Course Salad, Salad
Ingredients
Salad Ingredients
4 cups (1 liter) water
4 slices of ginger, ¼ in (6 mm) thick
1 medium onion, sliced
3 boneless chicken breasts (1 lb/500g)
4-5 mini cucumbers or 1 English cucumber, unpeeled (or 1 Kirby cucumber, peeled and deseeded)
2 large tomatoes, cut into eighths
6 green onions (scallions), finely chopped
¼ cup (65 ml) sesame oil
Salt and fresh ground pepper, to taste
Vinaigrette Ingredients
¼ cup (65 ml) light soy sauce
1 tablespoon lemon juice
1 tablespoon rice vinegar
2 teaspoons sugar
1 teaspoon whole peppercorns, lightly crushed
Instructions
To make the Vinaigrette, mix the soy sauce, lemon juice, vinegar, sugar, and peppercorns in a microwave-safe bowl. Heat for one minute and set aside.

Bring the water, ginger, and onion to a boil in a medium sized saucepan over medium heat. Lower the heat to a simmer and add the chicken breasts. Cook for 15 minutes.  

Turn off the heat and let chicken sit in the hot liquid for 10 minutes. Remove the chicken from the stock, and when it is cool enough to handle, shred the chicken with your hands. Place the chicken back into the stock in a bowl and refrigerate until you are ready to use.

Lightly scrape the skin of the mini or English cucumbers with a paring knife. 

If using mini cucumbers cut them into 1½ inch (3.75 cm) chunks. If you are using an English or Kirby cucumber cut them in half lengthwise, and then into 1½ inch (3.75 cm) chunks.

Place a chunk of cucumber under the broad part of a kitchen knife. With your fist, hit the top of the blade once, and lightly crush the cucumber. Repeat with the remaining pieces. 

Arrange a layer of the crushed cucumbers around a large serving platter. Remove the cold chicken from the stock and place it down the center of the platter. Surround the chicken with the tomato wedges and top it with green onions.

In a stainless steel ladle or small pot, heat the sesame oil over a low flame until bubbles appear, approximately one minute. Turn off the heat and pour the oil evenly over the green onions and chicken. Strain the Vinaigrette and drizzle it over the chicken and vegetables. Add salt and pepper to taste.
Copyright 2016 Debra Samuels
YOUR RECENTLY VIEWED RECIPES
Free recipes, giveaways, exclusive partner offers, and more straight to your inbox!