Chicken Adobo
Cookbook
Published by Tuttle Publishing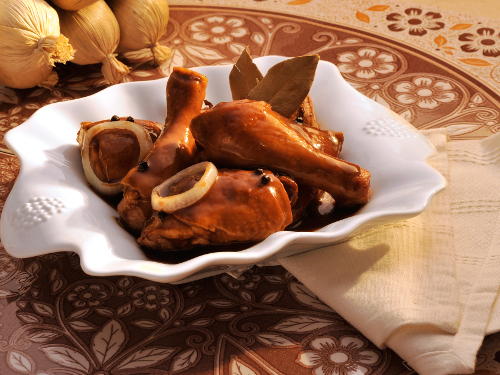 Chicken Adobo
Adobo is, hands down, the most popular dish in the Philippines. The local favorites are Chicken Adobo and Pork Adobo, although Adobo can also be made using seafood, beef, or vegetables. Marinating the meat overnight in the vinegar marinade results in a rich flavor and smooth texture. Prepare the dish a day before and then reheat it the next day for a thicker sauce and a more robust flavor. Served with a large bowl of steamed rice, Adobo's soy sauce and vinegar combination can be addictive. Vinegar inhibits spoilage, so Adobo can be kept for a few days without refrigeration. (Avoid using an aluminum saucepan when cooking Adobo as the vinegar will react chemically with the aluminum and change the taste of the dish. Cast iron, enameled cast iron, or stainless-steel pans are better choices.)
Serves4
Preparation Time - Text5 minutes + overnight marinating time

Total TimeOne Day or More
Ingredients
For the Marinade:
1 cup (250 ml) Filipino cane vinegar (or white vinegar or cider vinegar diluted with water*)
¼ cup (65 ml) freshly squeezed calamansi or lime juice
1 cup (250 ml) soy sauce
For the Chicken:
2 ½ lbs (1.25 kg) bone-in chicken breasts, thighs or drumsticks
1 tablespoon oil
3 cloves garlic, crushed with the side of knife
1 teaspoon whole black peppercorns
1 teaspoon brown sugar
1 bay leaf
1 large onion, sliced into rings
Instructions
Combine the Marinade ingredients in a mixing bowl and mix thoroughly. Add the chicken and store overnight in the refrigerator.

Remove the chicken from the Marinade. Reserve the Marinade.

Heat a skillet over medium heat and add the oil. Add the garlic and sauté until lightly browned.

Add the chicken and sauté for 10 minutes.

Add the Marinade, peppercorns, sugar, and bay leaf. Cover the pan and bring to a boil.

Reduce the heat to medium-low. Simmer until the meat is tender, 45 minutes or more.

Add the onion and simmer 5 minutes more.

Serve hot with steamed rice.
*Chef's Note:
Cane sugar (suka) is a very important ingredient of Filipino cooking. Along with salt, vinegar was used to keep food from spoiling without refrigeration in hot and humid Philippines so most, if not all, dishes are salted and use vinegar. Throughout this cookbook, mild can sugar is used. It is often labeled sukang maasim or "sour vinegar." Any Philippine-made palm vinegar (sukang paombong) or coconut vinegar (sukang niyong) can be substituted. Filipino vinegar is less acidic than most vinegars used in the West. The best substitutes are white vinegar, white wine vinegar, or cider vinegar. However, if you use these vinegars they should be diluted with water (use 3 parts vinegar to 1 part water).
Copyright 2017 Miki Garcia
YOUR RECENTLY VIEWED RECIPES
Free recipes, giveaways, exclusive partner offers, and more straight to your inbox!