Cauliflower and Mushroom Kugel
Cookbook
Published by Flatiron Books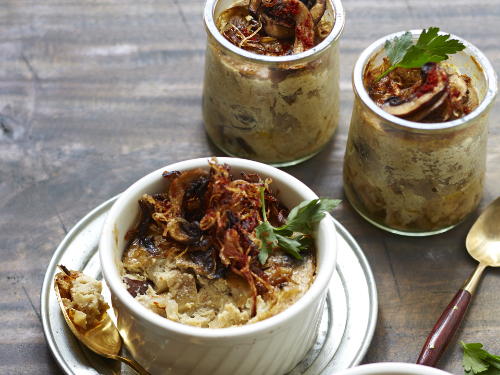 This image courtesy of Lauren Volo
Kugel comes in many forms, not just noodles. Liz and I both love savory vegetable kugels, and this cauliflower-mushroom version is lighter and more refined than the ever-popular potato kugel. If you're lucky enough to live in a place where foraged mushrooms are accessible, get the best you can find. They will only enhance the dish. In Seattle, we made this dish with hedgehog and black trumpet mushrooms foraged from a nearby forest, and it was the best version of this kugel we've ever created.
 
Be aware that this kugel has a delicate consistency and serves more like an Italian sformato (vegetable soufflé) than the dense kugels you might be used to. Normally we like to make this dish in ramekins and serve it in individual portions, for an elegant look and feel. In Seattle, we found squat 8-ounce mason jars and baked individual kugels in those, but baking in a 9-inch square glass baking dish works well, too—just let the kugel cool slightly before slicing or scooping into individual portions. For Passover, you can swap out the bread crumbs for matzo meal. If you're making it a dairy kugel, you can use butter and sprinkle it with Parmesan cheese. Serve individual portions topped with crispy fried shallots and garnished with fresh parsley.
Serves6
Ingredients
1 large head cauliflower (about 2 pounds), broken into florets
¼ cup vegetable oil or unsalted butter, plus more as needed
1 medium onion, diced
8 ounces fresh mushrooms, cleaned and chopped (porcinis, shiitakes and wild forest mushroom varieties are ideal, but any variety from the store is fine)
1¾ teaspoons kosher salt, plus more as needed
¼ teaspoon freshly ground black pepper
4 large eggs, plus 3 egg yolks
2 tablespoons bread crumbs, store-bought or homemade
4 shallots, for topping (optional)
About ¼ cup grapeseed oil, for frying the shallots (optional)
Chopped fresh parsley, for garnish
Instructions
Preheat the oven to 350ºF. Bring a large pot of lightly salted water to a boil. Add the cauliflower and boil until the florets are tender but not mushy, 5 to 7 minutes. Drain the cauliflower thoroughly. Place it in a food processor.

In a medium pan, heat the oil over medium heat. Add the onion and sauté until translucent and lightly golden, 7 to 10 minutes. Add the mushrooms, salt, and pepper and cook, undisturbed, for at least 1 minute to help the mushrooms darken. Cook, stirring occasionally, until the mushrooms are browned and their liquid has evaporated, 5 to 7 minutes more. Transfer the mushrooms and onion (and any extra oil from the pan) to the food processor with the cauliflower. Add the eggs and egg yolks and process until the mixture has a smooth consistency with minimal clumps. (If you do not have a food processor, mash the vegetables, eggs, and yolks together with a large fork or spoon until the mixture is as smooth as possible.) Transfer the mixture to a large bowl, stir in the bread crumbs, and mix well.

Grease six 8-ounce ramekins or a 9-inch glass baking dish. Fill with the cauliflower mixture. Each ramekin should hold a little under 1 cup of the filling. Tap the bottoms of the ramekins or baking dish against the counter so that the top of the kugel flattens out and you've released any air bubbles. If using individual ramekins, place them in a roasting pan with at least 3-inch-high sides. Pour boiling water into the pan to come about halfway up the sides of the ramekins (this will ensure that the kugel stays moist). Bake for 55 minutes to 1 hour. The kugel is done when a toothpick inserted into the center comes out clean and the kugel is lightly browned on top. Remove from the oven carefully, remove the ramekins from the water, and let cool slightly.

If using, while the kugel is baking, slice the shallots as thin as possible (if you have a mandoline, use it here on the thinnest setting). In a small nonstick pan, heat the grapeseed oil over medium heat. Immerse the shallots in the oil and fry them, stirring frequently, until they are crispy, crunchy, shrunken, and dark in color, 15 to 25 minutes. Keep an eye on them to make sure they don't burn. Transfer the shallots to a paper towel– lined plate to drain and sprinkle lightly with salt. Set aside until serving.

Garnish the kugel with the fried shallots (if using) and the chopped parsley. Store any leftover fried shallots in an airtight container.
YOUR RECENTLY VIEWED RECIPES
Free recipes, giveaways, exclusive partner offers, and more straight to your inbox!