Jungle Juice
Jungle juice with vodka is an elegant take on a party classic.
Cookbook
Published by Kitchenability Press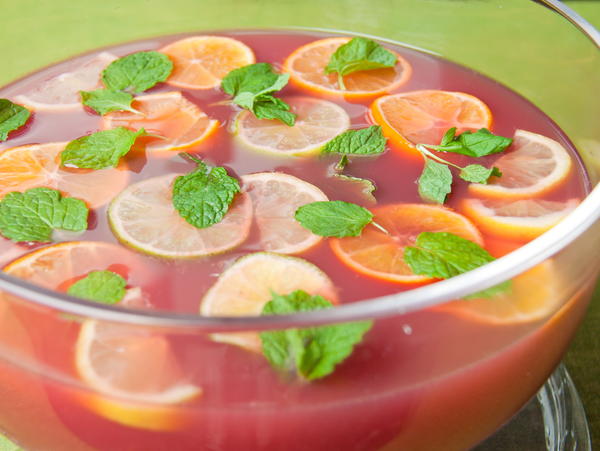 Jungle Juice Recipe
This image courtesy of Patrick Onofre
Editor's Note: Let's face it. When you're hosting a big party, you may not want to spend time mixing a drink for each guest. What's a busy host or hostess to do? Serve this Jungle Juice recipe, of course! This alcoholic drink recipe is super easy to make (it only has four steps!) and can be mixed up in no time. All you need to do is serve the Jungle Juice in an elegant punch bowl that is complete with pretty slices of fresh fruit on top, and you're ready for the party. Jungle Juice can be served year-round, but it is especially refreshing in summer. If you've always wanted to learn how to make Jungle Juice, then this recipe makes it easy to put it all together.

Parties are a great time to try new drink recipes. When my friend Drew turned twenty-one, I wanted to throw him a surprise party. He insisted that he didn't want anything special and that it wasn't that important to him. I brainstormed with one of Drew's close friends-we decided to have it at Billy's house on a weekday that wasn't Drew's actual birthday so Drew wouldn't suspect anything.

That night about ten friends came over and started to prepare. About nine p.m., Billy called Drew and invited him to come over and hang out. Nearly an hour later, Drew arrived at Billy's darkened living room. We turned on the lights and everyone jumped up, shouting, "Happy birthday!"

For the cake decoration, I chose an album cover from one of Drew's favorite hip-hop groups, Souls of Mischief. He was overjoyed. For drinks, we made Jungle Juice, a mixture of assorted juices and vodka. Before the party, we poured the vodka in the punchbowl and then filled the empty vodka bottles with water and froze them. When the party started, we put the entire frozen bottles of water into the punchbowl, using them as large ice cubes. The punchbowl looked colorful and creative.

Join Our 50,000+ Fans And Sign Up to Receive Your FREE eNewsletter!

Occasional Fresco, Buffet, Casual Dinner Party, Cocktail Party
Five Ingredients or LessYes
Type of DishAlcoholic Beverage, Beverage, Punch
Ingredients
4 limes
4 oranges
1 750-ml bottle vodka
1 64-oz bottle cranberry juice
1 32-oz bottle pineapple juice
Refreshing Party Drinks to Try
If you like this Jungle Juice recipe, then consider serving up even more beverages at your next get-together with friends! This collection includes recipes for margaritas, sangria, and even nonalcoholic beverages:   24 Summer Party Drinks: Margaritas, Cocktails, and More
Recipe
Instructions
If you would like to add frozen vodka bottles as ice cubes, fill the bottles about three quarters with water and put in freezer for two hours. Don't fill the water all the way, because water expands when frozen. When the recipe is done, add the bottles to the punchbowl.

Slice the limes into thin rounds.

Slice the oranges into thin rounds.

Mix the vodka and juices in a large punchbowl. Float the fruit on top.
More Easy Punch Recipes to Try
If you want to add even more variety to your next soiree, then making a bowl of punch is in order. With these easy punch drinks at your fingertips, you can create a new drink for any event all year. From a holiday-themed beverage that will warm you up to a light and delightful punch, these recipes will be perfect for any occasion. We've even included a few non-alcoholic punch recipes, too! To keep the punch from getting diluted, consider making a smaller batch of the recipe in advance, then freezing it in ice cubes the day before the party. Simply drop the ice cubes in the punch when you're ready to party!

1. Crimson Christmas Punch: This non-alcoholic beverage will be a great way to spread holiday cheer! This four-ingredient punch drink is almost too eas to make.
2. Fast Fruit Punch: Here is another non-alcoholic beverage to share with family and friends. Summer nights are the perfect excuse to make this beverage!
3. Planter's Punch: Are you having a party? Then this adults-only punch needs to be on your list. You'll love the combination of rum with orange juice and more.
4. Rum Punch: Turn your porch into an island retreat when you make this adults-only punch! You can serve this recipe any time.
More Facts About Jungle Juice
Jungle juice is one of those drink recipes that you probably hear about long before you actually try it. Its party reputation precedes it, and many people have questions about the drink. You already know how to make jungle juice, so let's cover a few more common things people wonder.

How much alcohol is in jungle juice?

The recipe above is about 1 part vodka to 4 parts juice, which is a pretty standard ratio for a mixed drink. You'll find many cocktails with way more alcohol in them, and you'll find drinks that are even lighter.

However, other jungle juice recipes may have more alcohol in them. So, ask for the recipe if you're not sure how strong the drink will be.

Also keep in mind the proof, or percent alcohol, of the alcohol being used. Vodka, like most other popular liquors, is typically 80 proof or 40% alcohol. However, some jungle juice recipes call for Everclear, which can be between 120 and 190 proof (up to 95% alcohol). Those cocktails will obviously be much more alcoholic.

How do You Keep Jungle Juice Cold?

Fill empty vodka bottles about 3/4 of the way with water and freeze for 2 hours. Then float the frozen bottles in the punch bowl to keep your jungle juice cold all evening long! We love this tip from the recipe above.

What is Jungle Juice Made of?

Jungle juice doesn't have to have a specific recipe. In fact, it often refers to an improvised mix of alcohol and juice. This makes it a popular party punch because it's easy to make, and it can often be made for not a lot of money. Everclear, vodka, or rum are popular liquor choices. Juice, Hawaiian Punch, and lemonade are popular mixing choices. However, be careful with too much improvisation! Not only can you accidentally make something that tastes bad, it can also be hard to keep track of the alcohol content of your improvised recipe. When in doubt, we definitely recommend the recipe above.
2018's Most-Beloved Recipe!

Did you know that this Jungle Juice Recipe was our top-clicked recipe in 2018? Jungle Juice is the perfect drink for parties year-round and it's easy to see why! 

Curious to see what other recipes made the list?

Check out the full list here:  50 Best Recipes of 2022
2013 Kitchenability, Inc.
YOUR RECENTLY VIEWED RECIPES
Free recipes, giveaways, exclusive partner offers, and more straight to your inbox!