Smoked Bacon-Bourbon Apple Crisp
Cookbook
Published by Workman Publishing Co.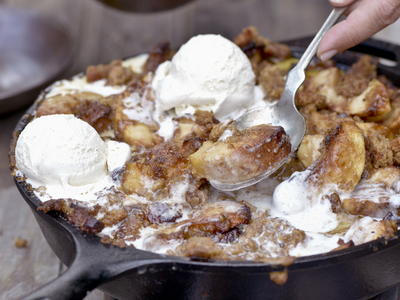 Smoked Bacon-Bourbon Apple Crisp
This image courtesy of Matthew Benson
Editor's Note: This recipe for Smoked Bacon-Bourbon Apple Crisp will make your whole house smell like fall. There's nothing better on a cold, fall evening than a warm dessert to lift your spirits. What makes this recipe so special is the careful balance of bacon, bourbon, and apples to create a sweet and salty dessert the whole family will love.

For years, I've been smoke-roasting blueberry and raspberry crumbles. I even smoked a crumble made with cactus pears on my Primal Grill TV show taped in the Sonoran Desert in Arizona. Here's the smoked version of an American classic—apple pie—and it was inspired by a restaurant in my summer stomping grounds, the Outermost Inn on Martha's Vineyard. "I think apple pie should step on the dark side," says its one-time chef and the recipe's creator, Michael Winkelman. "Give me bacon. Give me whiskey. Give me smoke. Give me a dessert that means business." I give you Winkelman's smoked apple crisp.
Serves8
Ingredients
For the filling:
2 strips artisanal bacon, like Nueske's, cut crosswise into ¼-inch slivers
3 pounds crisp, sweet apples like Honeycrisps or Galas
1/3 cup packed light or dark brown sugar, or to taste
1 1/2 tablespoons all-purpose flour
1 teaspoon finely grated lemon zest
1 teaspoon ground cinnamon
Pinch of salt
3 tablespoons bourbon
For the topping:
8 tablespoons (1 stick) unsalted butter, cut into ½-inch pieces and placed in the freezer until icy cold
1/2 cup crushed gingersnap cookies or granola
1/2 cup all-purpose flour
1/2 cup granulated sugar
1/2 cup light or dark brown sugar
Pinch of salt
Smoked Ice Cream (use vanilla) or regular vanilla ice cream, for serving (optional)
Instructions:
Set up your grill for indirect grilling and preheat to 400°F. 

Make the filling: Fry the bacon in a 10-inch cast-iron skillet over medium heat, stirring with a slotted spoon, until crisp and golden brown, 4 minutes. Transfer the bacon to a large bowl. Pour off and reserve the bacon fat for another use. Don't wipe out or wash the skillet. 

Peel and core the apples and cut them into 1-inch pieces. Add them to the bacon. Stir in the sugar, flour, lemon zest, cinnamon, and salt. Stir in the bourbon. Taste the mixture for sweetness, adding sugar as needed. Spoon the filling into the skillet. 

Make the topping: Place the butter, cookie crumbs, flour, white and brown sugars, and salt in a food processor. Grind to a coarse mixture, running the processor in short bursts. Don't overprocess; the mixture should remain loose and crumbly like sand. Sprinkle the topping over the apples. 

Place the crisp on the grill or smoker rack away from the heat. Add the wood to the coals and cover the grill. Smoke-roast the crisp until the topping is browned and bubbling, the apples are soft (they should be easy to pierce with a skewer), and the filling is thick, 45 minutes to 1 hour. 

Serve the crisp hot off the grill or smoker. Extra points for topping it with Smoked Ice Cream.
Notes
Fuel: Apple wood, of course—enough for 1 hour of smoking

Gear: A 10-inch cast-iron skillet

What else: You can cook this crisp low and slow in a traditional smoker, but you'll get a crisper topping if you work at higher heat. This is a good dish to smoke-roast on a charcoal grill.
YOUR RECENTLY VIEWED RECIPES
Free recipes, giveaways, exclusive partner offers, and more straight to your inbox!