Roasted Apple-Honey Toast 
Cookbook
Published by Oxmoor House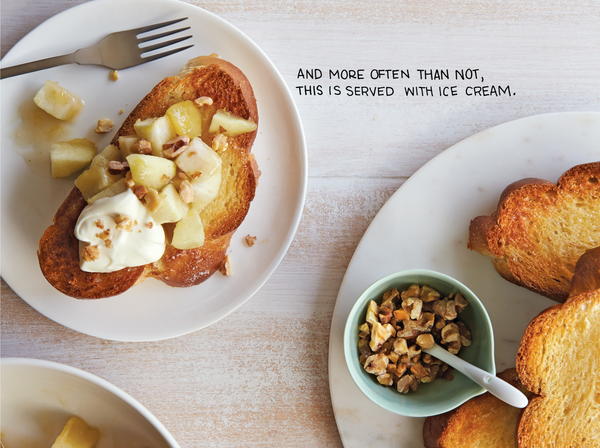 Roasted Apple-Honey Toast
This image courtesy of Randy Mayor
Editor's Note: Dessert for breakfast can be a truly elegant affair when you add this recipe for Roasted Apple-Honey Toast to the menu. This easy fall recipe has a few steps to it, but don't let that stop you from giving it a try. Whether you make this for a quiet breakfast at home or for brunch with friends, one thing is certain. This recipe will quickly become one of your favorite go-to dishes! Although Granny Smith apples are recommended for this recipe, consider using other tart apples that are in season.

Honey toast is not unfamiliar to folks from Tokyo-metro, Taipei, Singapore, or Bangkok. Really, it's genius. And simple. And able to be interpreted to your heart's content. As many ways as one can craft a sandwich, one can hook up some honey toast. Classically, it's a big fluffy slab of Pullman-type bread, with more than a little butter and a generous amount of honey. Here, the toast is dredged in a sugar to give it an irresistible crisp-meets-sticky exterior.
Cooking MethodBroiling, Roasting, Sauteeing

MealBreakfast, Brunch, Snack
Taste and TextureFruity, Nutty, Rich
Type of DishOpen-face Sandwich, Sandwich
Ingredients
1/4 cup finely chopped walnuts (They're round in flavor and have some tannins to offset the sweetness of the dish.)
4 Granny Smith apples, peeled and cut into 1-inch dice (With the sugar-forward nature of the toast, tart apples seemed to be the right choice.)
1/4 cup brown sugar (Brown sugar provides some depth to the apple mixture.)
2 teaspoons cornstarch (To thicken the juices that release from the apples. Along with the brown sugar, you'll get a beautiful glaze.)
Dash kosher salt (Acid. Sugar. Salt to balance.)
1 tablespoon fresh lemon zest (For elegance.)
3 tablespoons fresh lemon juice, about 2 lemons (It brightens the apple mixture, and provides some additional liquid so the cornstarch can do its thing.)
2 tablespoons butter, divided (Toast. Butter. No explanation needed.)
2 tablespoons honey (See title.)
8 (1.5 ounce) slices (thick) challah bread (You'll be able to find it. It's fluffy. It's rich.)
1/4 cup superfine sugar (You'll see. Candied toast.)
Cooking spray (So the sugar and half the bread don't stick.) 
1/2 cup crème fraîche (Makes sweets more luxurious. It's silken. It's slightly tangy. Ah.)
Instructions
Preheat your oven to 400 degrees F.

Arrange the walnuts in a single layer on a baking sheet or a cast-iron skillet. Toast in the oven for about 6 minutes or until lightly toasted and fragrant, giving them a stir halfway through. Remove and set aside.

Combine the diced apples, the brown sugar, and the cornstarch in a medium bowl. Toss to coat evenly. Now add the salt, the lemon zest, and the lemon juice. Toss again.

Using a paper towel, rub an 11 x 7-inch baking dish with a tablespoon of butter. Pour in the apple mixture.

Roast the apples at 400 degrees F for 30 minutes or until tender, folding every few minutes.

Remove the apples from the oven and preheat the broiler.

Combine 1 tablespoon of the butter and the honey in a small saucepan. Melt and stir until incorporated. (Or microwave on HIGH 1 minute until the butter melts and the mixture bubbles.)

Brush the bread on all sides with the honey butter. Place the sugar in a shallow dish. Dredge the buttered bread in sugar.

Place the bread slices on a baking sheet coated with cooking spray. Broil 3 minutes, turn, and broil 2 minutes more, until evenly toasted and glistening.

To serve, smear a tablespoon of crème fraîche on each piece of toast. Top with roasted apples and walnuts. Tell them it took you forever, and that it's too long a recipe to even discuss.
2014 Keith Schroeder
YOUR RECENTLY VIEWED RECIPES
Free recipes, giveaways, exclusive partner offers, and more straight to your inbox!