Peanut Butter + Chocolate-Hazelnut Striped Cookie
This giant chocolate peanut butter cookie is perfect for sharing (or for keeping it all for yourself!).
Cookbook
Published by Page Street Publishing Co.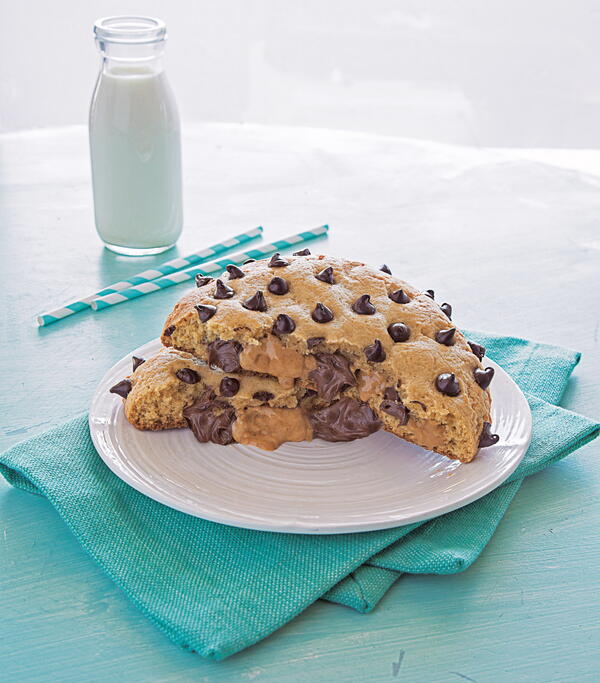 Peanut Butter Chocolate-Hazelnut Striped Cookie
People tend to stare when they see colossal cookies—and while they're wondering if you're going to offer to share, you can break this cookie open, unveiling beautiful peanut butter and chocolate-hazelnut spread stripes. By then, even the shyest person would muster up the courage to ask you for even just the smallest piece. Now, the question for you is, will you share?
Yields2 colossal cookies
Ingredients
1 cup (137 g) bread flour
1 cup (137 g) cake flour
1/2 teaspoon baking powder
1/2 teaspoon baking soda
1/2 teaspoon cornstarch
1/2 teaspoon salt
1/2 cup (114 g) unsalted butter, at room temperature
2 tablespoons (26 g) shortening, at room temperature
1/2 cup (110 g) packed dark brown sugar
1/2 cup (100 g) granulated white sugar
1 large egg, at room temperature
1 teaspoon pure vanilla extract
3 tablespoons (45 ml) heavy cream
1/4 cup (60 g) chocolate-hazelnut spread (I prefer Nutella)
1/4 cup (60 g) peanut butter
2/3 cup (113 g) chocolate chips
Instructions
Whisk together the bread and cake flour, baking powder, baking soda, cornstarch and salt and set aside.

Use the paddle attachment on a stand mixer to cream together the butter, shortening and brown and white sugar at medium speed. After 2 to 3 minutes, the mixture will become fluffy and light. Reduce the mixer speed to low and add the egg. Once the egg is fully incorporated, add the vanilla, followed by the cream. 

With the mixer speed on low, add in the flour mixture. Stop the mixer once the cookie dough just comes together.

To assemble the cookies, line a jelly roll pan with parchment paper and use this as your work area.

Divide the cookie dough into 4 equal pieces. Roll each piece into a ball, and then use the palms of your hands to flatten the balls into circles 5 inches (13 cm) in diameter. Leaving a 1-inch (2.5-cm) border of cookie dough, spread 1 tablespoon (15 g) of chocolate-hazelnut spread onto the top quarter of one circle, creating a small horizontal stripe. Spread 1 tablespoon (15 g) of peanut butter to make a stripe below the chocolate-hazelnut. Repeat to form 2 more stripes. Spread stripes on the second dough circle.

Gently cover the stripes with another cookie circle. Do not press in the center area of the cookie because you'll have peanut butter and chocolate-hazelnut spread oozing out from the sides. Use your fingers to pinch together the top and bottom edges of the cookie dough, and then smooth out the sides for a seamless finish.

For finishing touches, use ⅓ cup (57 g) of chocolate chips to cover the entire top of each cookie, and gently press the chocolate chips into the cookie to set them in place. Place the tray with the cookies in the freezer for the dough to rest for at least 20 minutes. Preheat the oven to 350°F (177°C).

Bake one cookie at a time for 24 to 28 minutes, or until the edges are golden brown and the center of the cookie has a light crisp layer on it. Allow the cookie to cool down on the baking tray for about 20 minutes prior to moving it to the cooling rack. 
Reprinted with permission from Colossal Cookies: 100 Outrageously Oversized Treats That Change the Baking Game by Wendy Kou, Page Street Publishing Co. 2018.
YOUR RECENTLY VIEWED RECIPES
Free recipes, giveaways, exclusive partner offers, and more straight to your inbox!