Espresso Granita with Whipped Cream
Cookbook
Published by W. W. Norton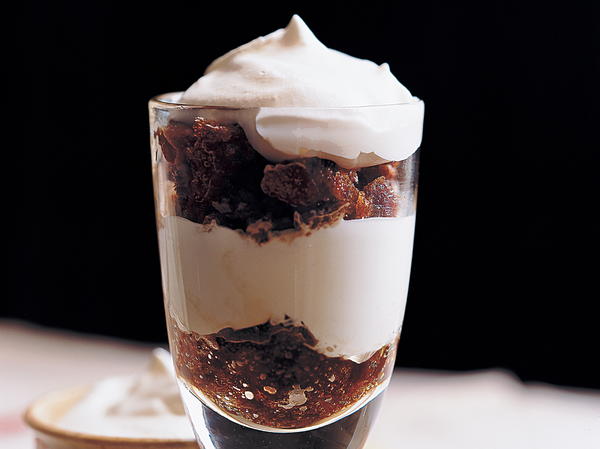 Espresso Granita with Whipped Cream
This image courtesy of Gentl & Hyers/Edge
Editor's Note: The perfect antidote to a hot summer's day, this recipe for Espresso Granita with Whipped Cream is sure to delight. The five-ingredient recipe is sure to give you a boost, as it uses two cups of espresso. You will enjoy sipping this dreamy, creamy, and frothy concoction, especially while visiting with friends. Bring a little bit of Italy to your home when you make this easy Italian recipe! If you've never made a granita before, then take a look at the author's tips following the instructions. 

This granita is the sweetest thing we make at Zuni, and yet it is surprisingly refreshing. This effect requires fiercely rich espresso. Weaker espresso will make an insipid, pale, sugary granita not worth the effort.

Our espresso is made with equal parts dark-roasted Costa Rican, Papua New Guinean, and Colombian beans. Our machine doses ¼ cup water per espresso; we use ¼ ounce ground espresso bean (1 ½ tablespoons, very tightly packed) per dose. Don't use instant espresso, or any sort of brewed coffee.
Serves5 to 6 servings
Occasional Fresco, Casual Dinner Party, Cooking for a date, Family Get Together
Five Ingredients or LessYes
Taste and TextureCreamy, Crunchy, Frothy, Sweet
Type of DishDessert, Frozen Dessert
Ingredients
1 cup sugar, or to taste
2 cups espresso, room temperature
3 tablespoons water    
About ½ cup cold heavy cream
About 2 teaspoons sugar
Instructions
Dissolve all but 2 tablespoons of sugar in the espresso and taste. It should taste too sweet; if not, gradually add some or all of the remaining sugar, until it does. Add the water. Pour into a stainless steel pan or glass dish in which forms a pool about an inch deep. Freeze until solid. Due to the high concentration of sugar, this may take up to 8 hours.

Choose a glass, plastic, or stainless storage vessel, about 3 cups capacity, with a tightly fitting lid. Make sure it is dry, snap on the lid, and place in the freezer.

Place the pan of frozen espresso on a cool surface and chop (See notes below).

Ten to 15 minutes before serving, turn the container upside down in the freezer. (The espresso syrup sometimes drains from the ice crystals, like syrup in a snow cone; turning it upside down will redistribute the syrup.) Place 5- to 6-ounce serving bowls or glasses in the freezer to chill. I like to use clear, narrow, fluted stemware to show off the layers and crystals.

Combine the cream and sugar and whip very stiffly.

To serve, layer the granita and whipped cream like a parfait in the chilled glasses. There should be nearly as much whipped cream as granita. The surface of the cream will freeze where it is in contact with the granita, and the succession of voluptuous chewy and slushy textures is delightful.
Chopping the Granita
I know of no mechanical chopping system that will produce a granita with the elegant texture of a hand-chopped one. We chop with a pair of stainless steel pastry scrapers. They are easy to maneuver, and the relatively dull edges tease the crystals apart without slicing them up. (You can make do with one scraper; it will just take longer.) A knife blade produces finer, denser texture. 

Once the juice or purée has set a very thick crust but has not quite frozen through, usually about 1 to 2 hours, give it a preliminary round of chopping: Place the pan on a cool surface in a cool room. Use the scraper to cut through and lift the layer of coarse-crystal ice, amalgamating it with the unfrozen core. A few cuts and folds are usually sufficient. Cover the pan and return to the freezer. Check hourly, and when the whole is firm to the touch but still yields easily to a stab with the scraper, it is ready for the final chopping.  

Set the pan on a cool surface and methodically chop the crystalline blocks into a regular flaky, granular mass. This can be tedious, but is easy — as long as you have not let the liquid freeze too solid. If it is rock hard, it will take more brawn to cut through the chunks, and you may overwork some bits are you try to split the harder pebbles. At the opposite extreme, in rare instances where the mixture is fairly sweet, or where the purée was thick, the liquid may never fully freeze hard, and it will chop to a rich, grainy-slushy texture. Such "defective" granitas can be exquisite. Transfer to the chilled container, snap on the lid, and place in the freezer.
2002 Judy Rodgers
YOUR RECENTLY VIEWED RECIPES
Free recipes, giveaways, exclusive partner offers, and more straight to your inbox!