Decadent Chocolate-Almond Toffee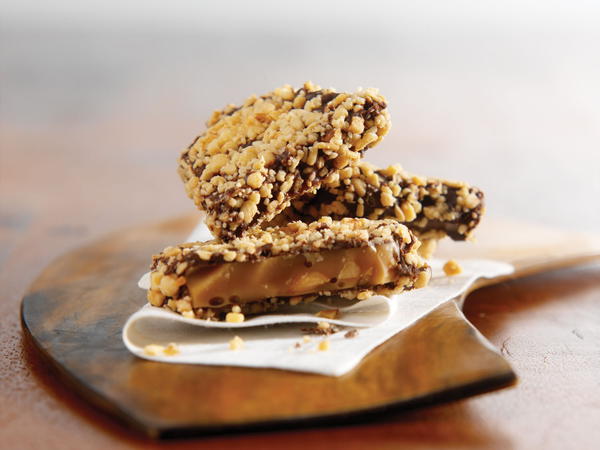 This image courtesy of Anna Blessing and Stephen Hamilton
It doesn't matter who's making the dinner: No one in her right mind would turn down a box of handmade chocolate-almond toffee. This candy has a one-month shelf life, which is great news for your hostess: she can choose to either share it with her guests or selfishly save it for later. And remember—you can make it a gift that keeps on giving by writing the recipe on a note card and including it with the gift.
Preparation Time - Text1½ hours
OccasionCocktail Party, Family Get-together
Dietary ConsiderationEgg-free, Gluten-free, Halal, Kosher, Peanut Free, Soy Free, Vegetarian
Taste and TextureChocolatey, Crunchy, Nutty, Sweet
Type of DishChocolate Dessert, Dessert
Ingredients
3½ sticks (28 tablespoons) unsalted butter, warmed to room temperature
2 1/3 cups plus 2 tablespoons granulated sugar
½ teaspoon salt
¼ cup water
1/8 cup light corn syrup
2 pounds, toasted slivered almonds, toasted, divided
1 pound bittersweet chocolate
Pyrex bowl (for melting chocolate)
2 baking sheets
Parchment paper
Candy thermometer
Whisk
Offset spatula
Latex gloves (for dipping the toffee in the chocolate)
Food processor (if you don't have one, you can chop the slivered almonds by hand with a chef's knife, use a spice grinder, or even use a mortar and pestle, if you have one)
Make your dinner party hostess love you forever!
Instructions
Prep: Preheat the oven to 350°F and toast your 2 pounds of slivered almonds by roasting them on a dry baking sheet at 350°F for 15 minutes, or until golden brown.

Make the toffee centers at least the day before you plan to finish the recipe to ensure that the toffee has cooled completely before dipping it in chocolate. If you're in a rush, you can always pop the centers in the freezer for 20 to 30 minutes before dipping.

Line 3 baking sheets with parchment paper.

To Make the Toffee: Place the butter in a saucepan and melt it on low heat. Add the sugar, salt, water, and corn syrup, and cook on medium heat, stirring occasionally with a whisk, until the mixture reaches 260.6°F.

Add 1/8 of the almonds and cook until the mixture reaches 305°F. Remove from heat.

Using an offset spatula, remove the toffee from the saucepan and spread it on 2 of the lined baking sheets to cool.

Melt the chocolate in your microwave at 50% power for 3 to 5 minutes (in 1-minute increments, stirring well in between). The chocolate should reach 90°F when thoroughly melted.

How to Dip the Toffee in the Melted Chocolate: Once the toffee has cooled completely, break it up into smaller pieces and place it in a bowl. To speed up the cooling process, you can place the toffee in the freezer for 15 to 30 minutes. (I don't recommend putting it in the refrigerator because of the condensation factor there.). It's up to you how big or small you would like your pieces to be. I personally like them to be on the smaller side, because you get a better chocolate-to-toffee ratio. Keep in mind that the pieces will get bigger once they are dipped in chocolate. Note: If you plan to use some of the cooled toffee to make Rafael's Toffee Sugar Cookies recipe, set that amount of toffee aside now, because the toffee in the cookies should not be dipped in chocolate.

Reline the baking sheets you cooled the toffee on with parchment paper.

Grind or finely chop the remaining 1¾ pounds of toasted almonds with a knife. Spread them on 1 of the 3 lined baking sheets.

Using your left hand, pick up each piece of toffee and dip it into the chocolate. Wipe off the excess chocolate and place the piece of toffee on the tray containing the chopped almonds. Using your right (chocolate-free) hand, quickly cover the chocolate-covered toffee with the almonds.

Once the chocolate has set (after about 15 minutes), you can transfer the toffee pieces to the remaining lined baking sheet (feel free to pile them on top of each other). If the chocolate isn't set by 15 minutes, you can pop it into the refrigerator for 30 minutes.
Notes
Shelf Life and Storage Instructions: 1 month in an airtight container at room temperature. Don't refrigerate, because the condensation in the refrigerator will harm the texture of the toffee.

To ensure that the toffee is thoroughly cooked, place a tiny amount of it onto your countertop using a small offset spatula or spoon. Once it has completely cooled, take a bite. It should be crunchy, and it should not stick to your teeth.

If you want to save your nails from becoming embedded with chocolate, I suggest that you wear gloves during the dipping process.

The corn syrup in this recipe is critical because it helps prevent the sugar from crystallizing. That's necessary because you don't want lumpy sugar balls to form in your smooth, beautiful toffee.

Be sure to set aside and freeze some of this toffee to have it on hand when making Rafael's toffee sugar cookies. Remove the desired amount of toffee from the batch before you dip it in the chocolate and almonds.

Instead of light corn syrup, I use glucose syrup for this recipe at my shop. Glucose syrup is a gooey type of sugar that has 50% sweetening power (granulated sugar has 100% sweetening power). Its texture is similar to that of light corn syrup, which is why corn syrup is a perfectly acceptable alternative to use here. It can be very hard to find (you can find it online at Pastry Chef Central), but if you want to be really true to the original, go for it!
2009 Sarah Levy
YOUR RECENTLY VIEWED RECIPES
Free recipes, giveaways, exclusive partner offers, and more straight to your inbox!