35+ Crazy Easy Dessert Recipes for Any Occasion
Make brownies, cakes, and so much more with these no-fuss recipes!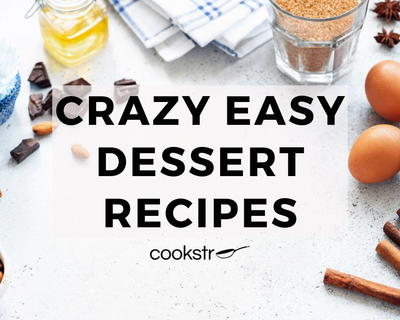 Let's face it: dessert is the best meal of the day. These 35+ Crazy Easy Dessert Recipes for Any Occasion are sure to satisfy that sweet tooth. You don't have to feel guilty about treating yourself, especially when making desserts can be so much fun! We have even included a few vegan dessert recipes in this collection, too.

Whether you're planning a dessert for a big dinner party, bringing one to a potluck, whipping one up to accompany a weeknight dinner, or just craving something sweet, you'll definitely find something here that will please every member of the family. From cake recipes to pastries, and from brownie recipes to cheesecake, we've included a wide variety of dessert recipes to appeal to even the pickiest eaters! You might even learn a new technique, like how to make a no-bake cheesecake or how to frost a cupcake. Make something unique or stick with one of the classics — whichever route you go, you can't go wrong with a little sweet indulgence every now and again. After all, who doesn't want recipes for quick and easy desserts right at their fingertips?
Table of Contents
You can never have too many cake recipes! This collection of easy cake recipes includes classics like birthday cakes, chocolate cakes, and carrot cakes. You'll love checking out these  18+ Easy Cake Recipes: Birthday Cakes and More
Cake and Cupcake Recipes
Need a birthday cake recipe or cupcakes for a bake sale? Our cake recipes are completely unique — but you'll find a few tried-and-true favorites here, as well! These easy cupcake recipes would impress even a true gourmand, and you can never go wrong with a simple chocolate cake. If you're looking for cake recipes from scratch, then this section is just for you. Although it may take a bit more time to make these cakes from scratch, you'll be rewarded with a baked treat that cannot be compared. 

Tip: Are you planning to decorate cakes or cupcakes with frosting? Wait until the cake is completely cooled before slathering on the frosting. You should also check the underside of the cake or cupcake to ascertain that it is cooled both inside and out.
Brownie Recipes
Nothing cures a chocolate craving like a good old-fashioned brownie. But if chocolate's not your thing, don't worry — we've also included some exciting twists on brownie recipes that you've never seen before! Each of these brownie recipes is decadent and delicious, and eating them warm right out of the oven is a heavenly experience. Although these brownies are treats on their own, these easy desserts can be topped with a scoop of your favorite ice cream or a generous dollop of vanilla Greek yogurt. Store these brownies in airtight containers after they are baked and cooled — if you even have leftovers, of course!
Quick and Easy Pastries
These pastries are perfect for breakfast OR dessert! There's nothing like a fruit tart recipe or a cream cheese dessert for a sunny day, but if that's not the type of pastry recipe you're looking for, that's okay — this list is full of pastries to delight in and devour. Top any of them with powdered sugar for an added hint of sweetness! These pastries include easy dessert recipes that will look simply elegant when placed on your favorite serving tray or plate. You can also use an assortment of fresh fruit to create a completely unique dessert. You'll love sharing these pastry desserts at a late brunch or even a casual dinner party.
This free-form pastry will quickly become one of your favorite go-to recipes, as it is both delicious and easy to make. According to the recipe's chef, this recipe can be served pretty much any time of the year.
In this recipe, raspberries take center stage in a big way. This easy dessert is the perfect showstopper for any meal. 
You can serve these cheese blintzes for dessert or for brunch — the choice is yours! You can also freeze any extra cheese blintzes to eat at a later date.
The Best Pie Recipes
When it comes to serving dessert to a crowd, pie recipes are just the thing for a potluck or party. Whether you're a fan of apple or cherry's more your thing, these fruit pie recipes will make a convert out of you. And if you're not a fruit lover, don't worry — sometimes you just need a pie recipe that doesn't call for fruit, and we've got you covered there, too! You will love the assortment of types of pie found in this section. If you truly want to give your fruit pie a bit of an edge, then select fruit that is in season and can be purchased at your favorite farmers market. You won't regret it!
Easy Cheesecake Recipes
Cheesecakes range from classic to complex, but it's safe to say that all of these cheesecake recipes are proven crowd-pleasers! Of course a classic New York-style cheesecake recipe made the cut, but if you're ready to get adventurous, you might want to try one of the other cheesecake recipes on this list — they're sure to impress. Cheesecakes can be versatile and are perfect for just about any occasion. Celebrate a birthday, the arrival of a new baby, a holiday, or even just a weeknight dinner when you make these cheesecake recipes. If you'd like to dress up a cheesecake, then serve with fresh fruit or a drizzle of chocolate sauce.
Easy Cookie Recipes
If you're making a list of easy dessert recipes, you can't forget cookies! Whether you're on the lookout for a new cookie to add to your holiday treats or just want to make a quick batch of cookies, these recipes need to be on your radar. The following selection of recipes includes classic favorites and newer variations. Round up your ingredients — it's time to start baking!
What is your favorite easy dessert recipe?
YOUR RECENTLY VIEWED RECIPES
Free recipes, giveaways, exclusive partner offers, and more straight to your inbox!