Churro Ice Cream Sandwich
Updated November 28, 2022
Cookbook
Published by William Morrow Cookbooks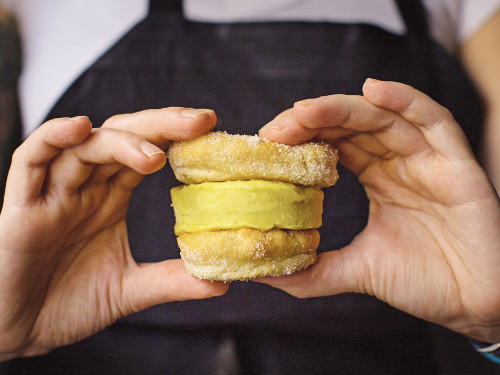 Churro Ice Cream Sandwich
This image courtesy of Yoni Nimrod
Editor's Note: If you're looking for a delicious vegan dessert recipe, then you need to keep this sweet little number in mind. From its light dusting of cinnamon-sugar to its ice cream filing, this Churro Ice Cream Sandwich recipe is the perfect answer for those hot summer nights. The no-bake dessert can even be made in stages, as the dough can be mixed and stored in the refrigerator for up to one week before frying it. Vegans and non-vegans alike will love indulging in this unique and delicious treat, so you just might want to make an extra batch!

We move a lot of soft serve at V Street. Sometimes when we're anxious to get on to a new flavor, we end with a little left over. On one particularly creative evening, we decided to freeze the leftovers into little rounds. The next morning, we prepped some tasty churro pastry dough, rolled it into little disks, and fried them off so we could roll them in cinnamon sugar and stack them around the ice cream pucks. And so was born the ultimate ice cream sandwich.
Serves6

Ingredients
1 teaspoon sea salt
2 teaspoons brown sugar
1 tablespoon baking powder
1 tablespoon olive oil
2 cups flour, plus more for dusting
1/2 cup granulated sugar
1 tablespoon cinnamon
Canola oil for frying
1 pint of your favorite vegan ice cream
Instructions
Combine 2 cups water, the salt, brown sugar, baking powder, and olive oil in a medium saucepan and bring to a boil over medium heat. Whisk in the flour, stirring constantly just until fully combined, about 30 seconds.

Transfer the dough to a plate, cover with plastic wrap, and let cool to room temperature, about 20 minutes.

Line a sheet pan with parchment paper. On a floured work surface, roll the dough out into a 1/2-inch sheet and use a cookie cutter to stamp out twelve 2-inch circles. Arrange the churros on the baking pan. Cover the pan tightly in plastic wrap and freeze until ready to fry, up to 1 week.

Line a plate with paper towels. Combine the granulated sugar and cinnamon in a small bowl and set aside. Preheat a fryer to 375 degrees F or heat 2 inches of the oil in a large skillet or saucepan over high heat until the oil begins to ripple. Fry the churros, 2 to 4 at a time, for 4 minutes or until golden brown.

Remove the churros from the heat and drain on the paper towel–lined plate for 1 minute to remove any excess oil. Lightly roll the churros in the cinnamon sugar. Place on a rack to cool for at least 5 minutes.

Place a scoop of your favorite ice cream on a cooled churro and press a second churro on top to make a sandwich. Serve immediately.
Copyright 2016 Rich Landau and Kate Jacoby
YOUR RECENTLY VIEWED RECIPES
Free recipes, giveaways, exclusive partner offers, and more straight to your inbox!