Chocolate Caramel Peanut Butter Delight
Cookbook
Published by Imagine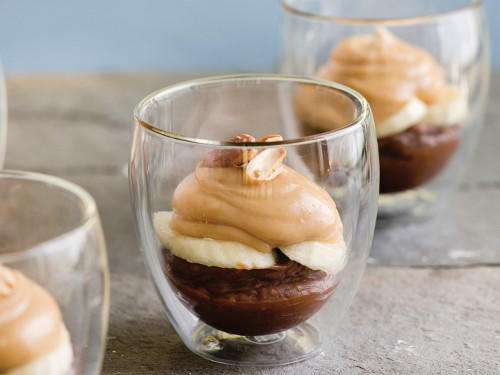 Editor's Note: Just because a dessert is easy doesn't mean it can't be fancy! This recipe for Chocolate Caramel Peanut Butter Delight is one you'll want to make the next time you need to whip up something that's delicious and decadent. These chocolate ganache treats are perfect for kids and adults alike. Chocolate and peanut butter go together so well, why not combine them for every dessert? The caramel adds a delicious twist to this classic flavor combination for a no-bake dessert you'll never forget. Serve up these chocolate caramel peanut butter delights at the holidays or in the middle of summer — whenever you decide to make this dessert, it's sure to be a hit!
Makes4 servings

Ingredients
For the Chocolate Caramel Ganache:
8 ounces milk chocolate, coarsely chopped
¼ sugar
Few drops water
Few drops lemon juice, optional
½ cup + 2 tablespoons whipping cream
¼ cup caramel bits or coarsely chopped caramelized pecans
For the Peanut Butter Topping:
½ cup (4 ounces) unsalted butter, room temperature
½ cup peanut butter
½ cup confectioners' sugar
1 tablespoon milk
2 medium bananas
Roasted salted nuts, for garnish
Instructions
Prepare the chocolate caramel ganache: Place the chocolate in a small heatproof bowl and set aside.

In a heavy-based saucepan, combine the sugar, water and lemon juice over medium heat, stirring gently until the sugar melts and the mixture comes to a boil. Once the mixture boils, continue cooking, now without stirring, until a caramel forms. Swirl the saucepan from time to time and brush down the sides with a pastry brush dipped in water to prevent sugar crystals from forming.

Carefully pour in the whipping cream and continue heating, now mixing, until the caramel melts into the cream. (Be careful because the mixture will splatter due to the difference in temperature between the cold cream and the hot caramel.)

Pour the mixture over the chocolate and let it sit for about 1 minute, then mix until a smooth ganache forms. Mix in the caramel bits, and then transfer to the refrigerator and chill for at least 2 hours.

Prepare the peanut butter topping: In a mixing bowl, combine the butter, peanut butter, confectioners' sugar and milk. Mix until a smooth cream forms, and then transfer to the refrigerator.

About 20 minutes before serving, remove the ganache from the refrigerator and let it sit at room temperature, to soften.

Distribute even amounts of ganache into 4 serving glasses. Slice the bananas and place a few slices in each of the glasses on top of the ganache. Ass a scoop of the peanut butter topping, top with roasted nuts, and serve.
Copyright 2016 Michal Moses and Ivana Nitzan
YOUR RECENTLY VIEWED RECIPES
Free recipes, giveaways, exclusive partner offers, and more straight to your inbox!