Buttermilk Beignets
Cookbook
Published by Taunton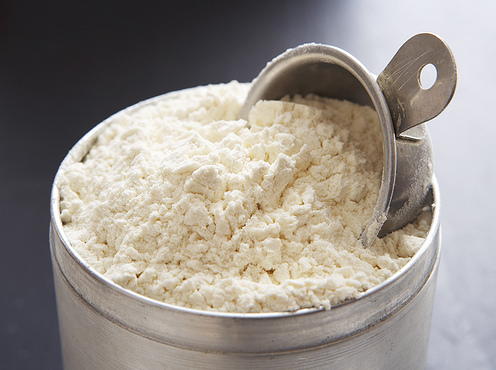 This image courtesy of Joseph DeLeo
Editor's Note: If you can't get to the Big Easy, then bring a bit of it to your home with this recipe for Buttermilk Beignets! This easy recipe is fried, sugary-sweet, and the perfect end to just about any meal. What more could you want from a freshly made beignet? Consider serving these beignets with a cup of your favorite coffee or tea, or even a scoop of your favorite vanilla ice cream or yogurt. You'll find these beignets will be a hit with children of all ages; after all, who doesn't love to be treated to the occasional fried dessert?

Up until I was about 12 years old, my parents took my sister, Tracy, and me to Easter service at the St. Louis Cathedral in Jackson Square. The only way they could keep us in check during mass was by bribing us to be good and quiet with promises of post-church beignets at Cafe du Monde across the street. We'd get so excited about the prospect of massive quantities of sugar that we probably would have done pretty much anything to ensure we got beignets before going home.

Mom was a bit of a stickler when it came to sweets; I mean, at our house, Raisin Bran was considered toeing the line of junk food! So you can only imagine how amped up we were at the mere prospect of real, honest-to-goodness fried dough piled sky-high with a mountain of powdered sugar.

Like good Southern kids we were dressed to the nines — me in my blue blazer, khakis, and white oxfords, Tracy in her Easter dress — and Mom, like all the proper matriarchs, with an Easter hat perched on her head that had a wingspan of at least 18 inches. No sooner had the crispy-fried beignets arrived than our holiday best was coated in a dusting of white powder, as it was our tradition to see who could blow the snowy confectioners' sugar off of the mountain of beignets and onto the other the quickest. After we'd made a complete mess of ourselves, we'd get down to business and devour our crispy-fried beignets, still hot from the fryer and so amazingly tender.

OccasionCasual Dinner Party, Family Get Together
Taste and TextureChewy, Sweet
Ingredients
¾ cup whole milk
1½ cups buttermilk
4 teaspoons active dry yeast
2½ tablespoons sugar
3½ cups bread flour plus extra for flouring work surface
½ teaspoon baking soda
¼ teaspoon salt
Peanut oil for frying
Confectioners' sugar for serving, as much as you think you'll need — then double that!
Instructions
Heat the milk in a small saucepan over medium-high heat until small bubbles form on the surface. Remove from the heat, add the buttermilk, and then pour into a stand mixer bowl. Whisk in the yeast and the sugar and set aside for 5 minutes. 

Add the flour, baking soda, and salt, and mix on low speed, using a dough hook, until the dry ingredients are moistened, 3 to 4 minutes. Increase the mixer speed to medium and continue mixing until the dough forms a loose ball and is still quite wet and tacky, 1 to 2 minutes longer. 

Cover the bowl with plastic wrap and set the dough aside in a draft-free spot for 1 hour. Pour enough peanut oil into a large pot to fill it to a depth of 3 inches and bring to a temperature of 375 degrees F over medium heat (this will take about 20 minutes). 

Line a plate with paper towels and set aside. Lightly flour your work surface and turn the dough out on it. Sprinkle the top of the dough with flour, gently press to flatten; fold it in half, and gently tuck the ends under to create a rough-shaped round. Dust again and roll the dough out into a ½-inch-to 1/3-inch-thick circle. Let the dough rest for 1 minute before using a chef's knife, a bench knife, or a pizza wheel to cut the dough into 1½-inch squares (you should get about 48). 

​Gently stretch a beignet lengthwise and carefully drop it into the oil. Add a few beignets (don't overcrowd them; otherwise, the oil will cool down and the beignets will soak up oil and be greasy) and fry until puffed and golden brown, turning them often with a slotted spoon, for 2 to 3 minutes. Transfer to the prepared plate to drain while you cook the rest. 

Serve while still warm, buried under a mound of confectioners' sugar, with hot coffee on the side.
Make Ahead
The beignet dough can be made up to 8 hours in advance of frying. 
Line a baking sheet with parchment paper and spray it with nonstick cooking spray. After cutting the dough, place the beignets on the paper and place another greased sheet of parchment paper, sprayed-side down, on top. 

Wrap the entire baking sheet with plastic wrap and refrigerate. The beignets can be fried straight from the refrigerator.
2009 David Guas and Raquel Pelzel
YOUR RECENTLY VIEWED RECIPES
Free recipes, giveaways, exclusive partner offers, and more straight to your inbox!