Blackberry-Ginger Slump with Rosemary Dumplings
Serve this blackberry slump with plenty of vanilla ice cream and watch it disappear.
Cookbook
Published by Page Street Publishing Co.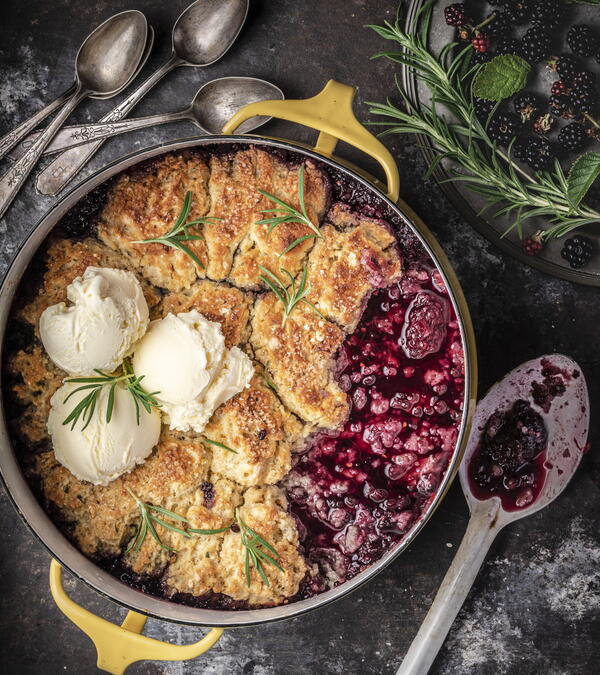 Blackberry-Ginger Slump with Rosemary Dumplings
While grunts, slumps, buckles and betties all sound like adorably old- fashioned insults, they actually belong to the same family of fruit desserts as cobblers, crisps and crumbles. So what exactly is a slump? We'll clear that right up for you: A slump is a grunt that is baked in the oven instead of simmered on the stovetop. Capisce? No? Fair enough. All you really need to know is that the combination of sweet blackberries and spicy ginger is a winner, especially topped with dumplings perfumed with just a hint of rosemary. The fact that they slump down into the softened fruit is all part of the vintage charm.
Yields4 - 6 servings
Ingredients
FOR THE DUMPLINGS
2 cups (250 g) all-purpose flour
2 tablespoons (26 g) sugar
1/2 teaspoon kosher salt
2 teaspoons (8 g) baking powder
1/2 teaspoon baking soda
5 tablespoons (70 g) very cold unsalted butter
1 cup (240 ml) buttermilk, kefir or plain yogurt
2 teaspoons (3 g) minced fresh rosemary

FOR THE FILLING
6 cups (900 g) fresh or frozen blackberries or other berries
3 tablespoons (18 g) finely chopped candied ginger
1 cup (200 g) sugar (use a little less if your blackberries are unusually sweet)
1 teaspoon lemon juice
1 teaspoon lemon zest
1/2 cup (120 ml) water

FOR SERVING
1/2 –1 tbsp (7–13 g) turbinado sugar
Vanilla ice cream, whipped cream, or clotted cream (optional)
Instructions
To make the dumplings, whisk together the flour, sugar, salt, baking powder and baking soda in a large bowl. Cut the butter up into small pieces and add it in. Using your hands, a pastry cutter or a fork, work the butter into the flour mixture until about half of it looks like coarse meal and the rest is left in pea- sized pieces. Add the buttermilk and rosemary and stir until the flour is just moistened, while handling the dough as little as possible. Turn it out onto a sheet of plastic wrap, press it into a loose disk shape, cover it completely and refrigerate it while you prepare the filling.

Preheat the oven to 400°F (200°C) and set a rack in the middle.

To make the filling, combine the blackberries, candied ginger, sugar, lemon juice, zest and water into a Dutch oven and place over medium heat. Bring the mixture to a simmer, decrease the heat to medium-low and cook, stirring occasionally, until the sugar melts and the berries release some of their juices, 3 to 5 minutes. Take the dough out of the refrigerator and, using your hands or a spoon, tear off roughly 2-inch (5-cm) chunks and evenly distribute them over the top of the fruit. Sprinkle the turbinado sugar evenly over the top, if using. Place the pot in the oven and bake for 20 to 25 minutes, or until the top turns light golden brown. Remove the pot from the oven and allow it to cool for 15 minutes before serving. Serve warm with a scoop of vanilla ice cream, a dollop of whipped cream or a drizzle of clotted cream.
Reprinted with permission from The Ultimate Dutch Oven Cookbook: The Best Recipes on the Planet for Everyone's Favorite Pot by Emily and Matt Clifton, Page Street Publishing Co. 2021.
YOUR RECENTLY VIEWED RECIPES
Free recipes, giveaways, exclusive partner offers, and more straight to your inbox!