Apple Charlotte, Unmolded (A Hot or Cold Dessert)
Updated December 27, 2022
Cookbook
Published by Knopf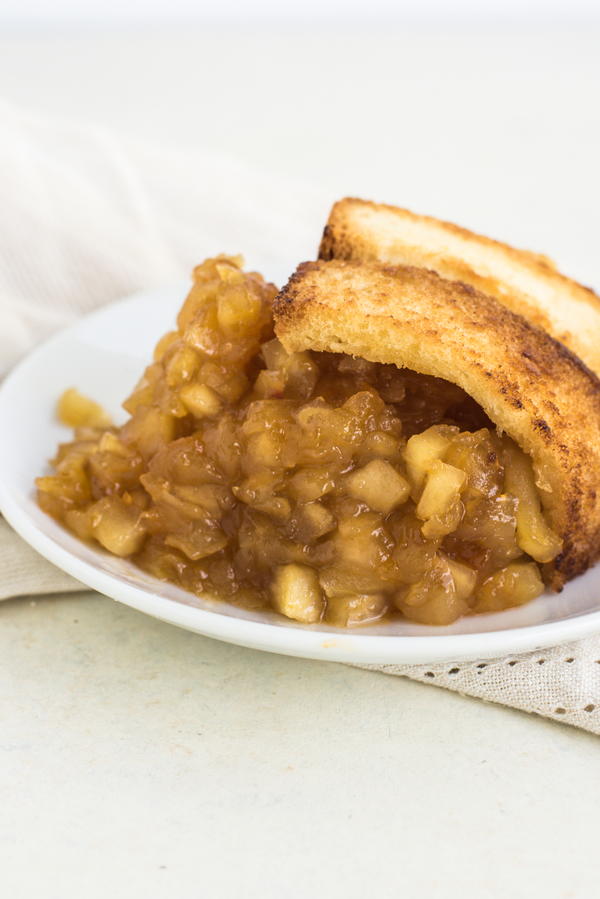 Apple Charlotte
This image courtesy of Cookstr
Editor's Note: This fall, impress your dinner party guests with this recipe for Apple Charlotte, Unmolded (A Hot or Cold Dessert). This delicious apple recipe is truly a show-stopper, and will be the perfect finish to just about any meal. If you're looking for a dessert that packs a dramatic punch and is a departure from the usual fare of pies or ice cream, then this apple recipe needs to be on your radar. To take this dessert to the next level, you can even serve it with custard sauce or whipped cream, with instructions included below. 

This extremely good dessert is a thick, rum- and apricot-flavored apple purée piled into a cylindrical mold which has been lined with butter-soaked strips of white bread. It is baked in a very hot oven until the bread is golden brown, and is then unmolded. For the sake of drama, the mold should be 3½ to 4 inches high. Be sure to pick the right cooking apples and that your purée is very thick indeed, or the dessert will collapse when unmolded.
Serves6 to 8 people
OccasionBirthday, Buffet, Buffet Meal, Card Night, Casual Dinner Party, Cocktail Party, Family Get Together
Taste and TextureFruity, Rich, Sweet
Type of DishCake, Dessert
Ingredients
6 lbs. firm nonjuicy cooking apples (Golden Delicious are always reliable)
1 cup granulated sugar
2 teaspoons vanilla extract
¼ cup dark rum
3 tablespoons butter
10 to 12 slices of homemade type white bread, 4 inches square and ¼ inch thick
1 cup clarified butter
½ cup apricot preserves, forced through a sieve
3 tablespoons dark rum
2 tablespoons granulated sugar
Optional: 2 cups crème anglaise (custard sauce) or 2 cups lightly whipped cream flavored with rum and powdered sugar
Equipment
A heavy-bottomed stainless or enameled pan, 12 inches across
A wooden spoon
A 6-cup, fireproof, cylindrical mold, about 3½ inches high
A pan
A serving platter
Instructions
Quarter, peel, and core the apples. Slice them roughly into 1/8-inch pieces. You should have about 4 quarts. Place in pan, cover, and cook over very low heat for about 20 minutes, stirring occasionally, until tender.

Uncover and beat in the apricot preserves, sugar, vanilla, rum, and butter. Raise heat and boil, stirring almost continuously until water content has all but evaporated—20 minutes or more. The purée should be a very thick and fairly stiff paste which holds itself in a solid mass in the spoon.

Preheat oven to 425 degrees F.

Remove crusts from the bread. Cut a square and 4 semicircles of bread to fit the bottom of the mold exactly. Sauté to a very light golden color in 3 or 4 tablespoons of the clarified butter. Fit them into the bottom of the mold. Cut the rest of the bread into strips 1¼ inches wide. Dip in clarified butter and fit them, overlapping each other, around the inner circumference of the mold. Trim off protruding ends.

Pack the apple purée into the mold, allowing it to form a dome about ¾ inch high in the middle. (It will sink as it cools.) Cover with 4 or 5 butter-dipped bread strips. Pour any remaining clarified butter over the ends of the bread around the edges of the mold.

Set in a pan (to catch butter drippings) and bake in middle level of preheated oven for about 30 minutes. Slip a knife between bread and sides of mold; if bread is golden brown, the charlotte is done. Remove from oven and cool for 15 minutes. Reverse the mold on a serving platter and lift the mold up a few inches to see if the sides of the dessert will hold. If there is any suggestion of collapse, lower the mold over the dessert again; it will firm up as it cools. Test after 5 minutes or so, until the mold can safely be removed.

Boil the apricot, rum, and sugar until thick and sticky. Spread it over the charlotte. Serve the dessert hot, warm, or cold, with the optional sauce or cream.
1961, 1983, 2001 Alfred A. Knopf
YOUR RECENTLY VIEWED RECIPES
Free recipes, giveaways, exclusive partner offers, and more straight to your inbox!