Chocolate Salted Caramel Cupcakes
This paleo cupcake recipe is beyond delicious.
Cookbook
Published by Page Street Publishing Co.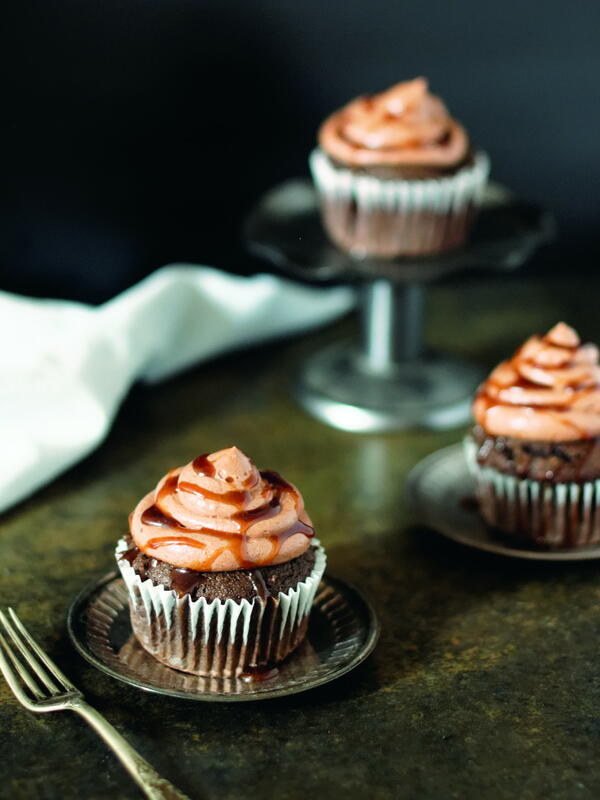 Chocolate Salted Caramel Cupcakes
The easy salted caramel sauce in this recipe is so versatile, I love to drizzle it on everything. It is the perfect complement to dark chocolate and oozes from the center of these decadent cupcakes.
Serves12
Ingredients
For the Cupcakes
1 cup (120 g) almond flour
1/2 cup (60 g) tapioca starch
1/3 cup (40 g) unsweetened cocoa powder
1/2 teaspoon ground cinnamon
1 teaspoon (3 g) baking soda
1/2 teaspoon sea salt
1/3 cup - 1/2 cup (80-120 ml) raw honey
1/4 cup (60 ml) coconut oil, melted
4 eggs
1/2 tablespoon (7.5 ml) vanilla extract
For the Chocolate Buttercream Frosting
2 sticks (225 g) butter
2/3 cup (115 g) chocolate chips (I prefer Enjoy Life brand)
Pinch of salt
For the Salted Caramel Sauce
1/4 cup (60 g) unsalted butter
3 tablespoons (45 ml) coconut milk
1/2 cup (100 g) coconut sugar
1/2 teaspoon sea salt
Instructions
For the cupcakes: Preheat the oven to 350°F (180°C, or gas mark 4) and line a cupcake tray with paper or silicon liners. Combine all dry ingredients together in a large mixing bowl. Mix together all the liquid ingredients in a small bowl, and then combine with the dry ingredients. Divide the batter evenly in the cupcake liners and bake for 15 to 18 minutes until a toothpick comes out clean when inserted in the middle

For the chocolate buttercream frosting, melt all of the ingredients in a small saucepan on the stove until fully incorporated. Pour into a freezer-safe bowl and freeze until solid. Remove from the freezer and bring to room temperature. Whip the stiff chocolate butter with a handheld mixer for about 5 minutes, until the buttercream becomes light brown and fluffy. Set aside.

Add all of the salted caramel ingredients to a heavy-bottomed saucepan and gently boil for 2 minutes. If you want a thicker sauce, boil for about 1 more minute. The caramel sauce will thicken more as it cools. Set the caramel aside.

Prepare the cooled cupcakes by punching a hole from the center top of each one. You can use the back side of a pastry bag's metal tip or a paring knife. Fill each cupcake with 1 teaspoon (5 ml)caramel sauce. Use a pastry bag to frost each cupcake with buttercream. Drizzle more caramel sauce on top. Store cupcakes in an airtight container in the fridge and bring to room temperature before eating.
Chef's tip:
If the caramel sauce is too warm, then it might melt the frosting, but too cooled and it's hard to drizzle. I find it's easiest to fill a plastic sandwich baggie with the caramel sauce, gently warm it between my hands, and then cut a 1⁄4-inch (6-mm) slit in the corner. Then drizzle on top of frosting.
Reprinted with permission from 1,001 Paleo Recipes: The Ultimate Collection of Grain- and Gluten-Free Recipes to Meet Your Every Needr, Page Street Publishing Co. 2021.
YOUR RECENTLY VIEWED RECIPES
Free recipes, giveaways, exclusive partner offers, and more straight to your inbox!