Tempering Chocolate
Cookbook
Published by Stewart, Tabori & Chang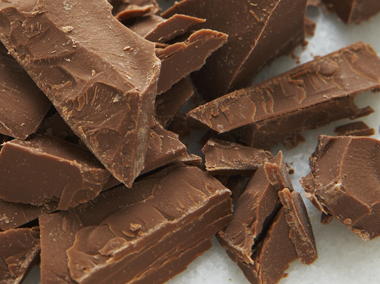 This image courtesy of Joseph DeLeo
When chocolate is melted, the molecules of fat break up and separate. To reunite them so that you have a workable mix, you must stabilize the chocolate through a heating and cooling process that is known as tempering. This is the most basic skill to master if you want to work successfully with chocolate that you plan to use for candies or pastry decoration. In fact, chocolate will not work its magic unless it is properly tempered.

Tempering, which requires more patience and care than skill, can be done in a variety of ways, but the end result must always be the same: a smooth, pure chocolate that will retain its satiny texture and shiny color once it has set. It can be done three different ways: 1) the demanding traditional, time-consuming (and messy) French way, called tabliering whereby two-thirds of the full amount of melted chocolate is poured out onto a cool surface and worked with a spatula until it reaches 81°F and then worked back into the remaining melted chocolate until the whole mass is of a uniform temperature; 2) simply by working with the chocolate over a hot water bath; or 3) in a microwave oven. Since the chocolate must reach and maintain an exact temperature in each case, you need a perfectly calibrated thermometer. I rely on a digital laser thermometer, which is a good investment if you want to make tempering an easy job.

The solid chocolate begins at an average room temperature of 75°F (23°C). Through the melting process, the temperature is raised to between 110° and 120°F (43° and 49°C). It must then immediately be lowered to 82° to 83°F (28° to 29°C) by adding room-temperature chocolate. The added chocolate must be finely chopped, or it will take too long to incorporate it into the melted chocolate and the temperature will go below the necessary 83°F (29°C). It is important that you check the temperature continually; this is not an exact science, as so many factors play into the process. Finally, the liquid chocolate is reheated to the final 88° to 90°F. (White chocolate and milk chocolate will generally melt at 2°F lower than other chocolates because of the amount of lactose they contain.) Meeting and holding these melting, cooling, and warming temperatures are vital to successful tempering.
Ingredients
Chocolate
Chocolate 'palets' (optional)
Instructions
To temper chocolate in a microwave, put chopped room-temperature chocolate in a microwave-safe bowl, preferably glass, and melt on high for 20 seconds. This should yield a slightly lumpy mix with about one-third of the chocolate still relatively solid, remove the bowl from the microwave and, using a rubber spatula, transfer the chocolate to a clean, cold bowl. Using a handheld immersion blender, beat the chocolate until it reaches 90°F (32°C) on a thermometer. This is an easy process, but it does take practiced guessing to estimate the initial two-thirds to one-third melting ratio.

You can also temper chocolate by adding small chocolate pieces, called calets or pistoles, to melted chocolate. They are basically chocolate chips formed into slightly rounded disks. We sell them at Jacques Torres Chocolate for general use (even snacking), and many chocolate manufacturers sell them for use in commercial kitchens. How many pieces you need to add depends on both the temperature of the melted chocolate and the size of the pieces.

You should always temper more chocolate than you think you need, as there is nothing more frustrating than being caught short in the middle of making something. Plus, a larger batch of tempered chocolate will hold its temperature longer. I often use a simple home hair dryer to ensure that the chocolate remains at the correct temperature by blowing the hot air directly over the tempered chocolate. You can also melt a bit more chocolate and add the hot, melted chocolate to the tempered chocolate to raise the temperature. I compare it to ordering an espresso that must be drunk quickly, as the small amount in the cup cools down fast, while a large cup of cappuccino remains hot as you slowly sip it. Plus, tempered chocolate can always be reused. Just pour it into a clean baking pan and seal it tightly with plastic film. When you are ready to use the chocolate, cut it into pieces and treat as though it is a fresh batch of chocolate to be tempered.

If you are simply melting chocolate, never do it over direct heat. It melts best at a temperature of between 104° and 113°F (40° and 45°C) over indirect heat, such as over a hot-water bath. Microwave ovens also do a good job of melting chocolate. But no matter which method you use, always chop the chocolate into small pieces before you begin.
2008 MrChocolate.com LLC
YOUR RECENTLY VIEWED RECIPES
Free recipes, giveaways, exclusive partner offers, and more straight to your inbox!