19 Tailgate Food Recipes the Crowd Will Love
Score a touchdown with family and friends when you serve these tailgate recipes!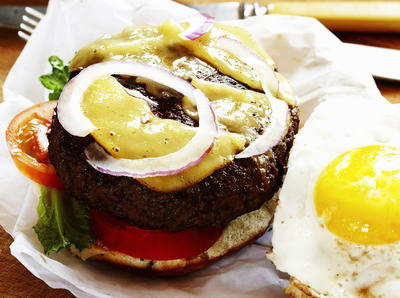 When you picture tailgate food recipes, you likely picture no-fuss side dishes, appetizers, and more that can be made with minimal effort. After all, you're setting up food for a crowd in a venue without many of the comforts and equipment found in your own kitchen at home. It's a situation that can challenge even the most experienced home cook. It's only natural that you'll want to get cooking with recipes that aren't difficult to follow — or better yet, use recipes that can be made in advance, then simply transported to the game day venue.

What's a home cook to do? Don't worry, you can still make an assortment of dishes that will delight the crowd. This collection of 19 Tailgate Food Recipes the Crowd Will Love includes an assortment of recipes that are easy to make and taste delicious, too. Whether you're looking for an easy side dish recipe or two to bring to a potluck at the game, or want to impress your friends by firing up the grill, these tailgate food ideas will be just what you need for a day of cheering on your favorite team. 
Table of Contents
Cheer on your favorite team in style with these tips for a great tailgate! From food prep to safety tips, these ideas will help you score a touchdown at your next event. Take a look at these tips to get started:  Tailgate Party Ideas: 6 Tips for a Fun Game Day Party
Tailgate Food Ideas for Appetizers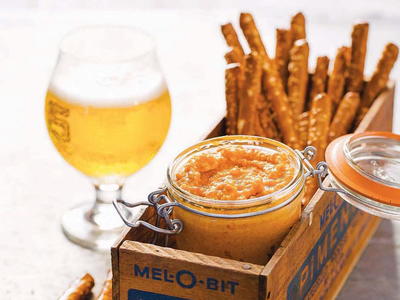 You'll get the party started on the right foot when you use these tailgate food ideas for appetizers. From salsa to the classic nachos, these party appetizer recipes can be packed up and taken to the game day site; if you'd like. These classic recipes are an indelible part of any good tailgate party, and are sure to be hits with all of your guests. Just set out some disposable napkins or plates so guests can snack away without any messes, and these easy party appetizer recipes will be ready to serve. 
Pimento Beer CheeseTailgate food is practically synonymous with cheese, so it's no surprise to see this recipe for cheese dip at the top of the list. This easy recipe can be paired with your favorite pretzel rods, fresh cut vegetables, or an assortment of crackers — or even all three options!
What's better than the classic deviled egg? Try these smoked deviled eggs! This make-ahead recipe includes plenty of nuance and flavor, and will be an unforgettable addition to your tailgate party spread. Use your smoker to make this delicious appetizer.
Bruschetta with Fresh TomatoesThis recipe for bruschetta is a great way to use some of the tomatoes in your garden! Instead of assembling the bruschetta on top of the slices of toast at home, consider packing the toast and bruschetta in separate containers. When you arrive at the tailgate party location, simply spoon out the bruschetta on each slice and then serve.
Spinach DipIncluding a vegan recipe or two in your tailgate party menu doesn't have to be a difficult task. This spinach dip uses is easy to make and is vegan, too. Pita chips, fresh vegetables, and small slices of bread will all be perfect accompaniments to this dip. 
Portable NachosA bowl of nachos at a stadium can be greasy, light on flavor, and so disappointing. If you want to wow the crowd, then keep this recipe for nachos up your sleeve. True to the name, these Portable Nachos are easy to make and pack up for any game on the calendar.
Hummus for a CrowdStore-bought hummus will be but a distant memory when you try this hummus recipe. The six-ingredient recipe can be made within minutes and will be the perfect addition to your slate of appetizers and snacks before the game. If you've never made hummus before, then you need to give this recipe a try!
Tailgate Side Dishes: Make Ahead Recipes You Need to See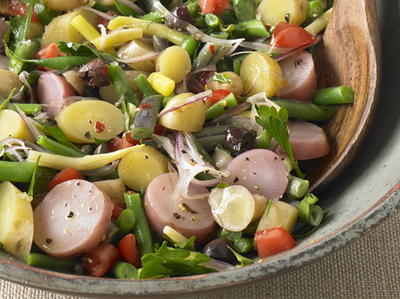 Grilled food might get all the press for tailgate parties, but it's the humble side dish that can round a meal. From the classic cole slaw to a delightful take on the traditional pasta salad recipe, this selection of side dish recipes can be made in advance and then served at the tailgate party. As food safety is always a concern, consider transporting these make-ahead recipes in a cooler to the tailgate party venue. Don't forget to bring a serving spoon!
Green Beans with Potatoes Use fresh or frozen green beans to make this delightful — and delightfully easy — side dish. The side dish is hearty enough to serve as a main course for any vegetarians attending your tailgate party, too. 
Tomato Rainbow with Basil BlossomsPut the excess tomatoes from your garden to good use when you make this delicious dish featuring tomatoes and mozzarella. Slice and dice the ingredients at home, then assemble this side dish when you arrive at the tailgate party so that nothing gets soggy along the way.
Farfalle Salad with Shaved Fennel, Fresh Peas, Quartered Artichokes, and Mango-DijonnaiseWith its use of mango, this take on the traditional pasta salad recipe is one you definitely can't miss! Bright, colorful, and full of flavor, this pasta salad just might be scooped up in no time at your next tailgate party. If you can, consider using pasta using your team's colors for a fun way to incorporate some team spirit. 
New potatoes will take center stage in this refreshing potato salad recipe. Capers, lemon juice, green beans, and more will all impart flavor and taste to this salad. Scope out your favorite farmers market to get your hands on some of the freshest vegetables around, too. 
Basic Macaroni SaladYou can't go wrong with the classics! This macaroni salad includes just under 10 ingredients, but can be mixed and ready to serve in hardly any time. Keep this recipe in mind the next time you need to make a side dish at the last minute.
Cole SlawIt's not a tailgate party without a bowl of homemade cole slaw! This easy classic recipe uses just six ingredients and will be the perfect side dish for almost any menu you plan to serve before kickoff. The use of vinegar will give this cole slaw a distinct taste that will make it anything but dull. 
Grilled Tailgate Food Recipes for Main Courses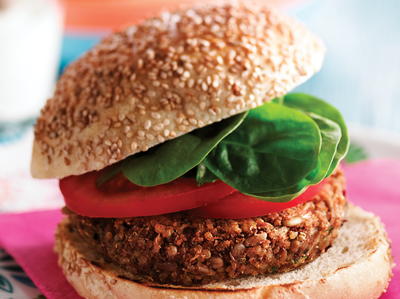 If a tailgate party doesn't include any grilled food recipes, did it even happen? With the following selection of grilled food, you can keep everyone on your guest list content. Ribs and burgers will keep the meat-eaters in your crowd happy, while vegetarians will appreciate the hearty veggie burgers that are available. If it is possible, consider marinating your grilled items in advance of the tailgate party, and even form patties for the burgers before you leave. These grilled tailgate food recipes will have everyone coming back for seconds.
Sunflower Seed and Quinoa BurgersYou'll love including these vegetarian burgers in your menu at your next tailgate party. These burgers can be served the same way as beef burgers, complete with an array of your favorite condiments and other toppings.
Spicy Black Bean BurgersIf you plan to serve these black bean burgers, then consider cooking them on a skillet that will work on your grill. Just remember to flip the burgers once; if you turn them any more frequently, then they might fall apart. These black bean burgers can be served on your favorite hamburger buns or in lettuce wraps.
Surprise and delight the vegetarians in your friends group when you make these stuffed red peppers on the grill. This easy vegetarian recipe is hearty and tasty, and will be a nice departure from the usual salads. 
Barbecue RibsIf you love to serve up ribs, then you need to include this recipe for barbecue ribs in your repertoire. This easy recipe is one that will wow the crowd every time you make it. Serve this dish with classic recipes like potato salad and corn on the cob, and you're set.
Buffalo Burger with Spicy KetchupWhile you can't go wrong with the classic beef burger on the grill, consider making your next tailgate party a bit more special when you make these buffalo burgers. This easy recipe is one you'll want to make again and again. If you can't find buffalo meat at your local grocery store, then consider reaching out to a specialty butcher shop in your area.
Thai Barbecue Chicken Thighs with Peanut SauceYou'll love that you can make part of this recipe in advance of your tailgate party. If you'd like to shake up your routine and step away from the standard grilled recipes, then you'll want to take a look at this dish.
Gingered Tuna and Pouch Grilled Vegetable TossMake cleanup a breeze when you grill these tuna steaks in a pouch! Just load up the pouches with vegetables, then cook on the grill for a few minutes. Voilà! You will have a gourmet meal that will impress your friends and will have minimal cleanup. 
What is your favorite tailgate food recipe?
YOUR RECENTLY VIEWED RECIPES
Free recipes, giveaways, exclusive partner offers, and more straight to your inbox!