How to Preserve Fresh Herbs: 5 Tips to Get You Started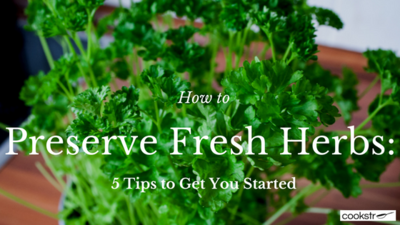 Rosemary, chives, and basil, oh my! If your kitchen garden is on target to produce plenty of fresh herbs this summer, then you'll want to keep a few preservation methods up your sleeves so that you can make full use of the fresh herbs that are coming your way. Learning how to store fresh herbs, whether it's for immediate use or for long-term preservation, can help you make the most of what you've grown.

In this guide on How to Preserve Fresh Herbs: 5 Tips to Get You Started, you'll learn quick and easy ways to lock in flavor. From ideas on how to preserve herbs to tips on planning next year's kitchen garden, you'll find the information you need so you can add a generous amount of flavor to your favorite herb recipes. After all, there's nothing quite like including a bit of summer by adding preserved herbs grown in your backyard in your favorite dishes all year! 
Select the Best Herbs to Preserve
Regardless of how you plan to preserve your herbs, you need to keep a few things in mind. Time is of the essence, too, as any preservation methods should be undertaken right away. In other words, don't let that basket of lavender languish on the kitchen counter while you think of a way to preserve the herbs. According to the website of Penn State College of Agricultural Sciences, not just any herb from your garden will do, with the organization noting you should select herbs that are free of disease, appear fresh, and do not have any damages. Learning how to store fresh herbs for short-term use allows you to retain the robust flavor of herb leaves, if only for a few days.
Store Fresh Herbs Correctly for Short-Term Use
If you're stocking up on herbs, but won't use them for a day or two, then keep herbs ready for use by rinsing fresh herbs, then patting them dry with a paper towel. University of Florida IFAS Extension advises cutting the herb's stems diagonally, then placing the herbs in a jar with water. The organization also suggests covering the herbs loosely with a plastic bag, then storing them in the refrigerator for use within a few days. 
Dry Herbs at Home the Easy Way
Drying your fresh herbs indoors is a fairly easy option for anyone with a lengthy to-do list. Keeping the herbs on the stems, simply rinse the herbs under water, then pat dry with a paper towel while discarding the leaves that are discolored or diseased. Tie the stems together, hang the herbs upside down in a paper bag with holes on the side for ventilation, and store in a warm and dry place that does not have sunlight (an attic might work, but probably not your basement). When the herbs are completely dry and can be crumbled, Alabama Cooperative Extension System notes you need to heat the room-dried herbs to kill any insects. After the herbs are cooled completely, store them in labeled air-tight containers that are out of direct sunlight. 
Lock in Flavor by Freezing Herbs for Soups, Stews, and More
The freezing method is a fairly easy way to retain the flavor of herbs while they are at the peak of freshness. Select fresh herbs that have been cleaned and chopped, then place about a teaspoon of the chopped herbs in each compartment of a clean ice cube tray. Pour just enough water in the ice cube tray to cover the herbs, then pop the tray into the freezer. After the water is frozen, store the ice cubes in zip-top bags that are labeled with the herb's name and the date you froze the herbs. You can keep frozen herbs for up to six months, according to Ohio State University Extension. When you're ready to cook, drop the frozen herbs in soups or stews.
How to Organize Herbs to Meet Your Cooking Needs
How can you keep everything organized without letting that hard work go to waste? You have a few methods at your disposal. You can label jars of dried herbs or zip-top bags of frozen herbs with the name of the contents as well as the date by which they should be used. Another option includes storing dried herbs in an easily-accessible area of your pantry or cupboard, so that you are always reminded to make something with your preserved items.
Herb Recipes Everyone Will Love
Now that you're ready to start preserving your favorite herbs, it's time to take a look at recipes that incorporate herbs in creative and delicious ways. From creating your own blend of dried herbs to roasted potatoes and pasta dishes, this selection of recipes makes full use of the flavors found in dried herbs. 
 If you have never tried to make falafels at home, then this recipe is for you! An assortment of dried herbs is used in this recipe, which is also super easy to make.
Use dried herbs from your garden or purchased at your farmers market to make these two blends. You'll love adding the herbs to soups, roasts, and salads, and even sprinkling it on popcorn.
Add some nostalgia to your next get-together when you serve this Kix Mix. Loaded with an assortment of favorite cereals, this recipe also includes a variety of seasonings, including dried basil.
What is your favorite herb recipe?
YOUR RECENTLY VIEWED RECIPES
Free recipes, giveaways, exclusive partner offers, and more straight to your inbox!