11 Free Cooking Apps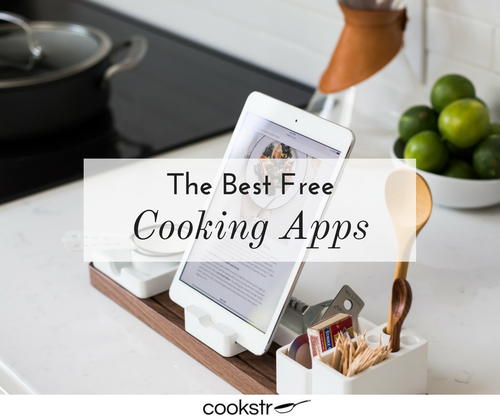 Whether you're a novice cooker or an experienced chef, having a little aid in the kitchen is always nice. These 11 Free Cooking Apps are a great way to get the help you need at your fingertips.

Apps for finding specific recipes are always helpful, but there's so much more out there than just that. From finding tutorials for that one strange knife trick to finding quick how-tos and explanations of the trickier cooking techniques, there's an app here for you. There's even an app that will keep track of all of your various timers at once, which is truly a lifesaver if you're a home cook who likes to entertain.

From recipe organizers to apps for beginner chefs and more, you'll find exactly what you need to create your next delicious meal.
1. OrganizEat
2. Healthy Recipes - By SparkRecipes
Browse countless recipes and find the healthy version of that thing you've been craving all day with Healthy Recipes by SparkRecipes! This app has a clean interface, so it's easy to use when you're cooking up a storm.



3. Handpick Recipes and Ingredients
Handpick is a great app for when you have an ingredient in your refrigerator that you need to use up before it goes bad. The Handpick app lets you sort recipes by the ingredient, search topics in the food world, and explore all the best dishes.



4. AllRecipes Dinner Spinner
With the AllRecipes Dinner Spinner, there's no hassle when trying to decide what to make for dinner. This app will help you find exactly what you need. You can even save your favorite recipes and come back to them later!



5. Yummly
1. SideChef
2. Epicurious
Cooking a delicious meal is one thing, but knowing if the recipe is good before you even make it is another. The Epicurious app will dish on the recipes as you browse them through reviews from other users who have made the dish before. Make the right choice every time, and work your way to chef status.



3. Kitchen Stories
For learning the basics, there's no better app than Kitchen Stories. They have an endless supply of simple how-to videos for everything from baking to knife skills.



Cooking Tools
1. KitchenUnits
Whether you need to cut a recipe in half or adjust the amounts of certain ingredients to get your dish just right, the KitchenUnits app will be your best friend. Get reliable conversions for time, volume, temperature, and weight at your fingertips!



2. Kitchen Swaps Lite
Are you out of that one ingredient? Trying to make your baked goods vegan? Looking for a healthier alternative to butter? The Kitchen Swaps Lite app has your back. Get all of the best, easiest ingredient substitutions so you can get one step closer to indulging!



3. Timer+
Most phones have a timer on them already, but these have their limitations. With the Timer+ app, you can keep track of all of the dishes you're making at once. This app is truly a lifesaver at Thanksgiving!



Which cooking apps do you use?
Let us know in the comments!
YOUR RECENTLY VIEWED RECIPES
Free recipes, giveaways, exclusive partner offers, and more straight to your inbox!