Winter Vegetable Stew
Cookbook
Published by Chronicle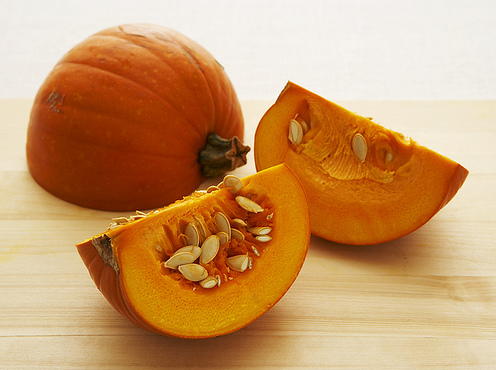 This image courtesy of Joseph DeLeo
Editor's Note: There are few things as comforting as a bowl of homemade stew served on a cold day. With this recipe for Winter Vegetable Stew, you can warm up inside and out while enjoying a medley of flavors and vegetables. Featuring butternut squash, turnip, potatoes, a wide assortment of herbs and seasonings, and so much more, this vegetable recipe has plenty to offer. You'll love serving this stew for lunch or dinner along with your favorite grilled cheese sandwich and fresh apple slices. This vegetarian stew recipe is perfect for weeknight dinners, but is elegant enough to serve during your holiday meal.

This dish is a perfect vegetarian solution for Thanksgiving. The stew is cooked in a big pumpkin, which makes for a completely natural and edible serving vessel. You carve the pumpkin down to the level of the stew as you serve the stew. It has all the warm and comforting flavors of Thanksgiving, and you get to participate in a carving ceremony!
Serves8
Cooking MethodBaking, Stewing
OccasionFormal Dinner Party
Taste and TextureHerby, Savory, Spiced
Ingredients
2/3 cup raz al hanout (see Notes below)
¼ cup raw cane sugar
1 tablespoon kosher or coarse sea salt
Freshly ground pepper to taste
2 tablespoons grapeseed or extra virgin olive oil
1 to 2 cups cubed butternut squash or similar squash
¼ cup diced onion
4 cups Roasted Vegetable Stock
Salt and freshly ground pepper to taste
Raw cane sugar (optional)
One 4- to 6-pound sugar pumpkin
One 4-ounce rutabaga, peeled and cut into 1-inch cubes (about 1 cup)
1 pound butternut or similar squash, peeled and cut into 1-inch cubes
One 4-ounce turnip, peeled and cut into 1-inch cubes (about 1 cup)
8 ounces cipollini onions
8 ounces red pearl onions
2 tablespoons extra virgin olive oil
¼ cup thinly sliced leeks
3 cinnamon sticks, toasted (see Notes below)
½ teaspoon freshly grated nutmeg
½ jalapeno chili, seeded and finely minced
3 to 4 large Yukon Gold potatoes, steamed until tender, peeled, and cut into 1-inch cubes
2 large Peruvian blue potatoes or Yukon Gold potatoes, steamed until tender, peeled, and cut into 1-inch cubes
½ cup coarsely minced fresh herbs, such as flat-leaf parsley, thyme, chives, and/or chervil
8 thick slices Russian black or walnut-raisin bread, lightly toasted
Instructions
In a small bowl, stir all the spice mix ingredients together.

To Make The Sauce: Heat the oil in a medium saucepan over medium heat. Sauté the squash and onion for about 5 minutes, or until the onion softens.

Add the vegetable stock and bring to a slow simmer. Cook for 15 to 20 minutes, or until the squash is tender when pierced with a fork. Season to taste with the spice mix, salt, pepper, and sugar, if necessary.

Transfer the vegetables and stock to a blender or food processor and puree until smooth. If using a blender, you may have to do this in batches. Return to the saucepan, cover, and keep warm. If the sauce cools before it's time to add it to the other vegetables, heat it very gently over low heat until just hot. Do not let it boil.

Preheat the oven to 400 degrees F.

Cut the top off the pumpkin as though you were going to make a Halloween jack-o-lantern. Seed and scrape the inside of the pumpkin. Clean and reserve the seeds. Rub the lid and the inside of the pumpkin with ¼ cup of the spice mix. Wrap both the lid and the pumpkin completely in aluminum foil. Bake for 45 to 55 minutes, or until the pumpkin is fork-tender.

Spread the rutabaga cubes on a lightly oiled baking pan and roast for about 30 minutes, or until fork-tender. Spread the squash and turnip cubes on a baking sheet and roast for 5 to 20 minutes, or until fork-tender.

Spread the cipollini and pearl onions on a lightly oiled baking sheet and roast for 8 to 10 minutes, or until softened. Transfer the onions to a bowl and let cool. When cool to the touch, peel the onions.

Meanwhile, heat a large saucepan over medium heat. Add the olive oil and sauté the leeks, onions, cinnamon sticks, nutmeg, and jalapeno until the leeks begin to melt. Add the roasted rutabaga, squash, and turnip and cook until heated through. Add the hot squash sauce and the Yukon Gold and Peruvian potatoes and bring to a simmer. Remove from the heat, remove the cinnamon sticks, and sprinkle with the herbs. Stir them gently into the stew.

Remove the pumpkin from the oven and stand it upright. Ladle the stew into the cavity of the pumpkin.

Lay a slice of toast in the bottom of 8 warmed soup bowls. Sprinkle a little of the spice mix on the rim of the pumpkin. Use a carving knife to cut thin slices off the pumpkin rim. Arrange the slices around the bread, then ladle the stew over the bread.

Sprinkle the freshly cut rim of the pumpkin with more spice mix, and sprinkle the stew with more coarsely chopped herbs. Repeat the process until the stew and pumpkin are gone.

You may have a little leftover pumpkin, but not to worry! Puree it with some spice mix and brown sugar and use as you would canned pumpkin to make pumpkin pie.
Notes
* To toast the cinnamon sticks, heat a small skillet over medium heat until hot. add the cinnamon sticks and cook, shaking the pan, for about 1 minute until fragrant. Transfer to a plate to cool. 

* Raz al hanout is a mild North African spice mixture that nearly always contains dried, crushed rosebuds, among other spices such as cardamom, cinnamon, turmeric,cloves, and cumin. Literally translated, the name means "head of shop," which is another way of explaining that the spice mixture is made by the proprietor of the store selling it and generally showcases the best and freshest spices the owner has to offer. While it may be similar from shop to shop, no two mixtures are ever exactly alike. If you can't find raz al hanout, substitute garam masala.
2003 Michel Nischan
YOUR RECENTLY VIEWED RECIPES
Free recipes, giveaways, exclusive partner offers, and more straight to your inbox!