Pompano & Fideo Noodle Stew with Rosa's Two Way Tomato Sauce
Cookbook
Published by University Press of Florida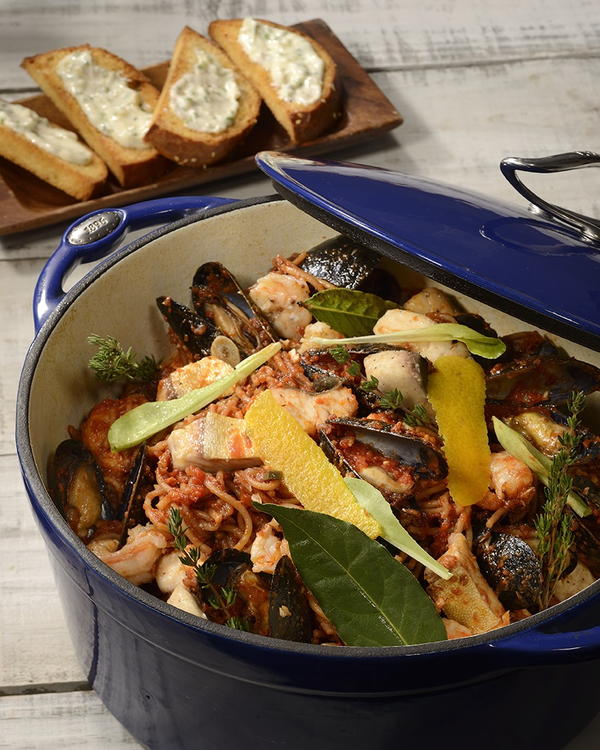 Pompano Fideo Noodle Stew with Rosas Two Way Tomato Sauce
This image courtesy of Debi Harbin
Editor's Note: The next time you're in need of some comfort food, keep this recipe for Pompano & Fideo Noodle Stew with Rosa's Two Way Tomato Sauce in mind! This easy fish recipe is filling and hearty, and will be the perfect dinner idea for a chilly fall evening. The herbs and flavors in this easy fish recipe will make this dish a hit with your family and friends, so consider making this stew when it's your turn to host everyone for dinner. When you are preparing to make this dish, consider making the author's recipe for Rosa's Two Way Tomato Sauce in advance to save some time.

Serving Suggestion from the Recipe's Author: Serve with some good, crusty garlic bread. If you need any more than this you are possibly jaded. So if you are, and you are like me, let me offer this further temptation: Smash some fine anchovies into some butter and slather it on your bread. Sit back and enjoy the broadest smile your face might be able to stretch into.
Serves4 to 6
Cooking MethodSauteeing, Stewing

Occasional Fresco, Birthday, Buffet, Buffet Meal, Card Night, Casual Dinner Party, Family Get Together
Ingredients
1/4 cup vegetable oil
3 slices good bacon, cut into 1-inch lengths
3 cloves garlic, minced, plus 2 cloves thinly sliced
1 serrano chile, minced (seeds may be left in if desired)
1/2 onion, diced
1 carrot, peeled and diced
1/2 bulb fennel, cored and diced (3/4 cup)
Kosher salt and cracked pepper
2 pounds scrubbed and debearded mussels
1 cup soft red wine (such as merlot, although I have used Champagne if that was handy)
1 (28-ounce) can whole tomatoes, pureed
1/2 cup plus 2 tablespoons olive oil
8 ounces loose, dry fideo or vermicelli noodles
2 tablespoons butter
12 ounces large shrimp, peeled and deveined, cut into bite-size pieces
2 pounds skin-on pompano fillets, cut into pieces 1 inch long (you can use bass or other fish as well, removing skin if you wish)
Instructions
In a large rondeau (or similar) pot, combine the vegetable oil and bacon. Cook over medium heat until the bacon is almost done. Add in the minced garlic, the chile, onion, carrot, and fennel and stir. Season with salt and pepper to taste and cook until softened, 8 to 10 minutes.

Add the mussels and wine. Turn up the heat to medium-high. Cover the pan with a tight-fitting lid and cook until the mussels steam open, 4 to 6 minutes. Using a slotted spoon, remove the mussels to a colander set over a bowl; discard any mussels that haven't opened. Put the Rosa's Two-Way Tomato Sauce and the pureed tomatoes in the pot and remove from the heat. Set the sauce and mussels aside.

In a large sauté pan over medium heat, cook the fideo noodles in the 1/2 cup olive oil. Toss and pull at them with tongs to shake them out of their bundles. Cook until nicely colored, about 8 minutes. Drain on paper towels for a moment, then stir them into the tomato sauce mixture. Place over low heat and cook, covered, until the noodles are soft to the bite. 

Add the mussels and the liquor from the bowl under the colander, stirring them into the noodles and tomato sauce. Cover and keep on very low heat so you don't overcook the mussels.

If your fish fillets are thick, preheat the oven to 350 degrees F.

Heat another sauté pan over medium heat and coat the bottom with the remaining 2 tablespoons olive oil. Add the butter and increase the heat to medium-high. Add the garlic and cook for 20 seconds. Add the shrimp and fish. Cook until just cooked through, about 3 minutes. (Thicker fish, such as grouper, might take longer. Sear them first in the pan with the shrimp, then transfer to a baking sheet and finish in the oven.)

When the shrimp and fish are cooked, add them both to the stew. Season to taste. Gently stir. Heat the stew over medium heat and serve hot.
Excerpted from Norman Van Aken's Florida Kitchen, by Norman Van Aken. Gainesville: University Press of Florida, 2017. Reprinted by permission of the University Press of Florida.
YOUR RECENTLY VIEWED RECIPES
Free recipes, giveaways, exclusive partner offers, and more straight to your inbox!