Old-Fashioned Beef Stew
Cookbook
Published by HarperStudio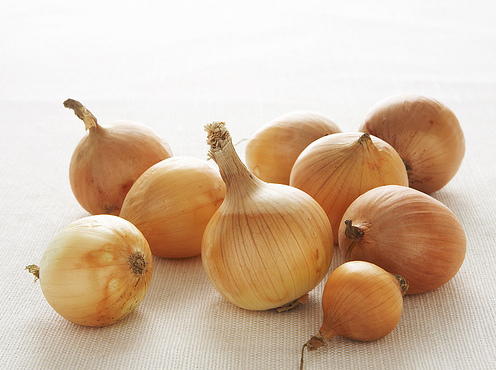 This image courtesy of Joseph DeLeo
Editor's Note: There's nothing quite as warm and comforting as a bowl of beef stew. This Old-Fashioned Beef Stew recipe will take you back to a simpler time - full of hearty vegetables and tender beef, this is the stew you'll remember from your childhood. You can throw this easy beef stew recipe together and let it cook while you're working around the house, making it the perfect weeknight dinner idea!
Pure tradition here: an honest bowlful of fork-tender beef, potatoes, onions, and carrots that have created their own rich-tasting sauce. This stew takes up to 3 hours to make, but for most of that time it cooks on its own in the oven, while you're free to do other things. So plan to make this on a day when you're going to be home anyway. Because it keeps and reheats so well, consider making it on a weekend for eating throughout the week. You can save a step by buying pre-cut cubes of stew meat, but I recommend going with larger pieces of chuck (so you know what you're getting) and cutting them up yourself. Look for very small red potatoes, 1½  inches in diameter (sometimes called "creamers"), which need only to be cut in half. Beef stew keeps well in the refrigerator, in an airtight container, for up to a week. Or you can freeze it in individual portions in re-sealable bags for up to 2 months. Defrost it in the refrigerator or at the "defrost" power in a microwave oven before gently reheating- either over low heat in a saucepan (stirring occasionally) or in a microwave, in individual bowls or a serving bowl.
Makes6 to 8 servings
OccasionFamily Get-together
Dietary ConsiderationEgg-free, Halal, Kosher, Peanut Free, Soy Free, Tree Nut Free
Taste and TextureMeaty, Rich, Savory
Ingredients
3 pounds boneless beef chuck
¾ teaspoon salt
Freshly ground black pepper
2 to 3 tablespoons olive oil (possibly a little more)
2 medium red or yellow onions, chopped
3 tablespoons unbleached all-purpose flour
3 to 4 cups beef broth (boxed, canned, or reconstituted from bouillon)
1 tablespoon tomato paste
1 tablespoon minced garlic (about 3 good-sized cloves)
1 teaspoon dried thyme
2 bay leaves
1 pound (about 15) red creamer potatoes, halved
1 pound baby carrots, left whole
Instructions
Adjust the oven rack to the center position and preheat the oven to 325°F.

Pat the beef dry with paper towels and put it on a cutting board. Use a sharp knife to trim off and discard any visible outer fat, then cut the meat into a couple of large pieces where it naturally seems to be separating. Cut these larger chunks into 1½- cubes (no smaller—if you make them too small, they will cook too quickly and toughen). Sprinkle the meat with the salt and a liberal amount of pepper.

Place an ovenproof soup pot or a Dutch oven over medium-high heat. After about a minute, add 2 tablespoons of the olive oil and swirl to coat the pan. Carefully add half of the beef cubes, and cook, undisturbed for about 3 minutes. (If you crowd the pan with all the meat, it will steam in its own juices instead of browning.) You will know it is browned properly when it no longer seems to stick to the pan when you nudge a cube with tongs.

Use tongs to carefully turn the cubes to another side and continue browning for about 8 minutes, turning the pieces as they cook until they're deep golden brown on all sides. Transfer the browned meat to a medium-large bowl and set aside. If the pan looks dry and the bits left on the surface seem to be burning, add a little more olive oil to the pan. You want a thin film over the entire surface. Add the remaining meat and brown as described. Transfer to the bowl and set aside.

Without cleaning the pan, pour in a little more olive oil (just enough to coat the bottom). Add the onions and cooks, stirring occasionally, for 5 minutes, or until the onions begin to soften.

Sprinkle the flour over the onions and stir to combine. Cook for 2 minutes, stirring occasionally. Then slowly whisk in 3 cups of the broth. (It will make a thick sauce for a moment before thinning out.)

Whisk in the tomato paste, garlic, and thyme, and add the bay leaves. Return the browned beef to the pot and check to see that the liquid reaches the top of the meat. If not, add a bit more broth or bouillon. Bring to a boil over high heat.

As soon as the liquid reaches the boiling point, turn off the heat. Cover the pot tightly with foil and cover that with a lid, too, if you have one that fits tightly. (You want to capture all the steam as the meat cooks.) Transfer the pot to the oven and cook, undisturbed, for 1 hour.

Carefully open the pot (to avoid getting burned by the steam that will escape), and stir in the potatoes and carrots. Cover again with the foil and lid, and return the pot to the oven for another 1 hour of cooking.

. Remove the pot from the oven and let the stew sit, still covered, for 10 minutes before serving. Remove the bay leaves. Serve hot or warm.
Get Creative
You can substitute red wine for some or all of the beef broth. Added bonus of doing so: You get to call it "Boeuf Bourguignon."
Like all stews and braises, this tastes even better the day after you cook it, so if you have time, make it ahead of time, let it cool, cover the pot, and store it in the refrigerator overnight. Before reheating, skim off and discard any solidified fat that has formed on the surface.
Chopped parsley makes a perfect garnish.
This is a complete meal on its own, but you can round it out by serving it over or with some cooked egg noodles, lightly buttered, with a green salad alongside.
If you want to make a couple of meals out of your stew, serve some meat, potatoes, and carrots with a smaller proportion of the liquid for dinner one night; then cut the leftover meat and vegetables into smaller pieces and add some cooked barley for a wonderful second-day soup (with or without additional broth or reconstituted bouillon, as needed.)
Mollie Katzen
YOUR RECENTLY VIEWED RECIPES
Free recipes, giveaways, exclusive partner offers, and more straight to your inbox!